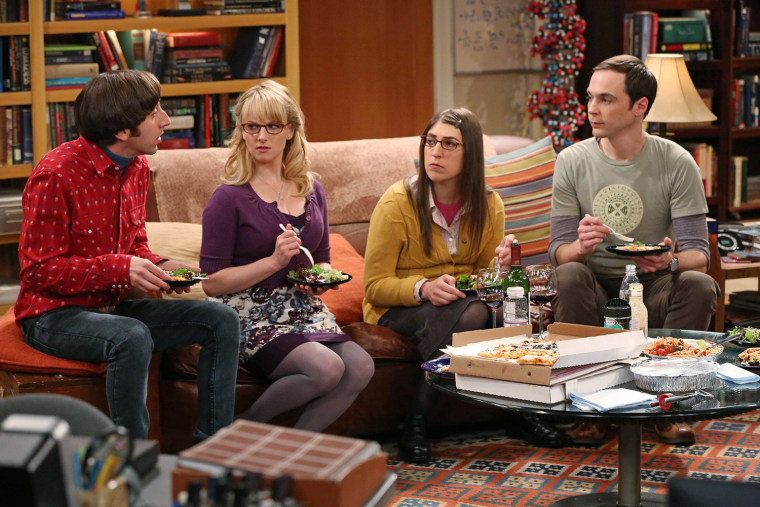 The lovable geeks on CBS' "The Big Bang Theory" are growing up before our eyes. Leonard (Johnny Galecki) and Penny (Kaley Cuoco) have routinely pondered marriage; Sheldon (Jim Parsons) and Amy (Mayim Bialik) are kissing — gasp! — and Raj (Kunal Nayyar) has broken through with the ladies, while Howard (Simon Helberg) and Bernadette (Melissa Rauch) are growing stronger as they navigate marriage.
Heading into the home stretch of season seven, showrunner Steve Molaro tells The Hollywood Reporter that the series will feature a lot of "big moves" in the final few episodes of the year. Among them: Leonard and Penny will, again, explore the marriage question, while Howard and Bernadette will be tasked with caring for Mrs. Wolowitz (Carol Ann Susi) as her health needs grow.

PHOTOS: Behind the scenes: "The Big Bang Theory"
Molaro also warns that season seven will end with a cliffhanger that has nothing to do with the fate of the core cast, many of whom still do not have new contracts for the recently announced seasons eight, nine and 10.
As for "Big Bang Theory's" big three-season renewal (its second), the showrunner says the current plan calls for that to be the end of the nerdy comedy, though no formal decisions have been made. (Should the ratings juggernaut — it's broadcast TV's No. 1 series among the advertiser-coveted adults 18-49 demographic — continue to pull in gobs of viewers, it would be odd for the network and studio Warner Bros. Television to call it quits.)
Here, Molaro talks with THR about what's ahead in season seven and shares his thoughts on wrapping the series.
STORY: "Big Bang Theory": 15 Things you didn't know
Leonard and Penny have been exploring marriage a lot this season. At what point do their proposals start to lose their value?
I think it's possible they could. We're enjoying shining a light on how many proposals there have been and how many there might be to come. As long as we own it, we'll be OK.
With all the marriage proposals, might they be a bit more realistic and live together first?
In the last three episodes there is a lot of proposal discussion. Within all the characters, there will be at least one more proposal and there is also some discussion of potential living arrangements, but I'm going to be vague about the rest.
STORY: "Big Bang Theory's" Kaley Cuoco hopes marriage is in the cards for Leonard and Penny
Last season ended with Raj's major breakthrough. How does this season's finale compare?
It does end on something of a cliffhanger. The last three episodes, a lot of big moves happen. The final three episodes aren't necessarily building to a crescendo in the finale but there are big moves happening all over the place, including the finale. I'm pretty excited about it.
Did the fact that many of the core cast don't have new contracts factor into the decision to end the season on a cliffhanger?
Not at all. We're making the best episodes that we can come up with. I have to move forward assuming everyone is going to be there. I have no reason to think they won't be. That wasn't a factor.
PHOTOS: "The Big Bang Theory's" nerdiest guest stars
Will Emily (Laura Spencer) continue to recur?
Laura is great; we're all really happy with her. She will be continuing on in some form, yes. I don't have much of a clue about season eight yet, but she will be around.
Could Kate Micucci (Lucy) return to complicate things for Raj?
Sure. There are no plans, but we love Kate. We had even talked to her about doing a little bit but her scheduling just couldn't work out for this season. She's great and she's a part of the "Big Bang" family, whether she's currently in episodes or not.
What's next in Howard and Bernadette's marriage?
I don't think any of us are interested in having any babies on the show anytime soon. They're working through the things that marriage brings. Mrs. Wolowitz continues to be a big factor in their lives. Coming up, she's going to need a little more health care than she has been needing and as a good son and daughter-in-law, that is going to fall on their shoulders to some extent.
STORY: "Big Bang Theory," Lucasfilm team for "Star Wars" day episode (exclusive)
You just got a three-season renewal and overall deal. Do you see season 10 being the end of the road for "Big Bang" or is there life beyond that?
You never know. I'm going to move forward along with (co-creator/EP) Chuck (Lorre) that 10 is the end unless we're told otherwise. These are decisions that are so far away I can't really even think about that. I have no choice but to move forward ... it's so far away (laughs). The mindset is it's going to be the 10 and then we'll see what happens after that.
Do you have an idea for how the show ends in mind?
There's no official ending. We all have thoughts and talk about little things here and there but we can't even think four episodes ahead on this show, so to think 72 ahead is kind of crazy (laughs).
Would you be OK if 10 seasons was the end — that would put "Big Bang" right on par with shows like "Friends"?
I would be OK, yes, as long as we do it right. My concern is that we do it right and we end this show in a way that is as befitting of these characters that we respect and love. As long as we can have the opportunity to end it in a way that serves them all properly, that's my concern — more than the number of seasons.
You're doing "Star Wars" and have had Bob Newhart on the show. What else is on your bucket list?
Right now I'm just happy we made it to the end of season seven. I don't want to think about the bucket list now! (Laughs.)
"The Big Bang Theory" airs Thursdays at 8 p.m. on CBS.