Vaulted into fame after her straightforward critique of an Olive Garden made a big splash on the Internet, Marilyn Hagerty of the Grand Forks Herald managed to make the most of her sudden celebrity and refreshingly folksy style. In "Grand Forks," Hagerty's honest appraisals of American eateries are lovingly collected, with a foreword by celebrity food personality Anthony Bourdain. Here's an excerpt and click here to find out what Hagerty thought of the cronut.
FOREWORD
By Anthony Bourdain

If you're looking for the kind of rapturous food porn you'd find in a book by M.F.K. Fisher, or lusty descriptions of sizzling kidneys a la Liebling—or even the knife-edged criticism of an AA Gill or a Sam Sifton—you will not find it here.
The territory covered here is not New York or Paris or London or San Francisco. And Marilyn Hagerty is none of those people.
For 27 years, Marilyn Hagerty has been covering the restaurant scene in and around the city of Grand Forks, North Dakota, population 52,000. She also, it should be pointed out, writes a total of five columns a week, about history and local personalities and events, in addition to her writing about restaurants and food. As one might expect, she knows personally many of her subjects. Given the size of her territory, it is not unusual for her to write about the same restaurant two or more times in a single year. In short, she is writing about a community that she is very much a part of.
If you knew her name before picking up this book, it was probably because of her infamously guileless Olive Garden review which went viral, caused first a tidal wave of snarky derision--followed by an even stronger anti-snark backlash--followed by invitations to appear on Anderson Cooper and The TODAY Show, dinner at Le Bernardin, an appearance on Top Chef, an Al Neuharth Award, a publishing deal--a sudden and unexpected elevation to media darling.
Why was that?
What is it about the 86-year old Ms. Hagerty that inspired such attention and affection?
Why should you read this book?
Of the 7,000 pages of articles and reviews I read while assembling this collection, there is little of what one would call pyrotechnical prose. Ms. Hagerty's choices of food are shockingly consistent: A "Clubhouse sandwich," coleslaw, wild rice soup, salads assembled from a salad bar, baked potatoes. She is not what you'd call an adventurous diner, exploring the dark recesses of menus. Far from it. Of one lunch, she writes:
"There were signs saying the luncheon special was soup and a Denver sandwich for $2.25. In places where food service is limited, I tend to take the special. I wasn't born yesterday."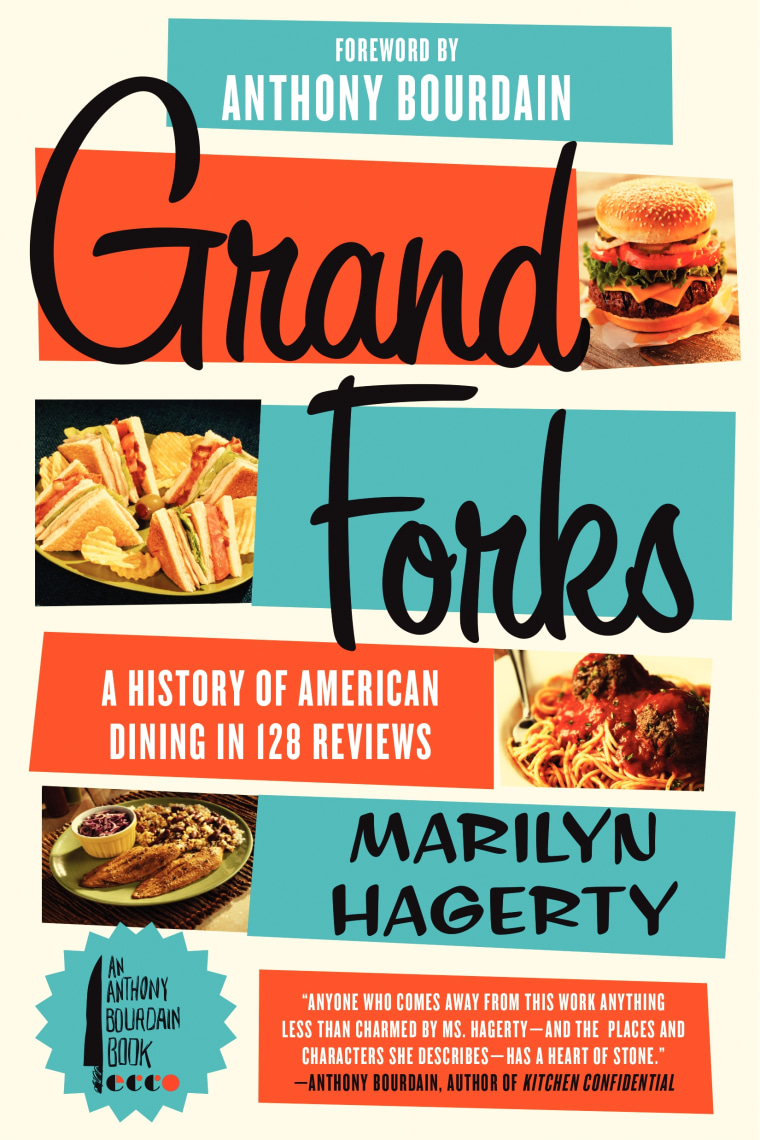 She is never mean—even when circumstances would clearly excuse a sharp elbow, a cruel remark. In fact, watching Marilyn struggle to find something nice to say about a place she clearly loathes is part of the fun. She is, unfailingly, a good neighbor and good citizen first—and entertainer second.
But what she HAS given us, over all these years, is a fascinating picture of dining in America, a gradual, cumulative overview of how we got from there... to here.
Grand Forks is NOT New York City. We forget that—until we read her earlier reviews and remember, some of us, when you'd find sloppy Joe, steak Diane, turkey noodle soup, three bean salad, red Jell-o in OUR neighborhoods. When the tuft of curly parsley and lemon wedge, or a leaf of lettuce and an orange segment, or three spears of asparagus fashioned into a wagon wheel, were state of the art garnishes. When you could order a half sandwich, a cup of soup. A pre-hipster world where lefse, potato dumplings and walleye were far more likely to appear on a menu than pork belly.
Reading these reviews, we can see, we can watch over the course of time, who makes it and who doesn't. Which bold, undercapitalized pioneers survived—and who, no matter how ahead of their time, just couldn't hang on until the neighborhood caught up. You will get to know the names of owners and chefs like Warren LeClerc, whose homey lunch restaurant, The Pantry, turned down the lights to become the sophisticated French restaurant Le Pantre by night. And Chef Nardane of Touch of Magic Ballroom who, in his 6,200-square foot ballroom, served cheesecakes inspired by Debbie Reynolds and Elizabeth Taylor, and envisioned an exclusive private membership club with frequent celebrity entertainment. And Steve Novak of Beaver's Family Restaurant, who when Marilyn visited his establishment, spoke of reviving his beaver act, complete with costume, for birthday parties.
And you will understand why the opening of an Olive Garden might be earnestly anticipated as an exciting and much welcome event.
Ms. Hagerty is not naïve about her work, her newfound fame, or the world. She has travelled widely in her life.
In person, she has a flinty, dry, very sharp sense of humor. She misses nothing. I would not want to play poker with her for money.
This is a straightforward account of what people have been eating—still ARE eating—in much of America. As related by a kind, good-hearted reporter looking to pass along as much useful information as she can—while hurting no one.
Anyone who comes away from this work anything less than charmed by Ms. Hagerty—and the places and characters she describes—has a heart of stone.
This book kills snark dead. 
ROYAL FORK IN COLUMBIA MALL HAS MAMMOTH ARRAY OF FOOD
March 13, 1991

Canned green beans taste good to me. I've always liked them, so I piled a big helping on my plate, along with some spaghetti. I took a fillet of white fish along with the beans and spaghetti, which was interesting because of the big chunks of sharp-tasting tomato in it. It was 1 o'clock Thursday afternoon when we sat down to eat at the Royal Fork Buffet Restaurant in Columbia Mall. The place was fairly full. You had to scout around to find a table.
I had told a friend that Constant Companion was feeling like breaking out of the house and we had decided to go the Royal Fork. "Royal Fork?" she asked. "Isn't that kind of a feedlot?"
"Well, yes," I told her, "but the grazing is good. And the price certainly is right." Lunch is $4.35, and dinner is $5.65.
As late, I've noticed that some people empty their trays, and others eat right off the tray. I like to keep the tray myself. I don't know why.
I was going backwards with this meal. After I finished my entrées, I approached my vegetable soup, which was slightly thick, but clear, with little parsley bits in it. It was better than some restaurant soup, but a tad too salty. Most restaurant soup is.
CC was working his way through a plate of salad. In deference to a low cholesterol diet, he sprinkled it with French dressing rather than the cream dressing. He ate spaghetti, fish and one of those cinnamon rolls that are a trademark of Royal Fork Buffet.
I ate my salad last—European style. It's amazing what you can stack on one small plate if you really set your mind to it. I had lettuce, tomato slices, broccoli, shredded cheese, pickled beets, cottage cheese, sunflower seeds, green peas grapes and pineapple.
I munched happily along, noticing that CC had finished eating long before me. I encouraged him to graze through the dessert bar. I told him the soft-serve was low-fat even though it is high in sugar. Later, I learned that is 4 percent milkfat. That's not nearly as high as ice cream.
There's a lot I like about the Royal Fork. The ambiance is pleasant and homey. It's a good place for families and for people serious about eating. While it's probably the largest restaurant in Grand Forks, it's relatively quiet and orderly. There is a crew of people keeping the food line clean, clearing trays and even pouring coffee. And the place is attractive. There are large colored photographs of food on the walls. The green carpet has a geometric design. There is a lot of light wood lattice work and frosted glass above the row of booths, dividing smoking and non-smoking sections.
Scott Heilman has been manager for three years. He says volume is the key to keeping the large selection of food at a low cost. And volume he gets: In July and August last year, the Royal Fork served 50,000 people. That's as many as the total population of Grand Forks.
One of the hottest items is the shrimp on Friday nights. Tuesdays are family nights, when children's meals are 10 cents for each year of their age. Once every six weeks, the Royal Fork has a special for senior citizens. It's 50 cents off on a meal.
Heilman's been wearing a happy smile ever since the Sunday opening law was passed. It's been a boon to business, which was slack on Sundays in an empty mall.
TACO BELL IS LIKE A COOL PASTEL OASIS ON A HOT DAY
August 2, 1989

It looked like a traffic accident waiting to happen.
There were too many cars around, and too many people standing in line, the first time we went over to check out the new Taco Bell on South Washington Street. It opened in June, and I waited until things sort of shook down.
Now, it's relatively easy to get into Taco Bell. From the parking lot, you notice the sign, "49 cents original tacos every day." You see an ad for a free Batman cup with purchase of a 32-ounce drink.
The menu board lists tacos and tostadas, fajitas, burritos and enchiladas. Then, there are specialties such as the taco salad ($3.19), nachos belgrande ($2.09), Mexican pizza ($1.99), Kids fiesta meal ($1.69), and Meximelt (99 cents).
The first time I ate at Taco Bell, I had a taco light ($1.49) and a cheese tostado (79 cents). I was with Barbara Lander and her granddaughter, Warren Lander. We agreed the restaurant seems like a cool oasis on a hot day. It's decorated in soft pastel tones of peach, lavender, blues and greens. There are artificial cactus and desert flowers and a nice tile floor to carry out the Mexican theme.
On my second visit, with Constant Companion, I asked for the chicken fajita ($1.49) and a bean burrito (79 cents). I liked the fajita and burrito combination better than the taco and cheese tostada. It was more substantial.
I have yet to try the Mexican pizza, but I intend to do that on the recommendation of Marlo Gade. She was eating one the first time I stopped in Taco Bell, and she said it was great. Taco Bell will have a grand opening later on this month, when the drapes are installed.
John Serati, director of franchise operations, is quick to tell you that Taco Bell no longer uses coconut oil for frying. The organization switched to corn oil 18 months ago. He boasts of the real sour cream used at Taco Bell. He said the restaurant "canned" the ranch style dressing that used to add 500 calories to its salads for every three ounces used. And, he says, the restaurants no longer use Yellow Dye 5.
Excerpted from "Grand Forks: A History of American Dining in 128 Reviews"by Marilyn Hagerty. All rights reserved. No part of this book may be used or reproduced without written permission from HarperCollins Publishers.