The Oscars may be over, but we've got one more award we want to give: Taylor Swift wins for Best Maid of Honor.
In a video released Sunday of her bestie's Pennsylvania wedding, the singer gives a touching and heartfelt speech honoring Britany Maack and her new husband Benjamin LaManna. It's a slam-dunk, and had us tearing up despite not even knowing the couple! (The cuts of Taylor's speech starts around 6:33.)
RELATED: Taylor Swift is 'happiest maid of honor' in best friend's wedding - see the pics!
"He would chase her and pursue her through middle school and junior high and high school, and their paths would diverge and then come back together," Swift recalls, describing her friend's long history with the man she eventually married.
"And it would be so magically unpredictable but at the same time so incredibly fated like the best love stories are."
The gorgeous wedding video shows much more than the toasts, taking viewers from the rehearsal dinner to the wedding prep to the church and on to the reception, finishing off with the traditional bouquet toss — with Swift by her dear friend's side.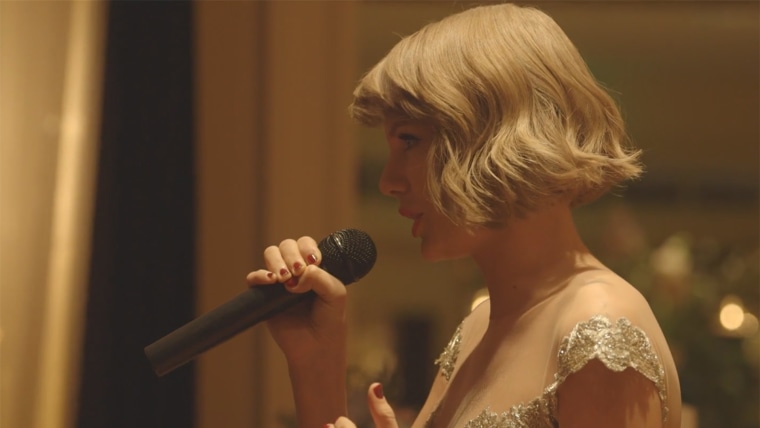 "My favorite accomplishments of my entire life is that everything in my life has changed — except for me and Britany," she says, prompting us to reach for the tissue box. "She was my partner in crime at Brownies sleep-away camp and she was my date to the Grammys. And little did either of us know that Prince Charming for Britany would be the kid that sat next to me in class with a bowl cut and a Lego lunchbox."
Then, amid sighs and applause from the wedding guests, the star tells the newlyweds, "We know that the best parts of your love story are yet to come. Congratulations."
MORE: Grammys 2016: Did Taylor Swift just call out Kanye West during win for Album of the Year?
And just when you think she can't get any better at being maid of honor, the video shows a short clip of Swift singing on stage with the wedding band.
Good luck topping that, ladies!