Who could forget Tyra Banks' famous "learn something from this!" rant, directed at an "America's Next Top Model" contestant who appeared insufficiently sad to be going home?
Well, Banks hopes the MBA students at Stanford University are ready to "learn something from this" too. (Though here's hoping her delivery is a bit gentler this time.)
That's right: The 42-year-old model, host, entrepreneur, new mom and now professor will teach a class called "Project You: Building and Extending Your Personal Brand" at Stanford next spring, The Wall Street Journal reported. The two-week course will focus on leveraging various forms of old and new media to help students market themselves and their skills.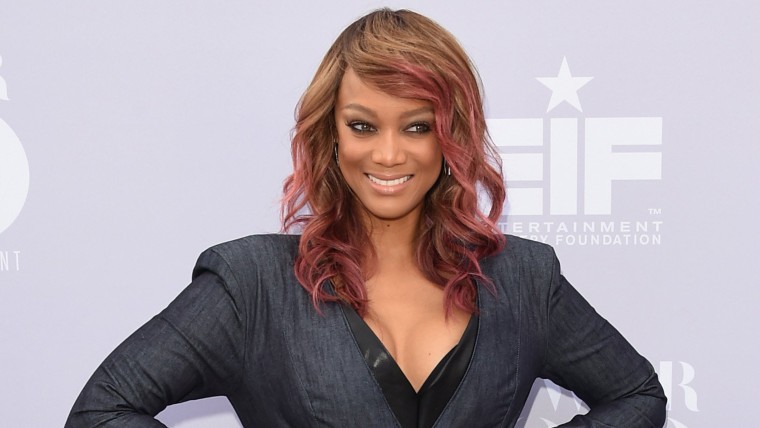 But make no mistake. While students will receive (no doubt entertaining) instruction on building their own brands, they will also be enlisted to help build Tyra's. Banks has said that she will allow students to use their cellphones during class, but only to "tweet something I've said."
Related: Tyra Banks welcomes 'miracle baby boy', York , via surrogate with boyfriend Erik Asla
And they'd better be able to prove it. "If I see somebody not paying attention, I'm gonna call on them, Banks warned. (But come on, Stanford MBA candidates: If you're not listening to Ty Ty, you are wasting a huge gift.)
Related: Jimmy Fallon gets a lesson in sexual chemistry from Tyra Banks
You wanna be on top ... of the class? The course will accommodate 25 students, and is a collaboration with Allison Kluger, a management professor and former television producer who called Tyra "a natural" after watching her speak at an event. TODAY reached out to Kluger for comment, but hasn't heard back.
Unfortunately, this means we can't confirm whether Tyra's renowned "smize" (smi-le with your eyes) will be covered in the course material.
Banks isn't the first celebrity to dip a toe into academia. Celebrities from Oprah Winfrey (Northwestern) to Spike Lee (NYU) to Kevin Spacey (Oxford) have done guest stints in higher ed programs. Though many of these have been (fittingly) entertainment-related, many celebrities have begun to assert themselves as authorities in business and, as we've all seen this year, politics.
Next up: The Rock for President. And Tyra for Teacher of the Year.