While Tamron Hall is the undeniable fashion queen of Studio 1A, her style twin has been roaming the streets of New York this week.
On yesterday's show, Tamron rocked a black and white Gucci dress with a chic red bow at the collar. Later that day, the same dress was spotted on none other than Amal Clooney!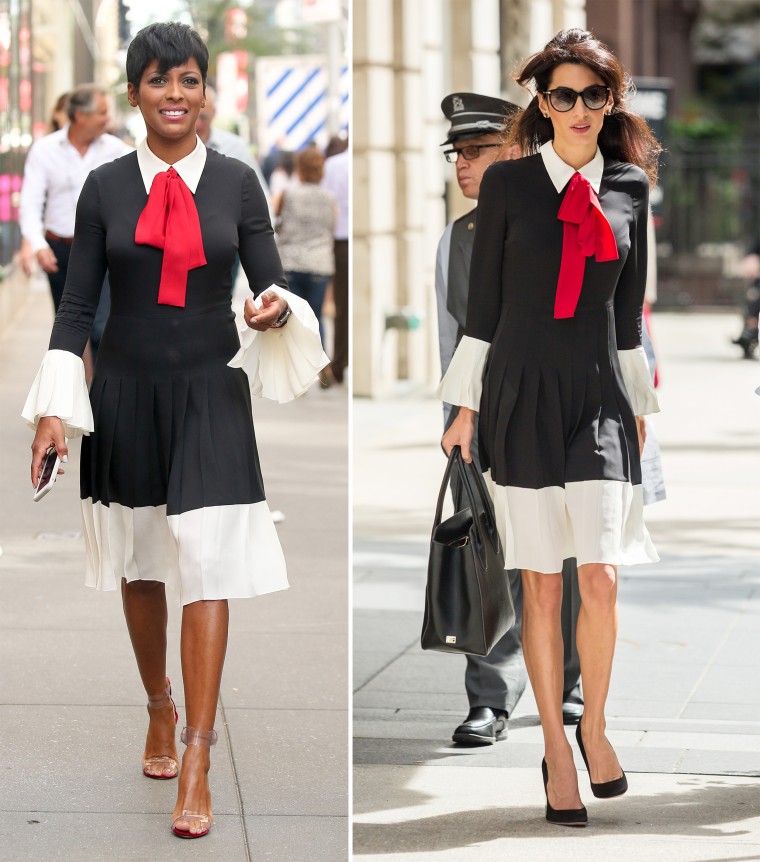 The British human rights lawyer (and wife of George Clooney) stepped out in the exact same dress paired with black pumps and oversized shades.
Could there be a more stylish person to accidentally match? Or a more perfect dress to be matching in?
RELATED: Amal Alamuddin's style: 8 fashion lessons from Clooney's leading lady
Whether playful or professional, human rights lawyer Amal Clooney always stays true to her polished personal style.
It's not just Tamron and Clooney who are loving this dress, either. During Tamron's interview with America Ferrera yesterday, the actress complimented her style and admitted she was coveting the look herself.
RELATED: Amal Clooney shines light on Maldives in Washington, talks reluctant celeb status
Clooney has been in New York this week making the case to the United Nations for taking ISIS to court. She spoke with NBC News' Cynthia McFadden about her fight.
We like to imagine a world where Clooney turned on TODAY, saw Tamron slaying in this dress, and decided "I'll wear that today!"
RELATED: George Clooney opens up on wife Amal: 'At 52, I found the love of my life'
However it came to be, we're loving that these two impressive ladies continue to prove you can be both smart and stylish.