In 2015, it's easier than ever to find the right workout for you. Whether you like to sweat in cycling, channel your inner chi at yoga or stretch your body to the limit with barre, your fitness gear can make a big difference in your performance. TODAY spoke to five fitness experts to help you find the optimal outfit for your favorite type of workout. Now, it's up to you to get results while looking and feeling fantastic! 
The Workout: Indoor Cycling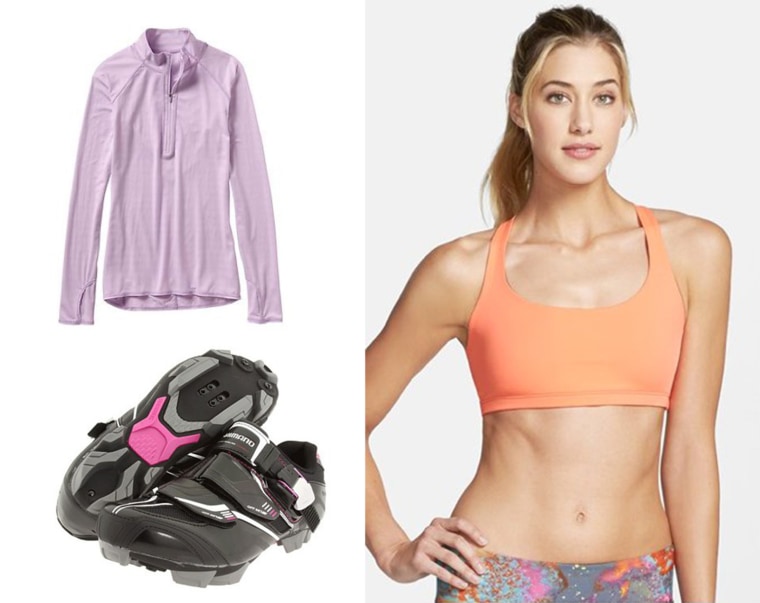 The Items: (Athleta Spinner Half Zip, $69, Athleta.com; Shimano SHWM82 Cycling Shoes, $112, Zappos.com; Onzie Low Rise Capri Pants, $56, Nordstrom.com)
The Tips: Cycling requires lots of movement and position changes, so it's best to stick with sleek lines, says Dyan Tsiumis, head instructor at SWERVE cycling studio in New York City. 
"For cycling you want to wear pants [that are] ankle length or above, or shorts that are form-fitted to the body," she said. Overall, Tsiumis recommends wearing clothes that can handle sweat well. "Indoor cycling is an intense cardio workout and you want to be sure you're ready to get hot! Some of my favorite cycling pants and sports bras are from Onzie. They're fun, colorful and breathe well," she said. 
Tsiumis also touts Athleta apparel for the company's generous return policy, which includes a full refund if you're unhappy with your gear.
The Workout: Zumba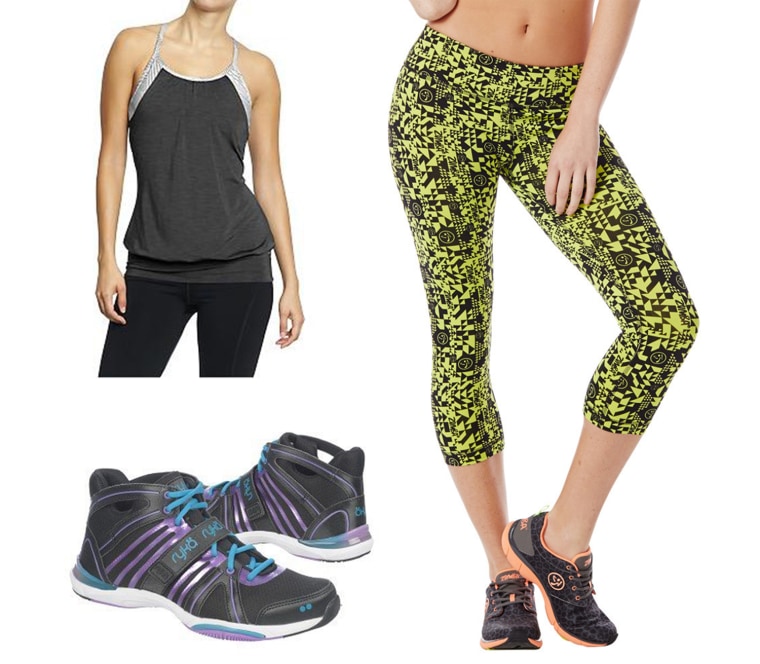 The Items: (Zumba Tribe Perfect Capri Leggings, $44, Zumba.com; Old Navy Active Built-in-Bra Tanks, $22.94, OldNavy.com; Ryka Tenacity Training Shoe, $84.99, Ryka.com)
The Tips: "It's all about the shoes," according to licensed Zumba® instructor Amber Brien. "If you have the right footwear, you'll have a great time and stay injury free." 
Her number one rule? Never, ever wear running shoes in a Zumba class. "I cannot stress this enough," Brien said. "They are not designed for lateral movement since they do not have pivot points and are extra grippy on the sole, which can and will cause torquing in the ankle and/or knee." Brien says the best shoes for Zumba are cross-trainer sneakers that allow for lateral motion and pivot points. 
For clothing, Brien says the best pants for Zumba are leggings. Though they are popular, cargo pants can limit the range of motion when going into wide squat or plie positions. Brien is more lenient, however, when it comes to tops. "I like bra tops paired with spaghetti-strap tanks and I like to cut up my shirts and get creative with it. It's fun!" Brien said. 
The Workout: Circuit Training/Bootcamp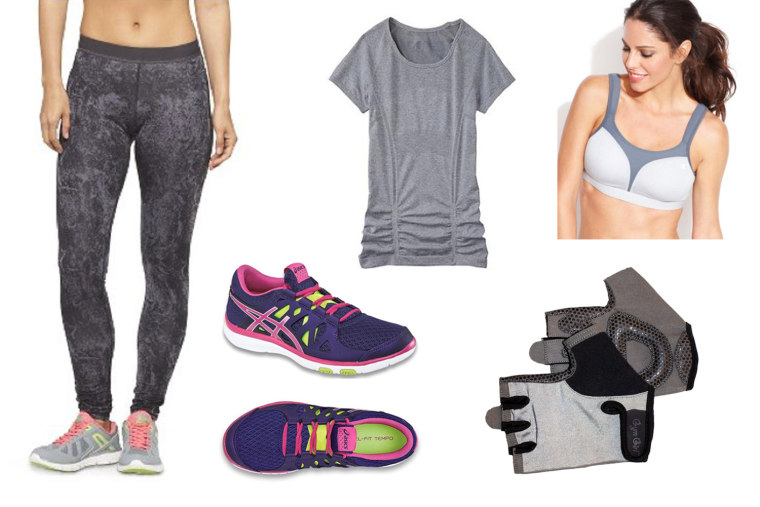 The Items: (Athleta Fast Track Tee, $54, Athleta.com; C9 by Champion Compression Tight, $24.99, Target.com; Gym Girl Apparel Fitness Gloves in Sterling, $25, GymGirlApparel.com; Asics Gel-Fit TempoTraining Shoe, $70, Asics.com; Champion Sports Spot Comfort Full Support Sports Bra 1602, $46, Macys.com)
The Tips: Fitness coach and author of "You Can Have it All," Nadia Murdock says comfort should come first when it comes to dressing for circuit training. "Chances are you'll be working up a good sweat, so include pieces that are made from moisture-wicking fabric to stay relatively dry," she said. For that reason, Murdock recommends form-fitting clothes in breathable fabrics that keep you feeling secure and confident. "This workout includes a lot of jumping and running," Murdock pointed out. "With moves like burpees, suicides and plyo jumps, purchasing a sports bra that offers an adequate amount of support for high-impact activity is suggested."
And don't just throw on any old leggings. "Bottoms that offer built-in compression technology will not only help you perform better, but also reduce swelling in areas like the knees," she said. Your hands will also need protecting since these classes include a considerable amount of weight training and lifting. To avoid unattractive callouses, Murdock says to keep a pair of fitness gloves at the ready. Lastly, supportive sneakers are a must. "The wrong footwear can easily cause injury," Murdock said, adding that it's key to find a pair with a supportive midsole "to absorb the impact of the moves. "
The Workout: Barre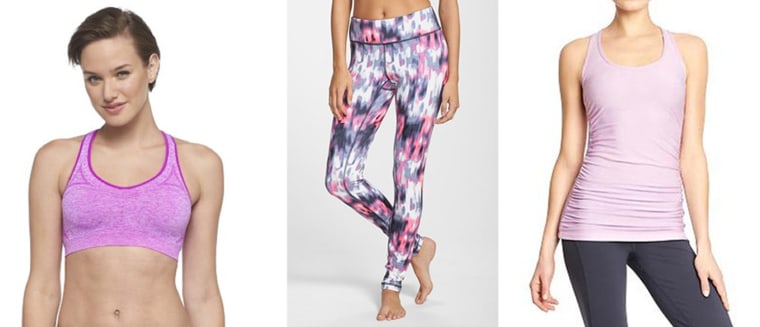 The Items: (C9 by Champion Seamless Racerback Sports Bra, $16.99, Target.com; Zella Live In Reversible Leggings, $58, Nordstrom.com, Old Navy Active Ruched Tanks, $16.94, OldNavy.com)
The Tips: "Dressing for success in barre classes at Exhale is as important as the workout itself!" said Bergen Wheeler, core fusion innovator at Exhale in New York City. Since barre teachers need to correct form and alignment, they need to see your body and baggy clothes simply won't do. 
"Wear workout attire that is form fitting so your teacher can tell what your body is doing from head to toe," Wheeler said. The other class essential is grip socks. "Invest in a few pairs to keep you from sliding around at the barre. With the intensity of the workout and the results you [have] come to achieve, the last thing you need to be thinking about is your firm footing," she said.
The Workout: Yoga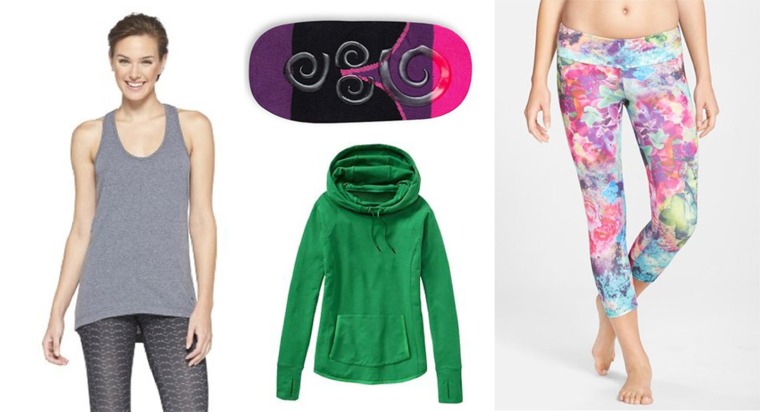 The Items: (C9 by Champion Yoga Racerback Tank, $14.99, Target.com; Lupo Heel & Toes No Slip Yoga Socks, $15, Kohls.com; Athleta Sentry Hoodie Sweatshirt, $89, Athleta.com; Onzie Capri Pant, $56, Onzie.com)
The Tips: "Yoga requires a great amount of mobility and flexibility and your outfit needs to offer the same benefits," said Joe Schafer, a personal trainer specializing in yoga. As he points out, you should be focusing on your breathing, not your wardrobe while practicing yoga. 
"For bottoms, I would recommend something that can provide a great range of motion to the hips. Something with spandex tapered at the ankle work best, so that the hem won't interfere with your feet during the movements and transitions," Schafer said.
Tops should also be fitted enough to stay in place. "The last thing you want is to see is it slide up or down during certain positions, which can be embarrassing or just annoying and distract from your practice," he said. But one plus of this workout is that you can choose a sports bra option with less support. "Since the movements are more static than dynamic, a bralette paired with a fitted camisole or racer-back tank would suffice."

Julia DiNardo is a fashion and beauty expert residing in New York City who pens the blog Fashion Pulse Daily. Follow her on Instagram, Twitter, and Pinterest.