For many brides-to-be, an appearance on TLC's popular "Say Yes to the Dress," a reality show that follows women on the hunt for the perfect wedding dress, is a milestone. Lights, cameras, gorgeous gowns and tons of attention: What could be better?
For Precious Davis, a transgender woman in Chicago, it's just another bullet point in a long list of impressive accomplishments.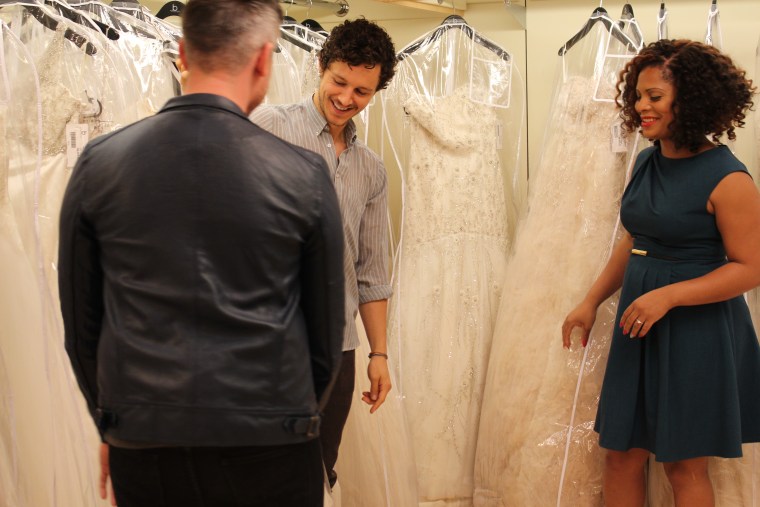 RELATED: Not your parents' wedding: The new do's and don'ts for modern wedding guests
The 30-year-old is a motivational speaker as well as the assistant director of diversity recruitment initiatives at Columbia College Chicago and a consultant who works with organizations and corporations to examine bias in their communities. She's got 15 years of diversity and inclusion experience.
So "Say Yes to the Dress" is just the icing on a three-tiered, fondant-coated cake. But that doesn't mean Precious' wedding day won't be among the most important of her life — and that's why she's so glad to have TLC there to document her preparations.
"I just turned 30 this year," Davis told TODAY.com in a phone interview. "And unfortunately, as a trans woman of color, I'm aware that my life expectancy is 30 to 32 years old. So to have this defining moment in my life, my wedding day ... to have that broadcast in such a public way is important. I've found happiness and safety in my life, and I think that should be celebrated and applauded."
RELATED: #FollowMeTo couple gets married, takes wedding photo to end all wedding photos
The product of a rough childhood and tumultuous adolescence, Davis described her teenage self as "a misfit." The fact that she was non-gender-conforming only made matters more difficult. The wedding, therefore, marks a turning point in her life.
"I'm starting my own family now and I'm starting new traditions," she said. "I wanted a wedding — and a dress — that would convey that entire story."
Davis understands that part of what makes her story compelling is that she and her fiance are both trans. But although that's an integral part of their identities, it's not the whole picture.
"I think that's why there's been such a great interest in our story — because Myles [Brady] and I are both trans, yes," she explained. "But we're also just humans. This isn't about someone's genitalia; this is about love and acceptance. We're really re-creating and redefining what that word looks like."
RELATED: Social media for weddings: Maid of Social will live-tweet and Instagram your big day
Besides, being trans is only one small aspect of Davis' working life. When it comes to buying a wedding dress, she's just like anyone else ... and was grateful that TLC treated her as such.
"I am a trans woman, but I'm also a woman," she declared with confidence. "And the fact that I'm trans might be naturally integrated into the way you interact with me, but it doesn't matter and it shouldn't change the way you treat me. One of the biggest moments of almost any woman's life is the magical experience of buying her wedding dress."
Of course, when it comes to her preferred gender pronouns, she's the first to admit that she's not just your average woman.
"She/her/diva, please," she told us with a laugh.
Davis' episode of "Say Yes to the Dress: Atlanta" premieres Friday, Jan.15, at 9 p.m. ET on TLC. Watch a preview here.