For newlyweds Rachel Tokarski and Reid Wellock of White Oak, Pennsylvania, what began as a chocolaty mess of a first date turned into the sweetest thing.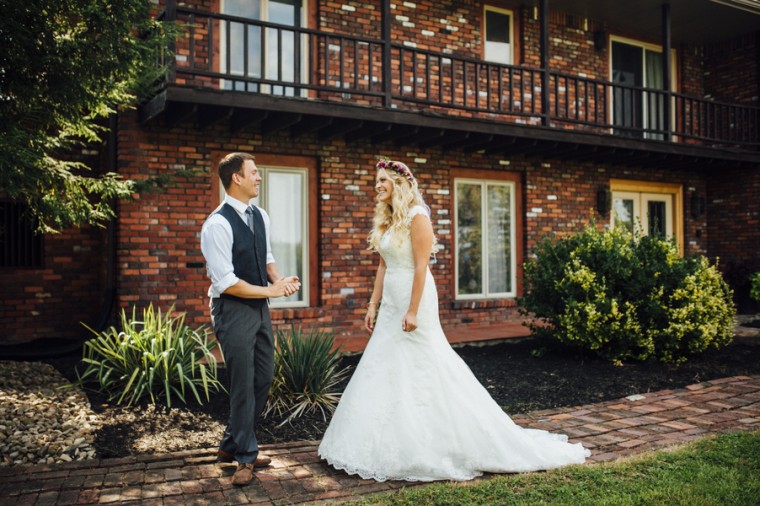 Tokarski, a 27-year-old photographer, and Wellock, a 29-year-old account manager who works in medical sales, met in the summer of 2012. Tokarski had been working at an art gallery with Wellock's sister, Amy, who tried to set them up. But Tokarski was leaving the art gallery to pursue other interests, so there was a chance a first date would never happen.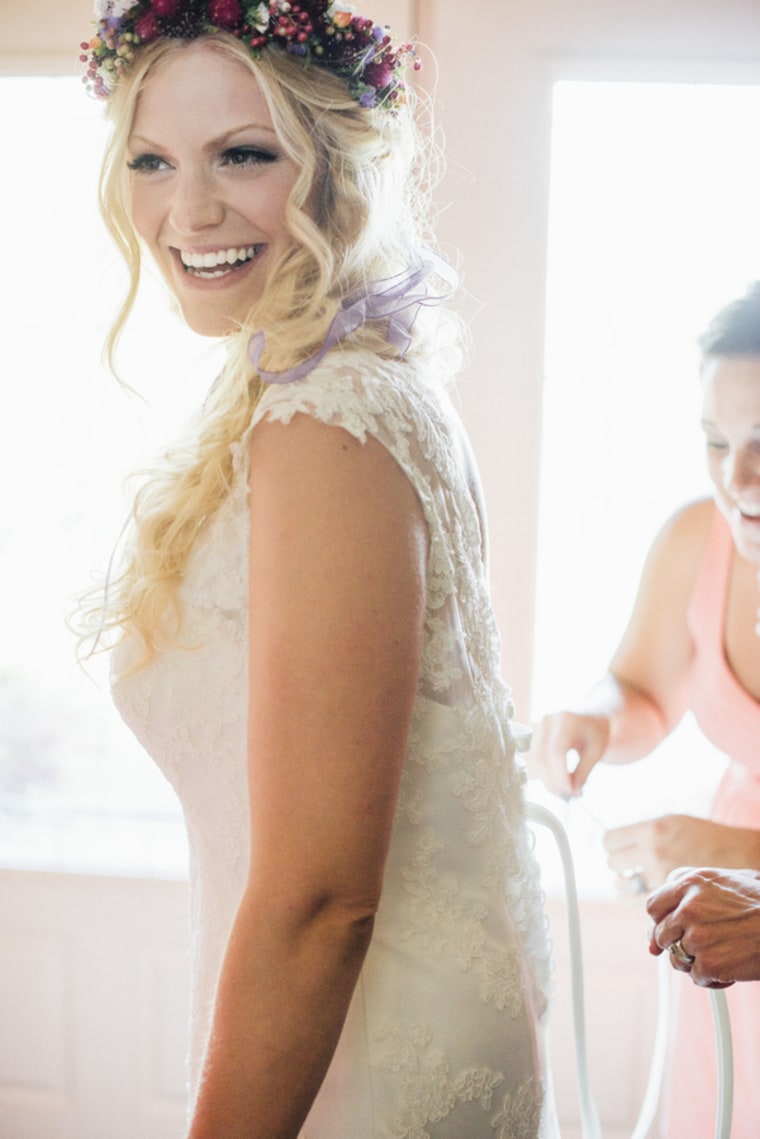 "She was the most beautiful woman I have ever seen," Wellock told TODAY.com, "and I knew I had to find a way to meet her."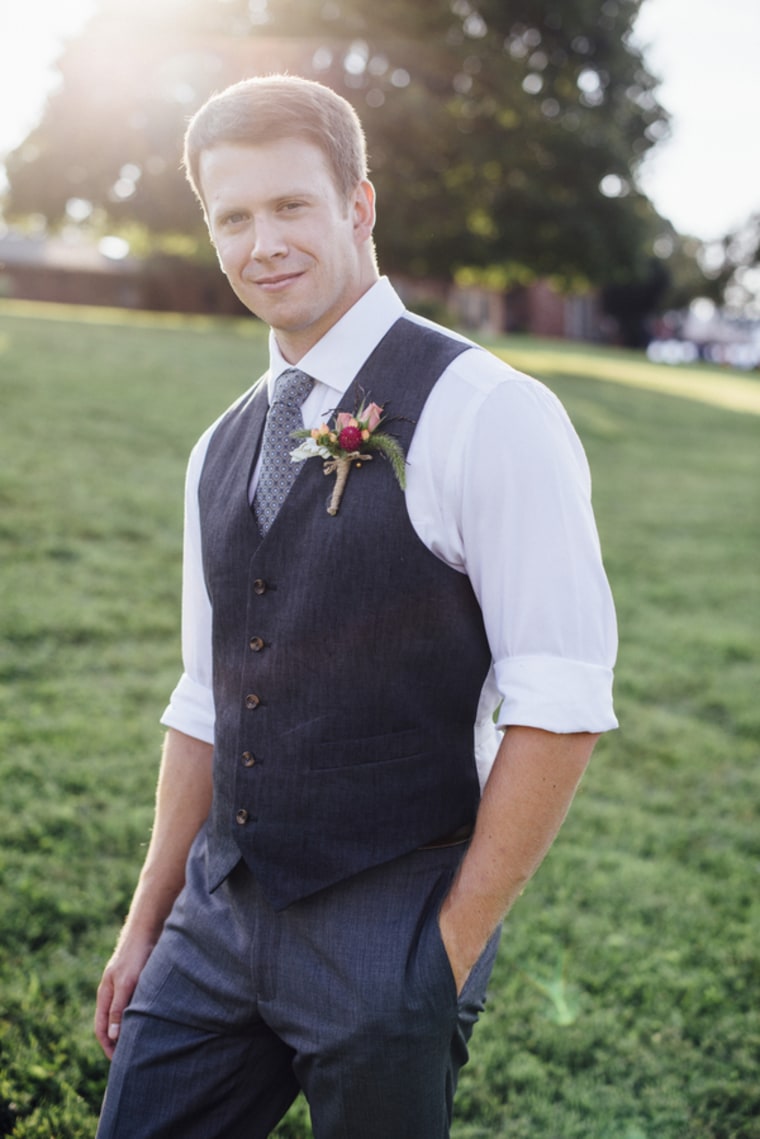 A change of venue allowed for their first encounter. While Tokarski and Amy were picking up tickets for a local M83 concert, Wellock introduced himself. Tokarski felt a spark. "I was like, 'Oh! OK,'" she said with a laugh. "And then after that, [I thought,] 'Well, maybe we could hang out."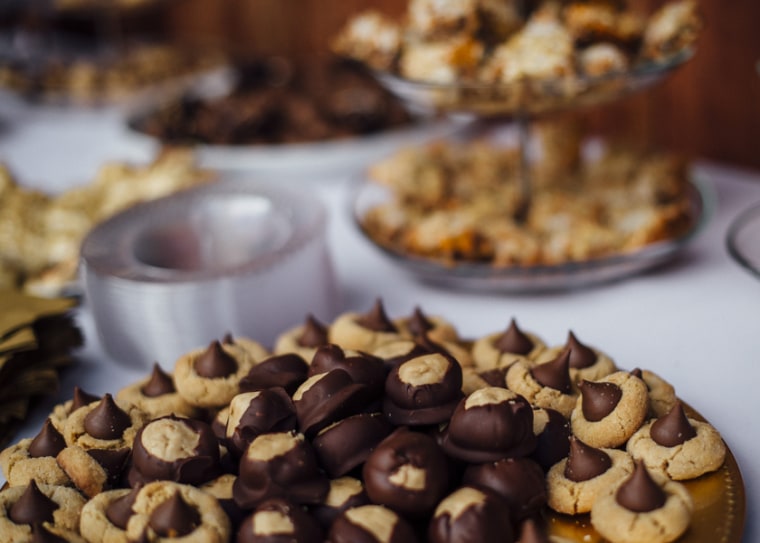 Hanging out led to a sticky situation. "I was walking up to meet her at the Pittsburgh Cultural Trust, where I had arranged for her to show me around the galleries for a work event," Wellock recalled. "Before I left to meet her, one of my coworkers handed me a Hershey's Kiss, and I put it in my pocket. When I got up to the Cultural Trust, I opened the door, saw Rachel at a distance, and stuck my hand in my pocket. You can guess what happened after that: We call it the 'chocolate pocket.' It was a good laugh and an unexpected ice-breaker."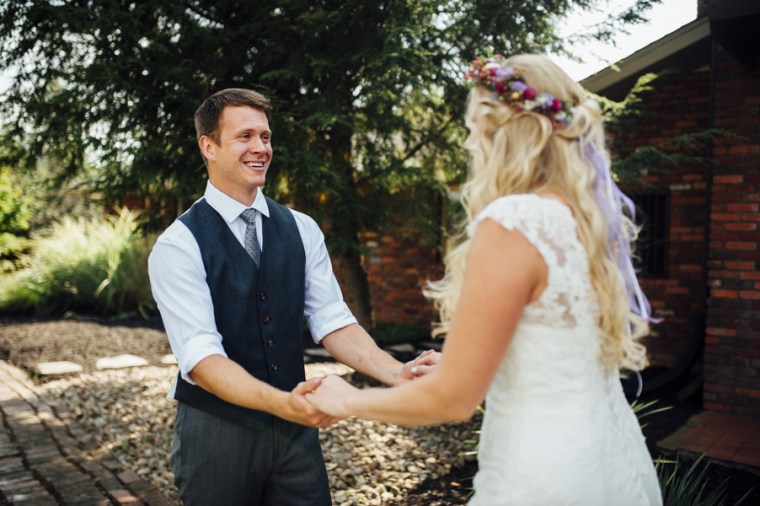 They dated for a year before Wellock popped the question on a snowy day in December 2013, while friends and family were helping them move into their new house. As a ruse, Wellock first suggested taking a group picture on the front steps, but Tokarski resisted.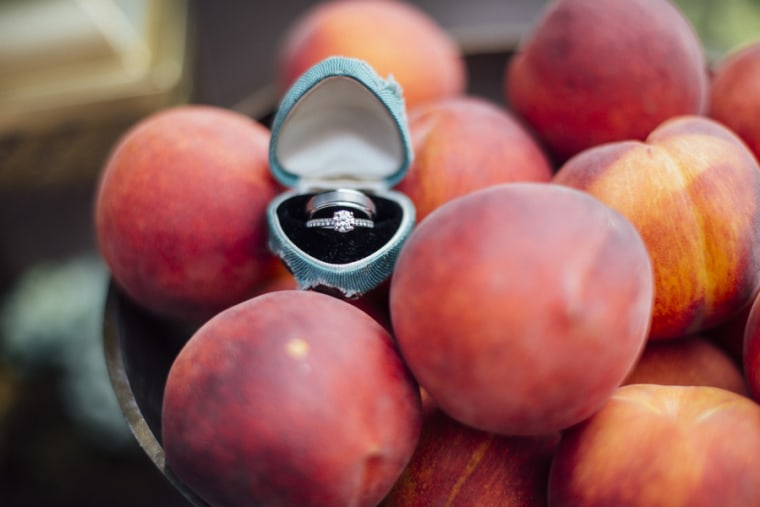 "Nobody wants to go outside; I'm trying to put this stuff away," she said laughing. "We were outside, and I remember one of his friends grabbed [our] dog from me, and I was like, 'What are you doing?' And his friend actually wasn't taking a picture — he was taking a video of [the proposal] on the steps of our new house. It was pretty cool. I had no clue [it was going to happen]."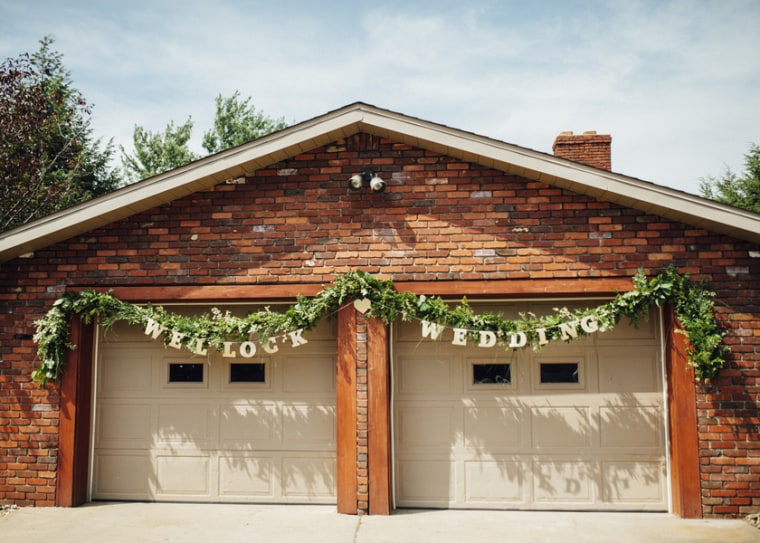 Wellock was so excited for the moment, he forgot the script. "What I remember most is forgetting everything that I had prepared to say to the moment I got down on my knee," he said. "Both of our families and friends were there and I knew exactly what I wanted to do, and then I completely went blank! I managed to mumble out a couple sentences and asked the big question. I can still see the exact expression on Rachel's face when I got down on my knee. That is something I will never forget."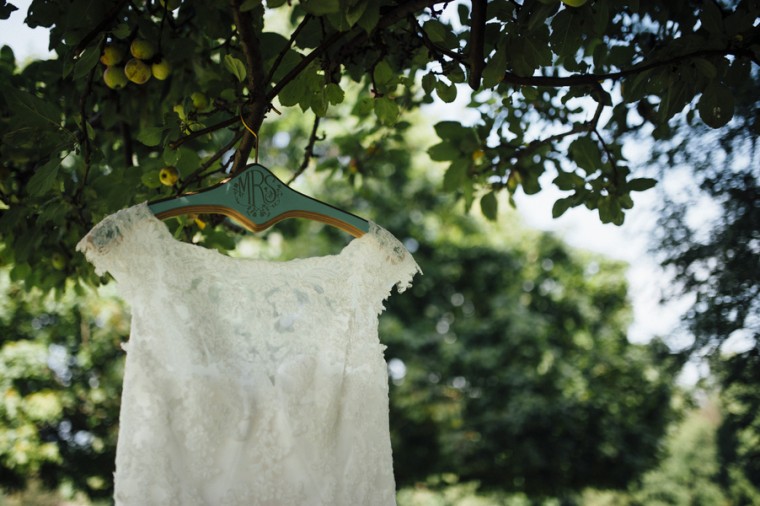 Calling upon her photography acumen, Tokarski said she chose her wedding dress partially based on comfort and partially how it would look on camera.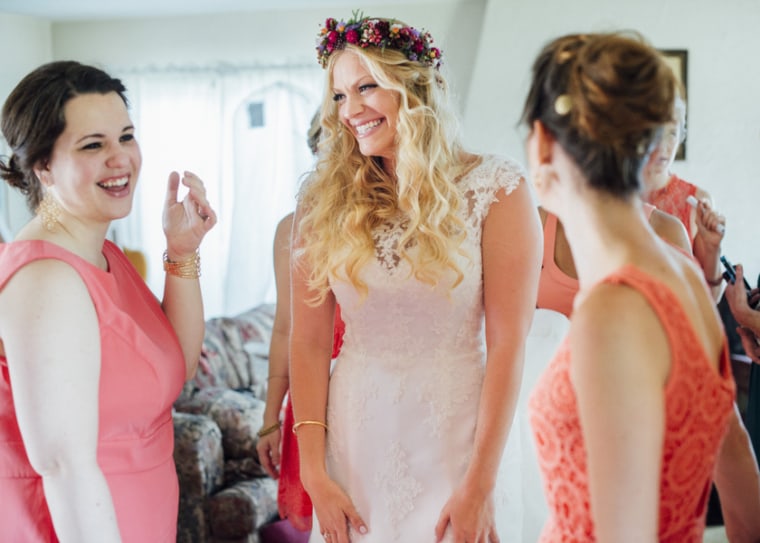 "I loved my dress, because it helped accentuate the right parts," said Tokarski, who added that her wedding photographer Mandy Fierens is "amazing at shooting curvy girls, so, I felt very comfortable with her."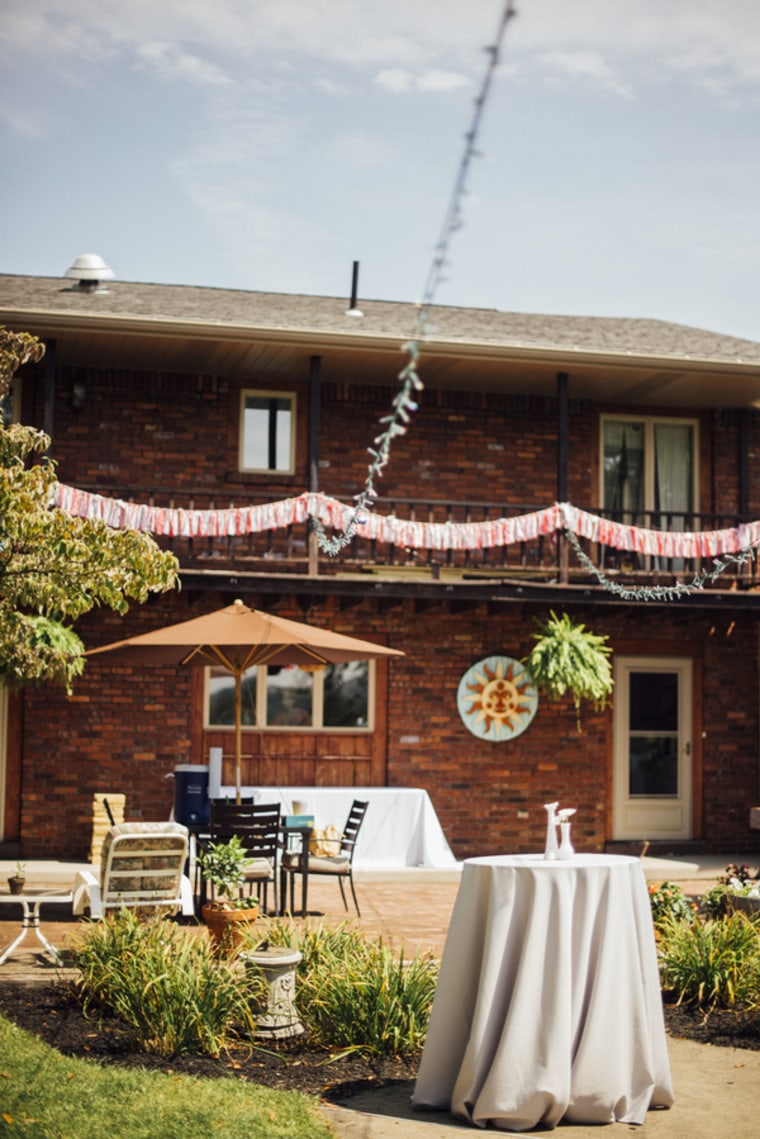 The couple held their ceremony and reception Aug. 30 at a cherished Pennsylvania property. "As a young girl, I dreamed of getting married at my grandfather's house," Tokarski said. "When Reid loved his property as much as I did, we didn't think twice about the location. We knew what we wanted for our wedding day: relaxed, fun, full of love and to be surrounded by our family and friends."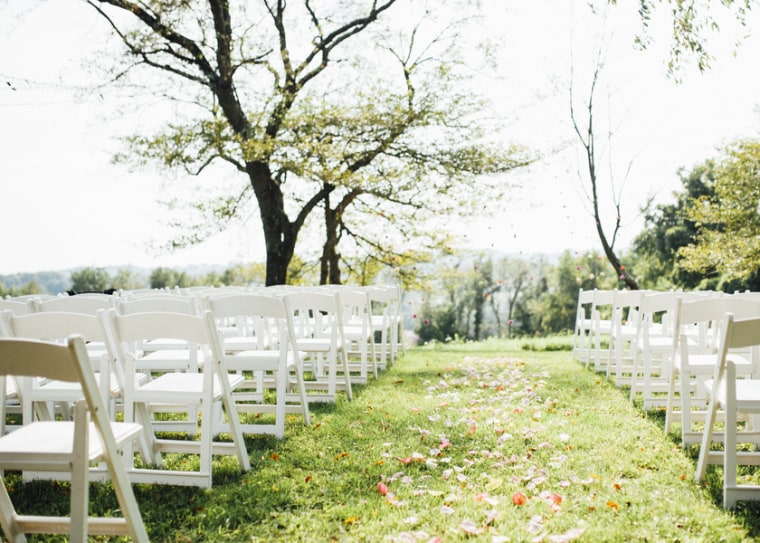 The bride and groom commended their family and friends for sprucing up the wedding venue. "We spent the entire summer getting it ready," Wellock said. "I really appreciated the fact that it was something that everyone had worked really hard on and it turned out beautifully. Rachel's vision came to life and it really was the perfect spot for us."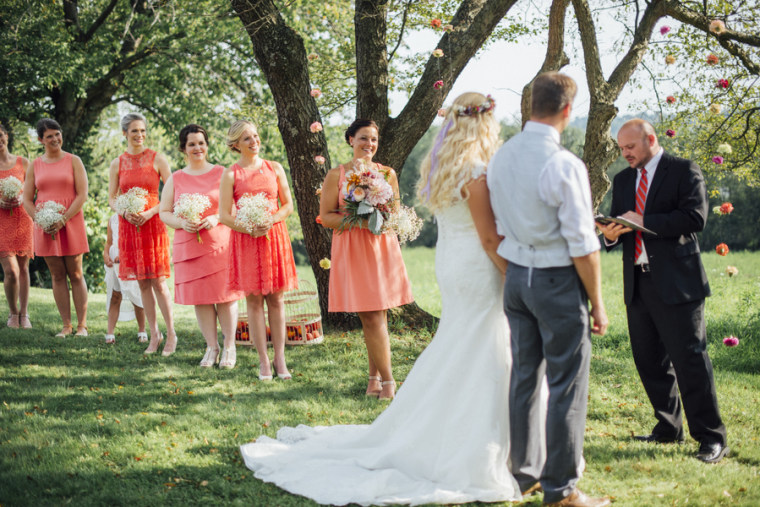 Tokarski said it was important to "make everything unique to who we are and reflect our personalities." That sentiment extended to the wedding parties.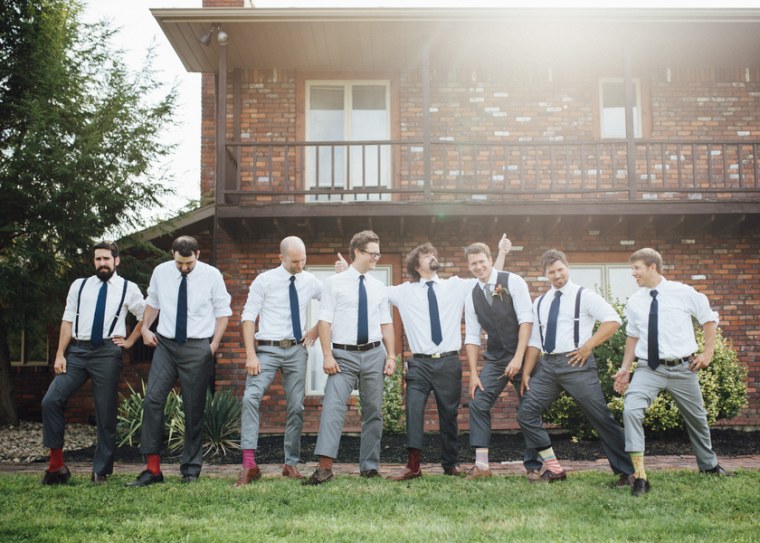 Groomsmen were asked to wear gray slacks and brown shoes. Bridesmaids were encouraged to wear whatever coral dress they wanted, allowing for a spectrum of shades, cuts, textures and fabrics.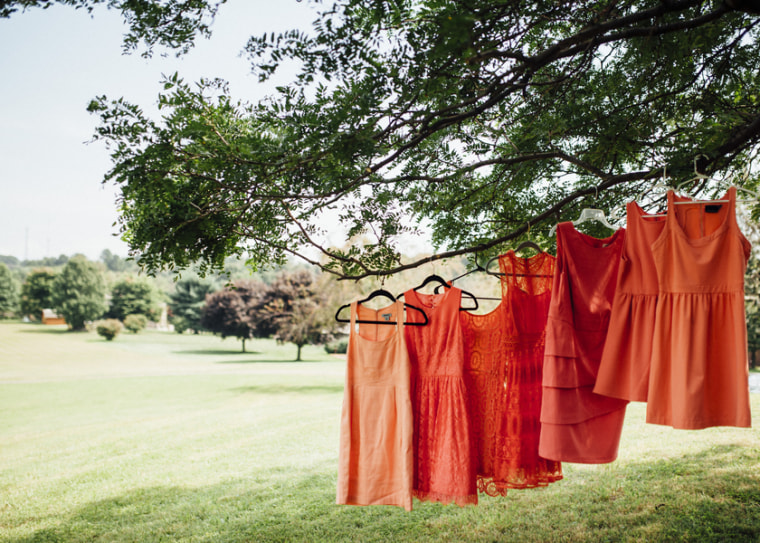 "It felt great knowing they all chose something they were comfortable in and could actually wear again," Tokarski said.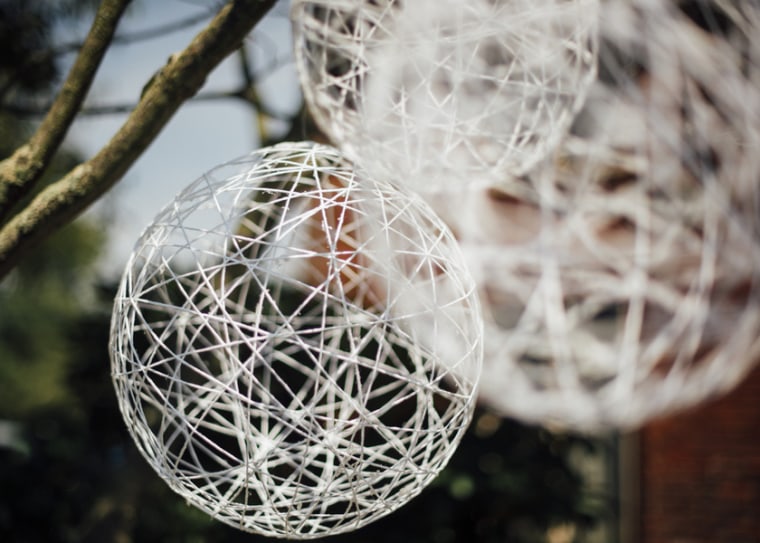 Part of the reason wedding prep took so long was due to the DIY nature of the décor. Wellock's mother, a gardener, provided the potted plants that dotted the venue, while Tokarski's mom made a tassel garland that the family strung from the balcony and to the head table. Family members also made string globes that hung from the trees.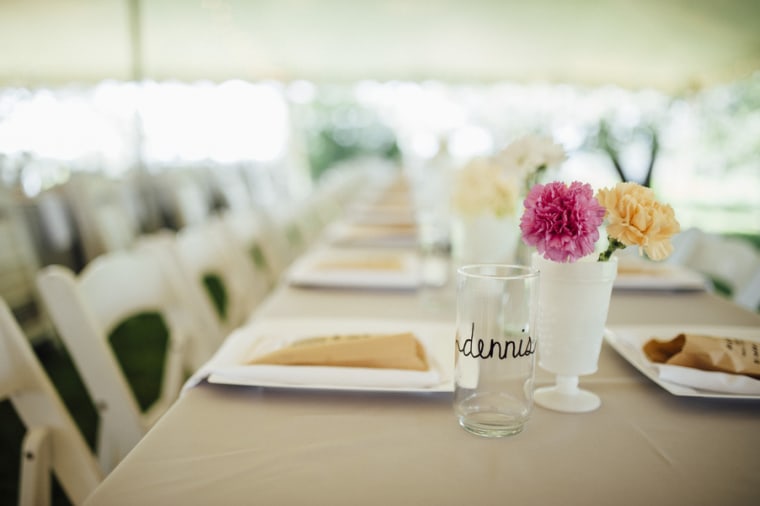 Tokarski raved about Mt. Lebanon Floral's floral crowns, bridal bouquet, candelabras and lanterns, and thanked friends and family for arranging daisies, roses, carnations, baby's breath and hydrangeas as table centerpieces. "I felt incredibly grateful, knowing this could not have been done without them," she added.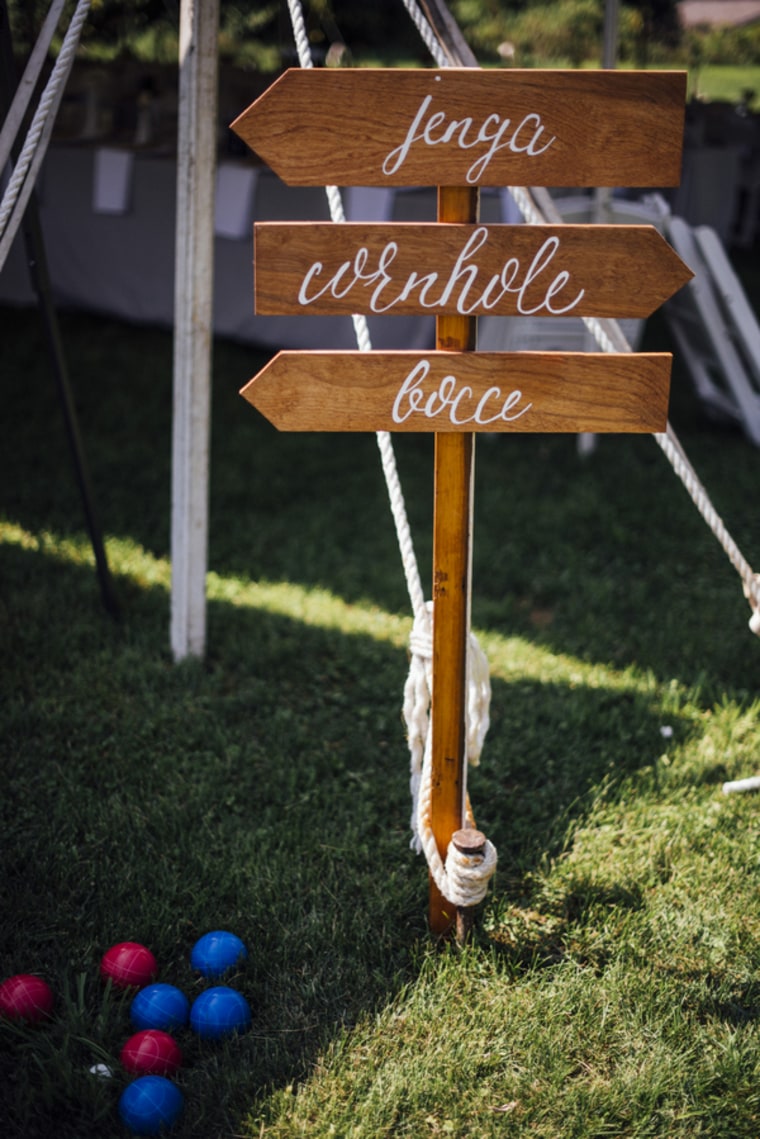 Tokarski spent quite a bit of her own time making all the hand-painted signs. "I wanted it to have a modern feel," she said. "I was trying to find a DIY way to make it feel like a garden party."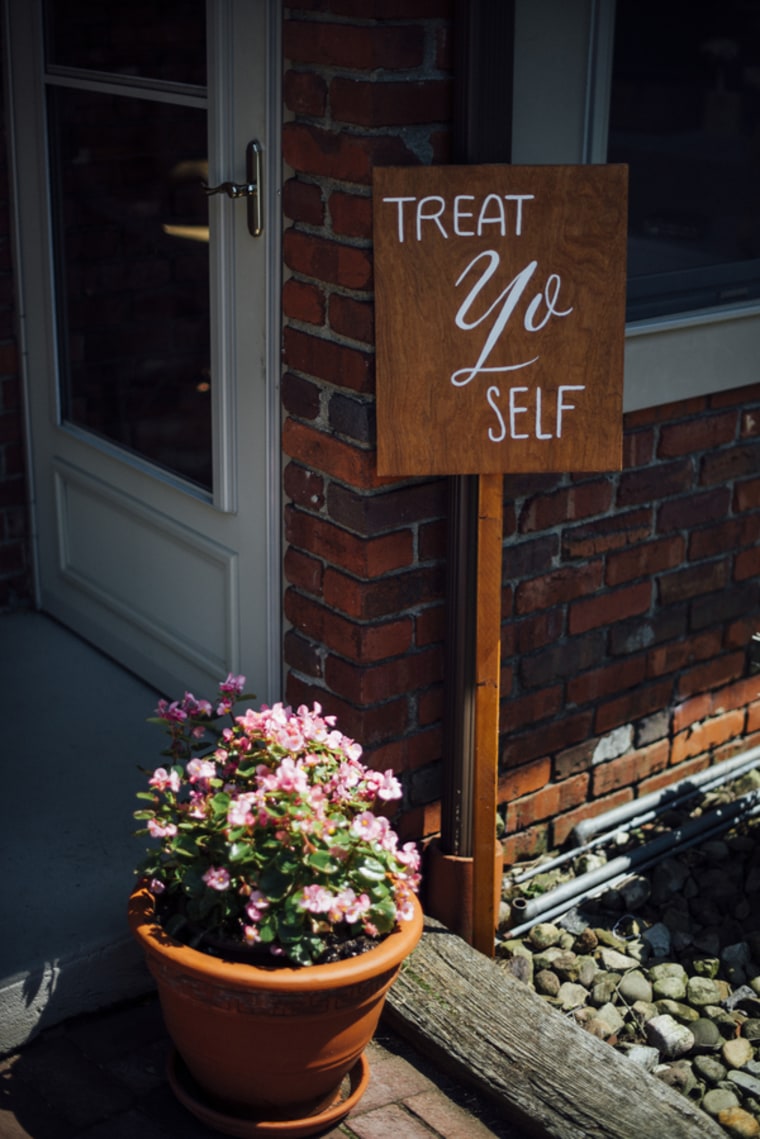 In the process, she crafted signs that referenced some of her favorite pop-culture quotes, including "Treat Yo Self" from NBC's "Parks and Recreation," and "As you wish" from the 1987 movie "The Princess Bride."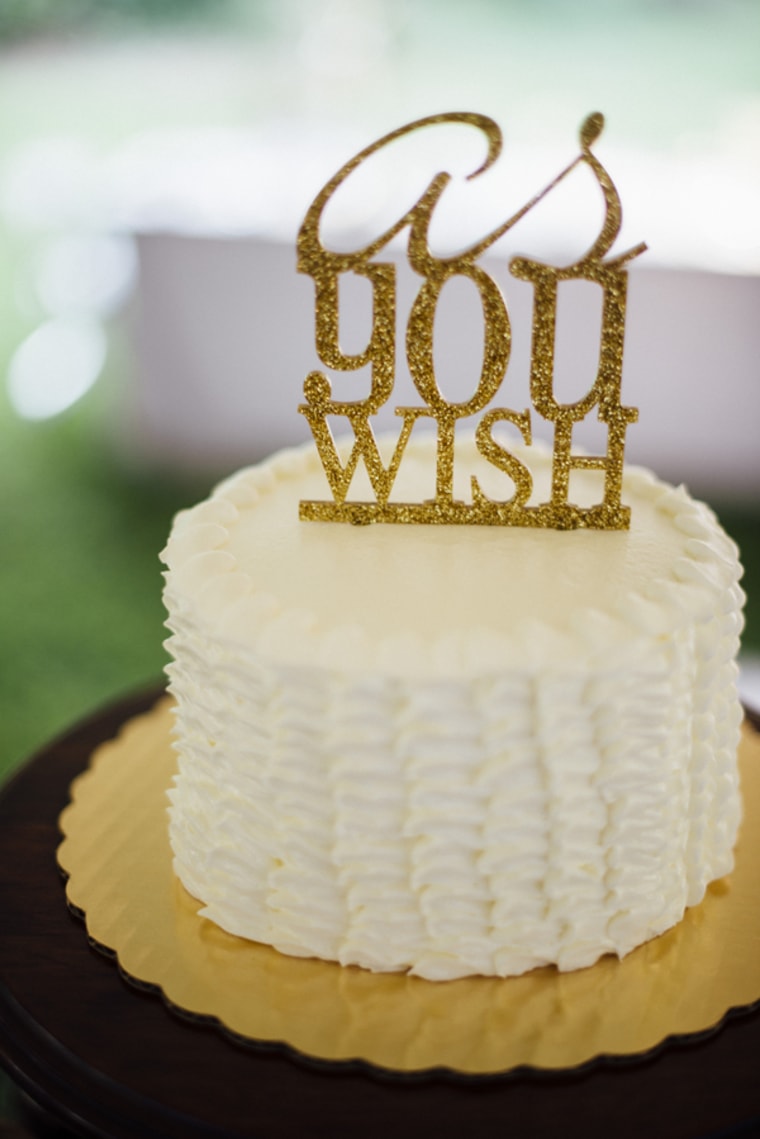 "When we first started dating, we watched 'The Princess Bride,' and Reid also looks like [the character] Westley," Tokarski said. "We were Buttercup and Westley for Halloween once, and that was just sort of our thing. And my sister-in-law read a section from 'The Princess Bride' during the ceremony."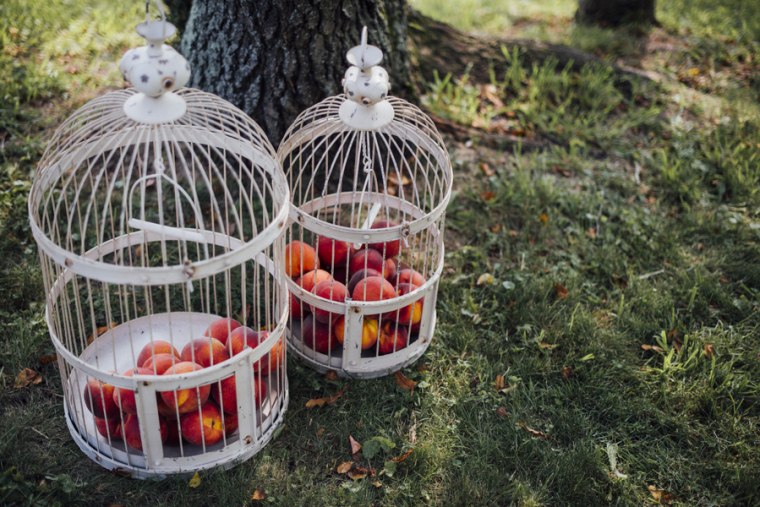 Following a barbecue dinner catered by Clem's Café, guests helped themselves to peaches, which were intended to be strictly for show. Stacked in ornamental birdcages and decorative gold bowls at the start of the day, the fruit wound up being a popular snack by the end of the reception.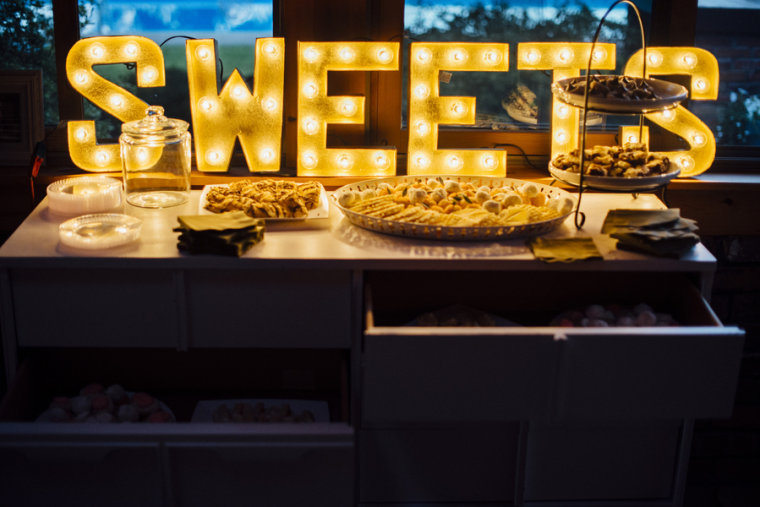 And in an homage to both the "chocolate pocket" and the reminder to "Treat Yo Self," a traditional Pittsburgh Cookie Table featured homemade desserts baked by friends and family.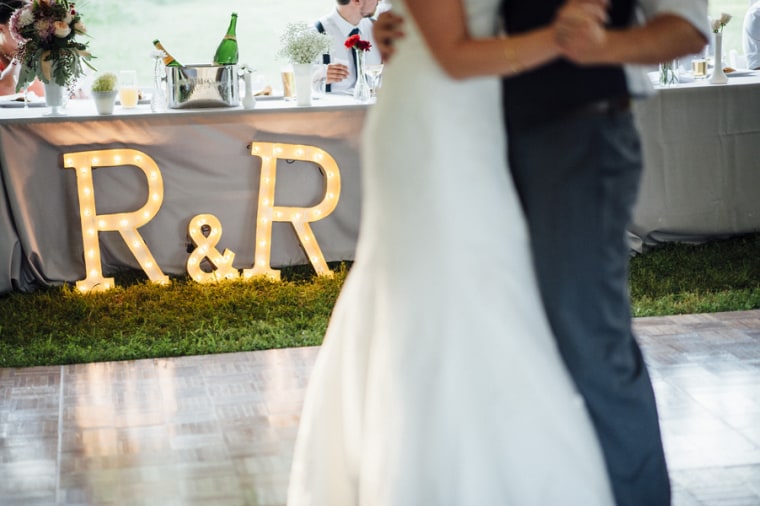 Wellock, too, got into the DIY spirit, teaming up with his bride-to-be to make the "Sweets" marquee and similar "R&R" sign that represents their first names.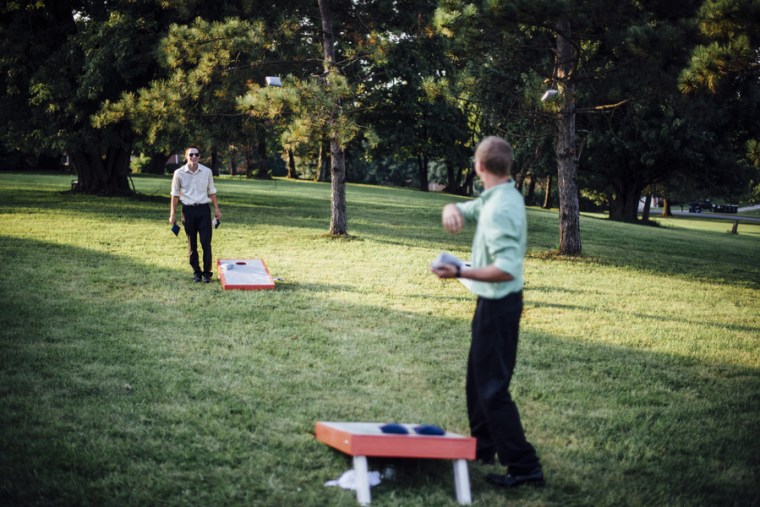 The groom also constructed the cornhole boards that were a big hit among guests. "My biggest hope for our wedding guests was for them to really enjoy themselves," he said. "It was a relaxed outdoor atmosphere with plenty of things to do, eat, and drink. We had yard games set out, delicious BBQ, and plenty of places for folks to kick back and relax. It was perfect."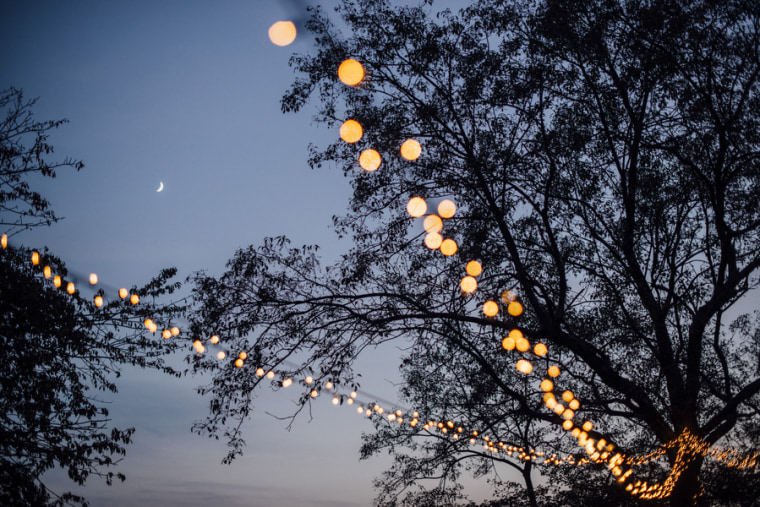 His wife concurred. "All of this could not have been possible without our amazing family and bridal party," Tokarski said. "Our hearts are so full from this outpouring of hard work, kindness and love."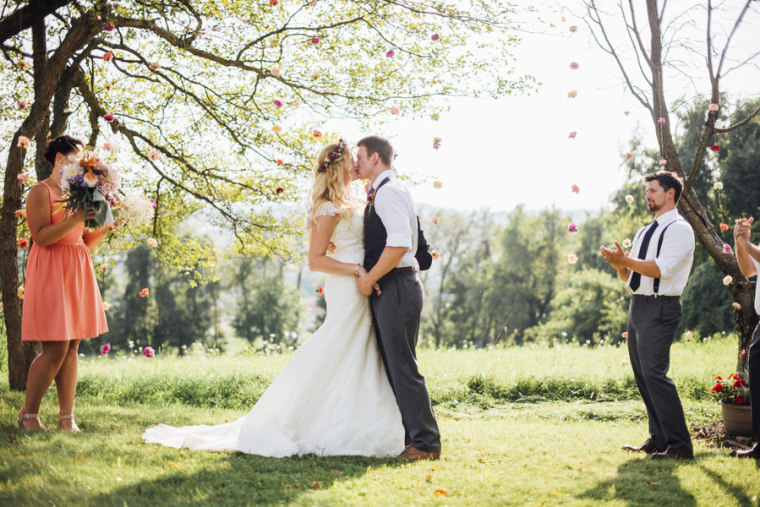 All photos provided by Mandy Fierens Photography. Check out more TODAY Real Weddings here. Follow TODAY.com writer Chris Serico on Twitter.