Divine!
That, in a word, describes many of the spectacular — and spectacularly outrageous — dresses on display at this year's Met Gala.
Celebrities gathered at the Metropolitan Museum of Art to celebrate fashion's biggest night. The theme this year was "Heavenly Bodies: Fashion and the Catholic Imagination." The gala kicks off a new exhibit at the museum, which teamed up with the Vatican to explore the traditions of religious dress.
In keeping with this year's religious theme, there were halos, angel wings and plenty of gowns in cardinal red.
Katy Perry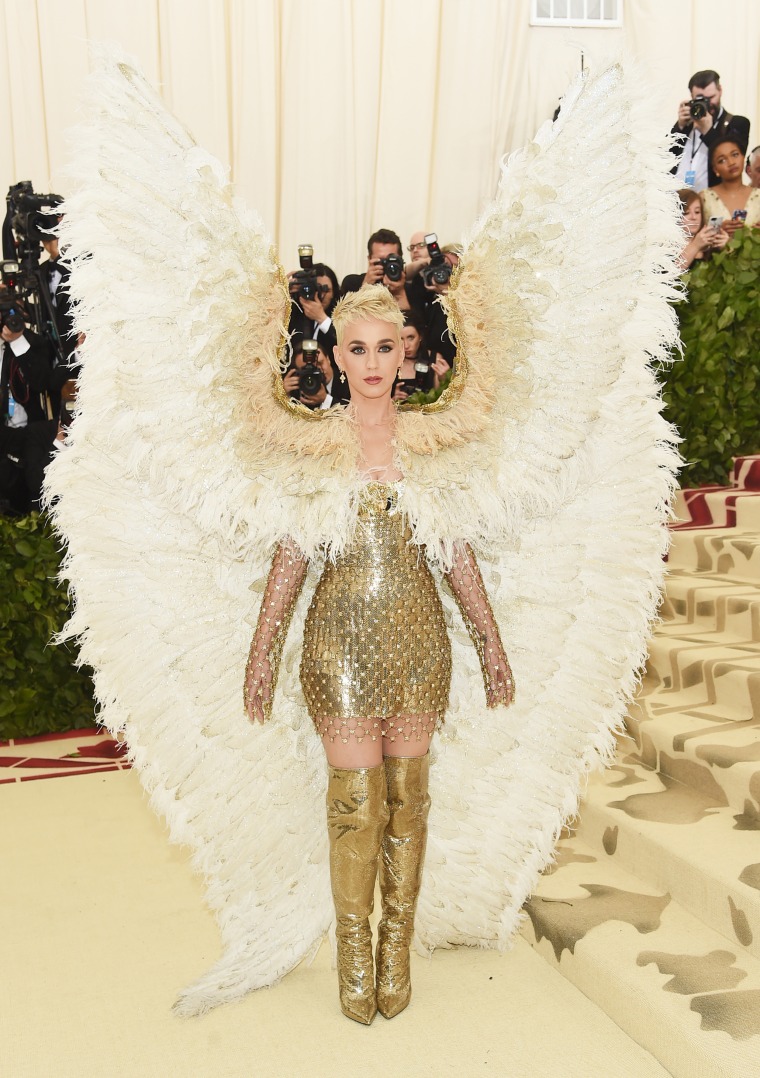 The "Swish Swish" singer fully embraced the night's theme with huge, fluffy angel wings and a gold, chainmail-inspired mini dress.
Rihanna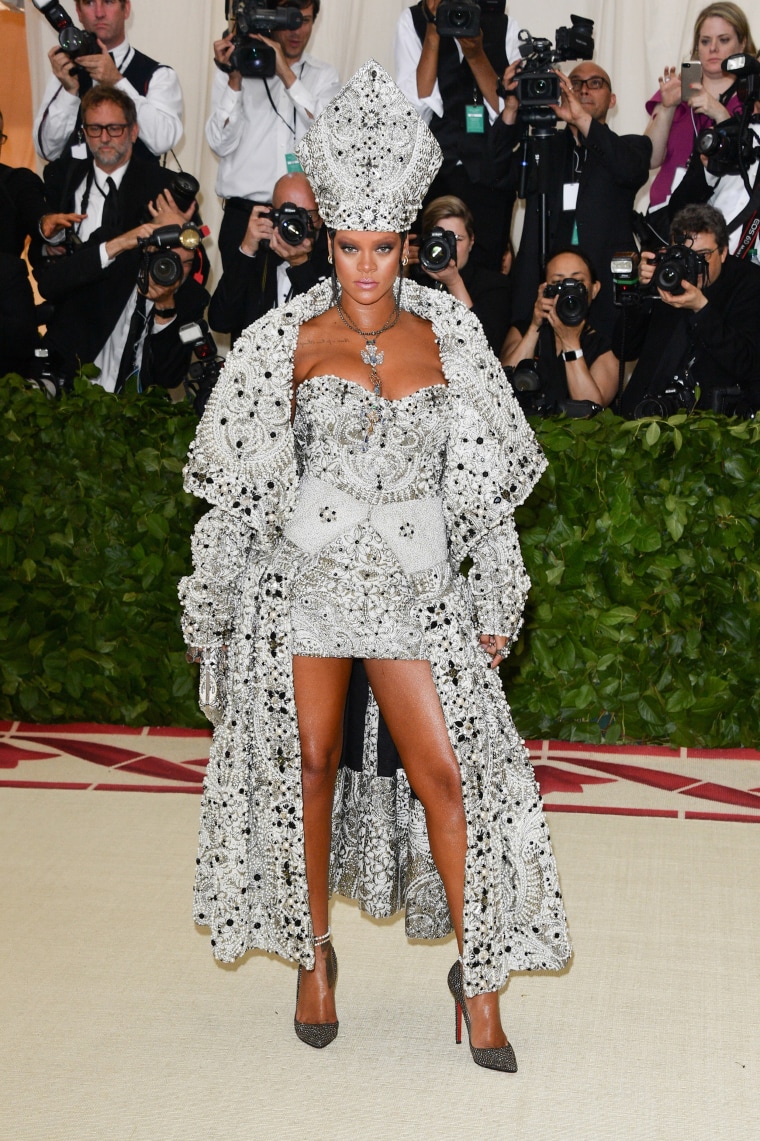 The singer and co-chair of the event took the night's religious theme to a new level with her glittering, Pope-inspired ensemble.
Cardi B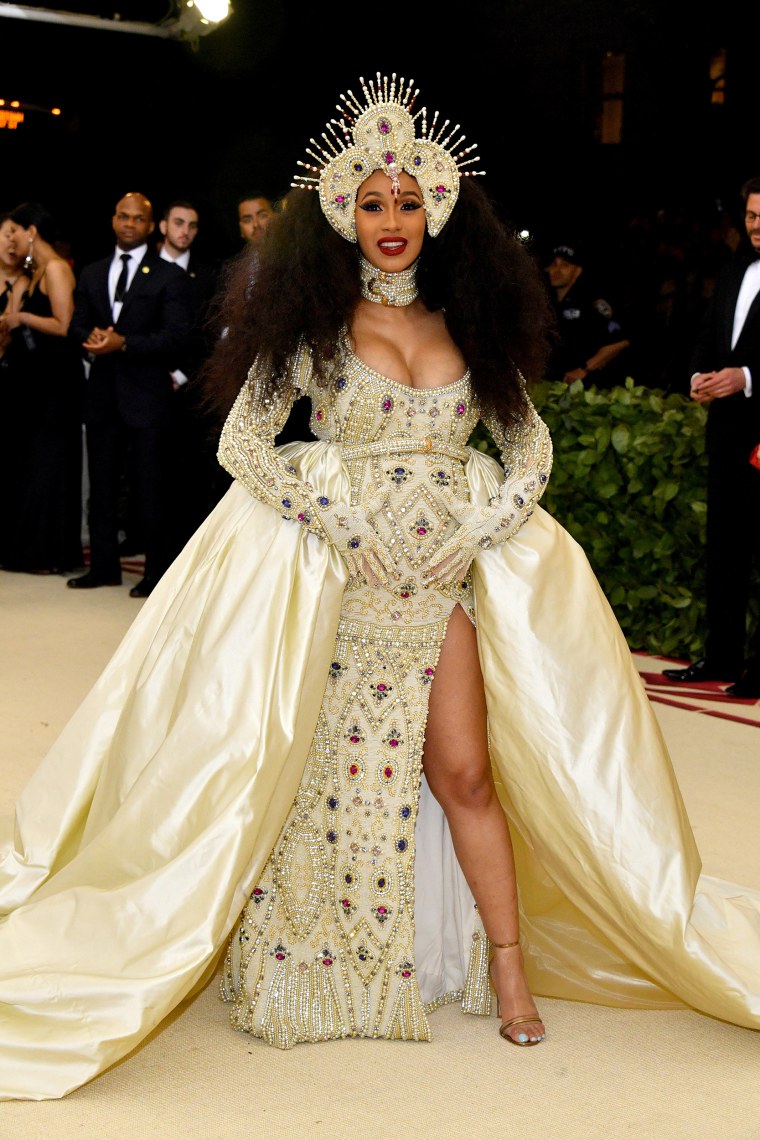 The rapper showed off her baby bump in her pearl-studded dress and a breathtaking pearl-and-jewel-encrusted headpiece. It was Cardi B's first Met Gala, and she definitely made an entrance!
Blake Lively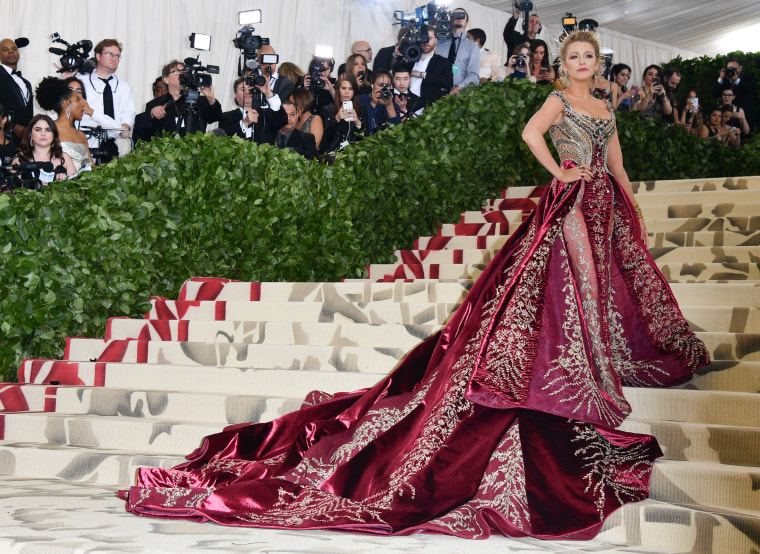 Lively's jaw-dropping Versace gown was so voluminous, she apparently needed her own party bus to travel to the gala. She topped off the stunning look with a dramatic, spiky crown.
Amal and George Clooney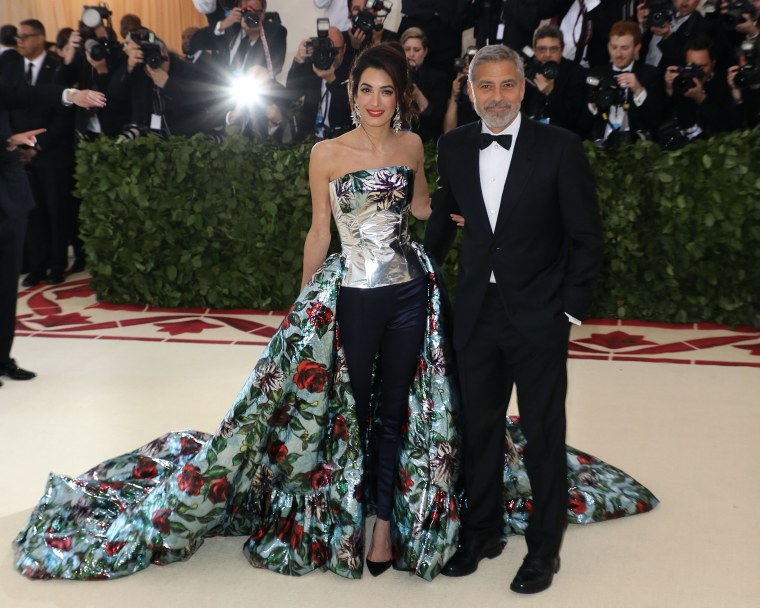 The human rights lawyer and co-chair of the evening nailed her red carpet style (as usual!) with her shiny, navy pants overlaid with a long, floral train. Meanwhile, her husband looked dapper as ever in a classic tux.
Diane Kruger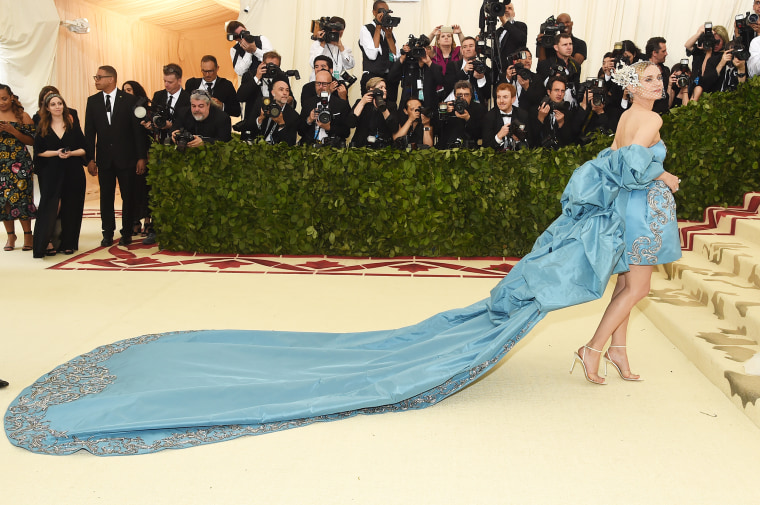 Now that is a train! The actress turned heads with her aqua-and-silver mini dress with a seriously long train that was perfect for making a dramatic journey up the Metropolitan Museum steps.
Kate Bosworth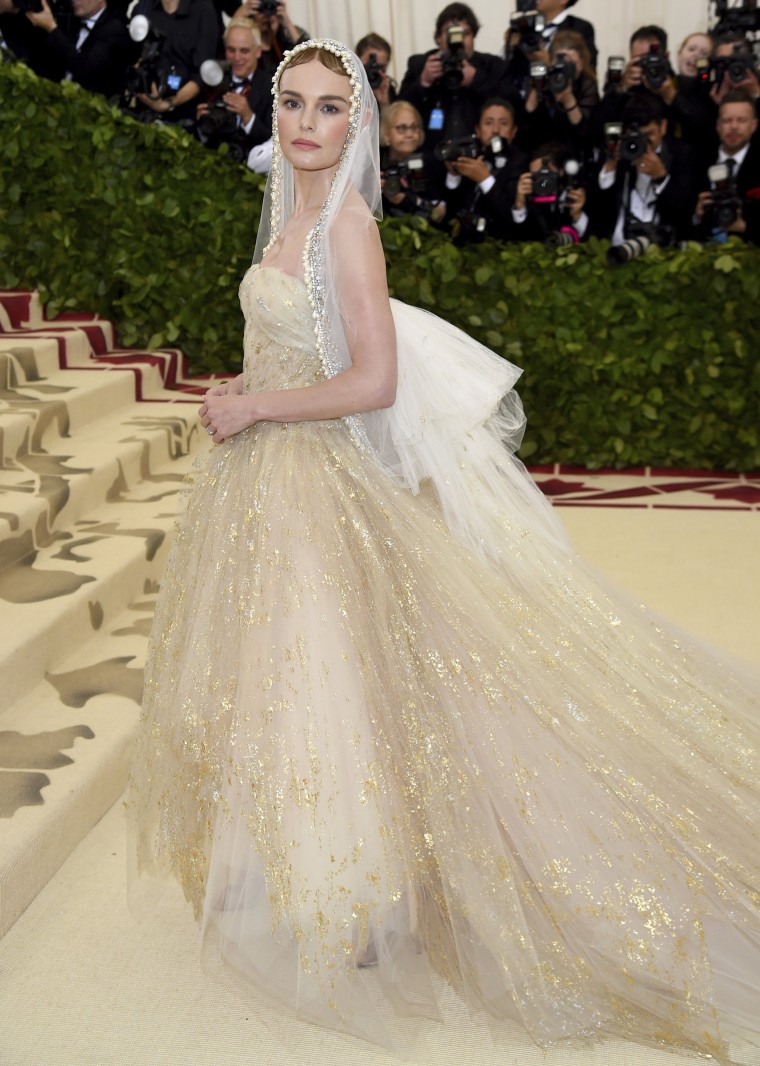 The actress looked like an angel in her strapless Oscar de la Renta gown and sheer, pearl-accented veil.
Zendaya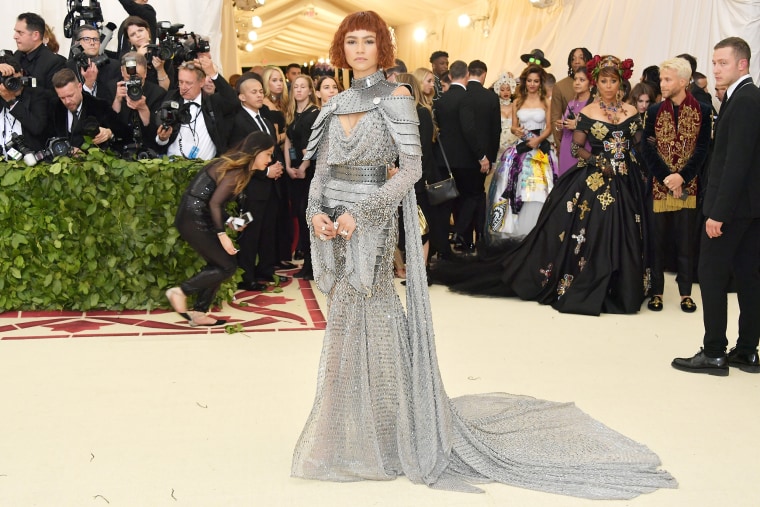 The actress and singer paid homage to Joan of Arc in a custom Versace gown with an armor-inspired breastplate, long, medieval-style sleeves and plenty of chainmail. Nailed it!
Chadwick Boseman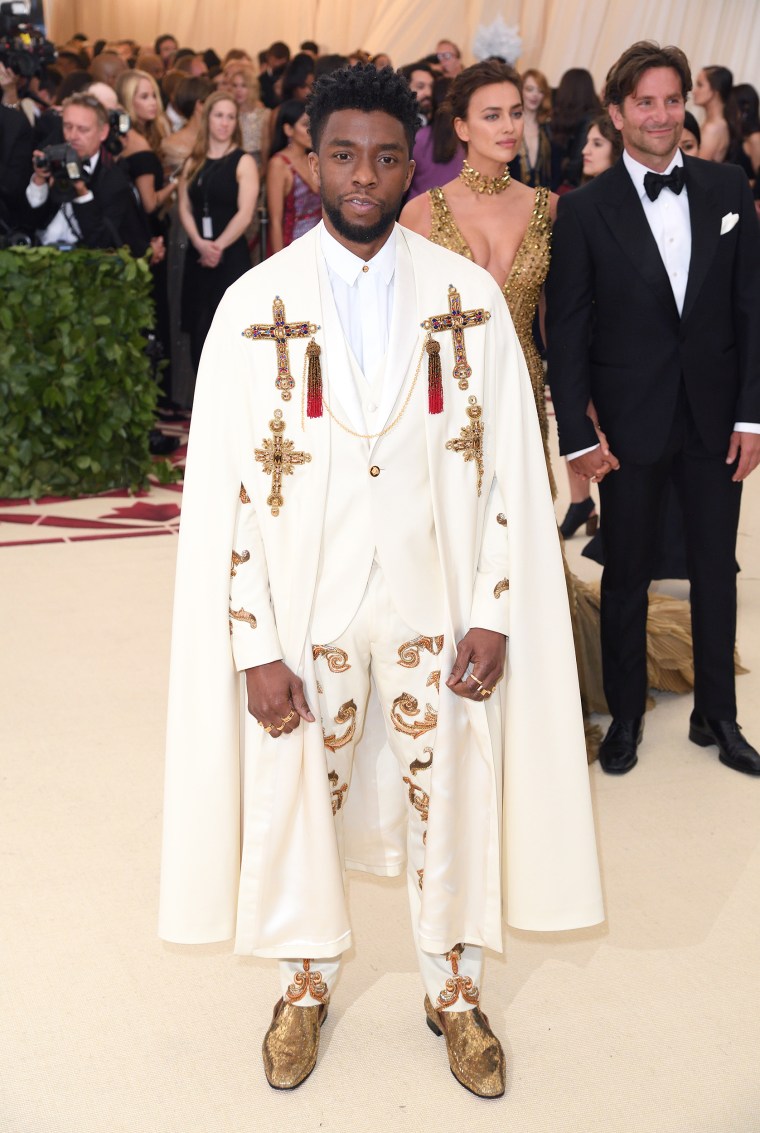 While many of the male guests opted for classic tuxedos, "Black Panther" star Chadwick Boseman went all out with a cream cape-suit combo embellished with crosses and other designs — paired with golden shoes, of course.
Cindy Crawford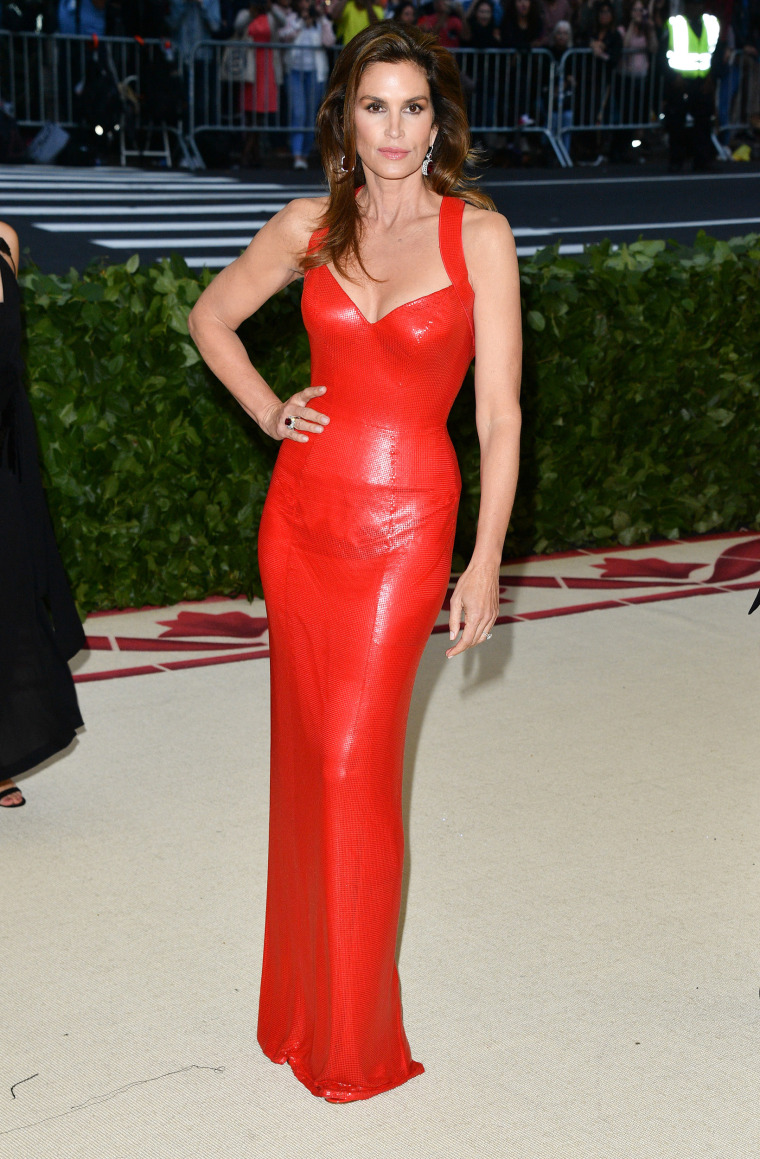 Like many of her fellow gala guests, the supermodel wore Versace in honor of the evening's co-host, Donatella Versace. She opted for a gorgeous, form-fitting red number in a classic silhouette.
Sarah Jessica Parker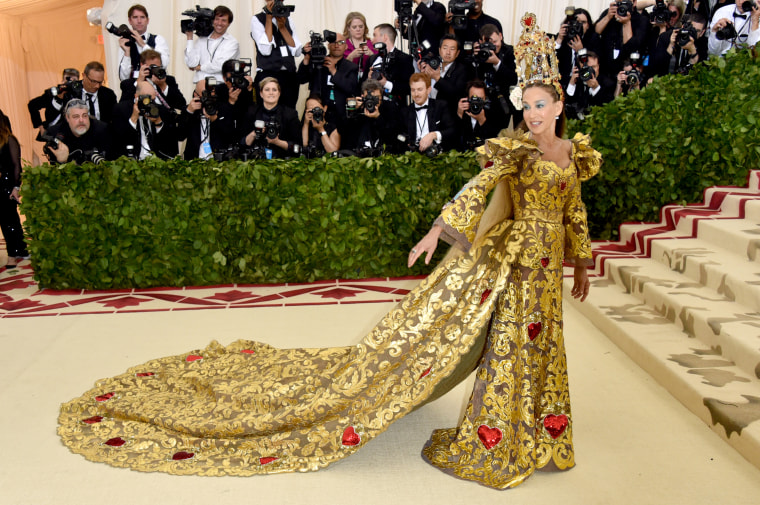 All hail the queen! Sarah Jessica Parker went all out with her brocaded Dolce and Gabbana dress and, yes, an entire nativity scene perched on her head.
Kim Kardashian West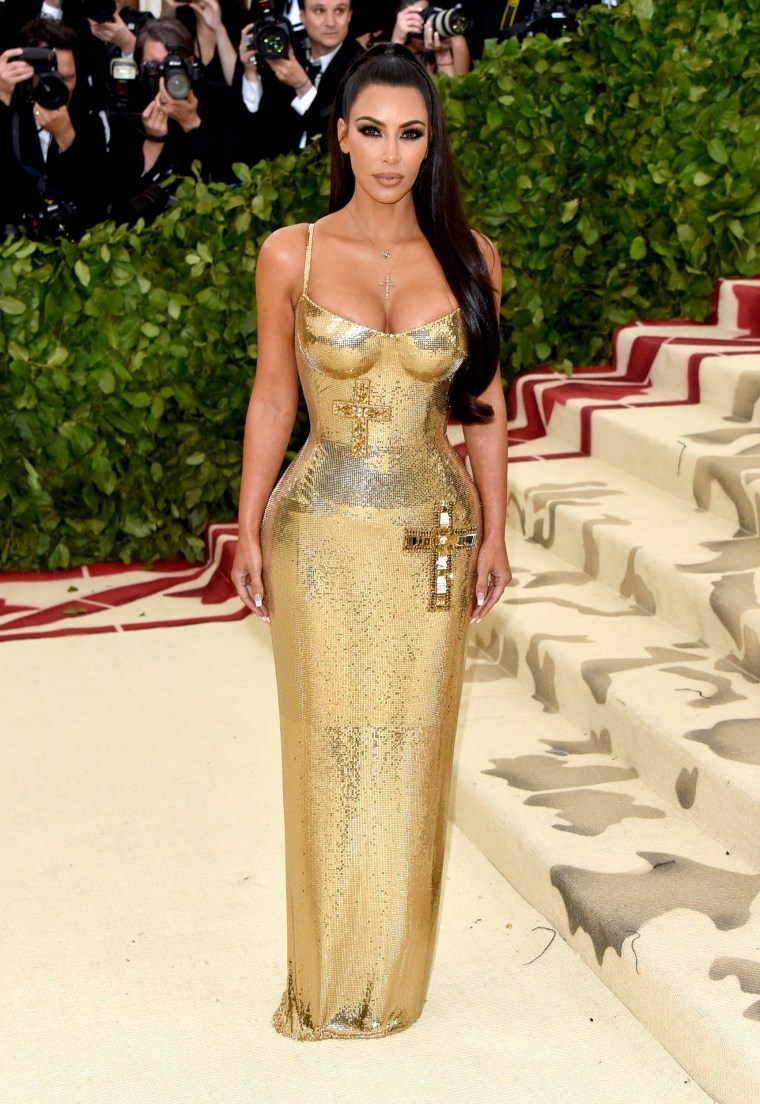 The reality star dazzled in a gold Versace dress, which she revealed on Twitter was "inspired by the iconic gold chainmail and cross designs from the 1997 Versace couture show."
Madonna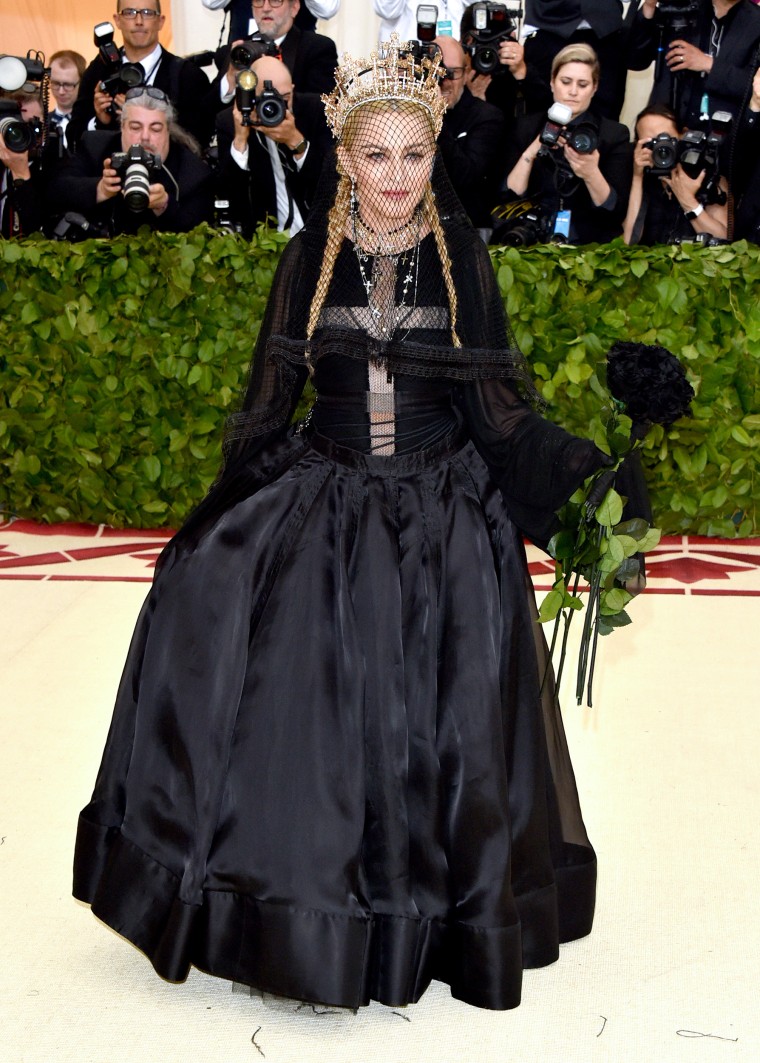 Madonna made a major statement on the Met Gala red carpet with a Renaissance-inspired Jean Paul Gaultier gown, accessorized with a bouquet of black roses and a crown of glittering crosses. Later on, she honored the night's theme with a surprise performance of "Like a Prayer" and "Hallelujah."
Jennifer Lopez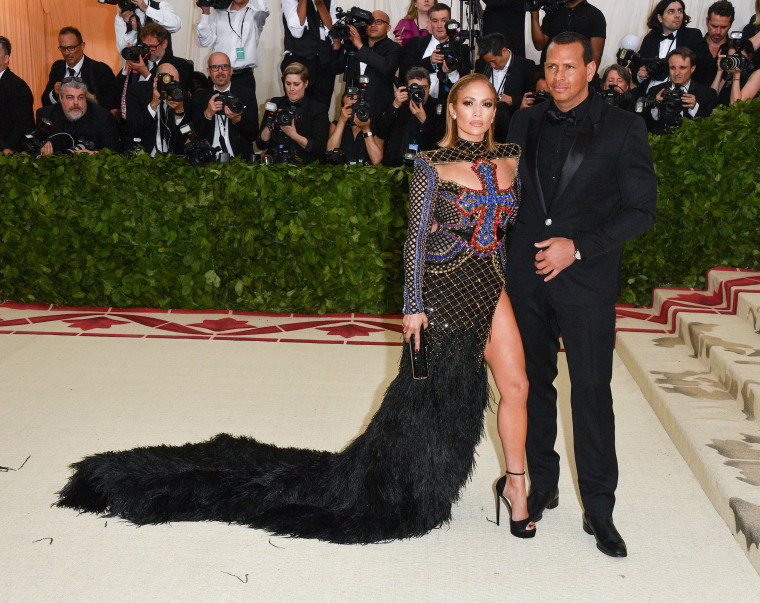 Lopez looked flawless as always in a glittering gown with a cross-shaped cutout and feathered train. Her boyfriend, Alex Rodriguez, kept his look simple in a sharp, all-black suit, letting J.Lo bring all the fashion drama.
Janelle Monae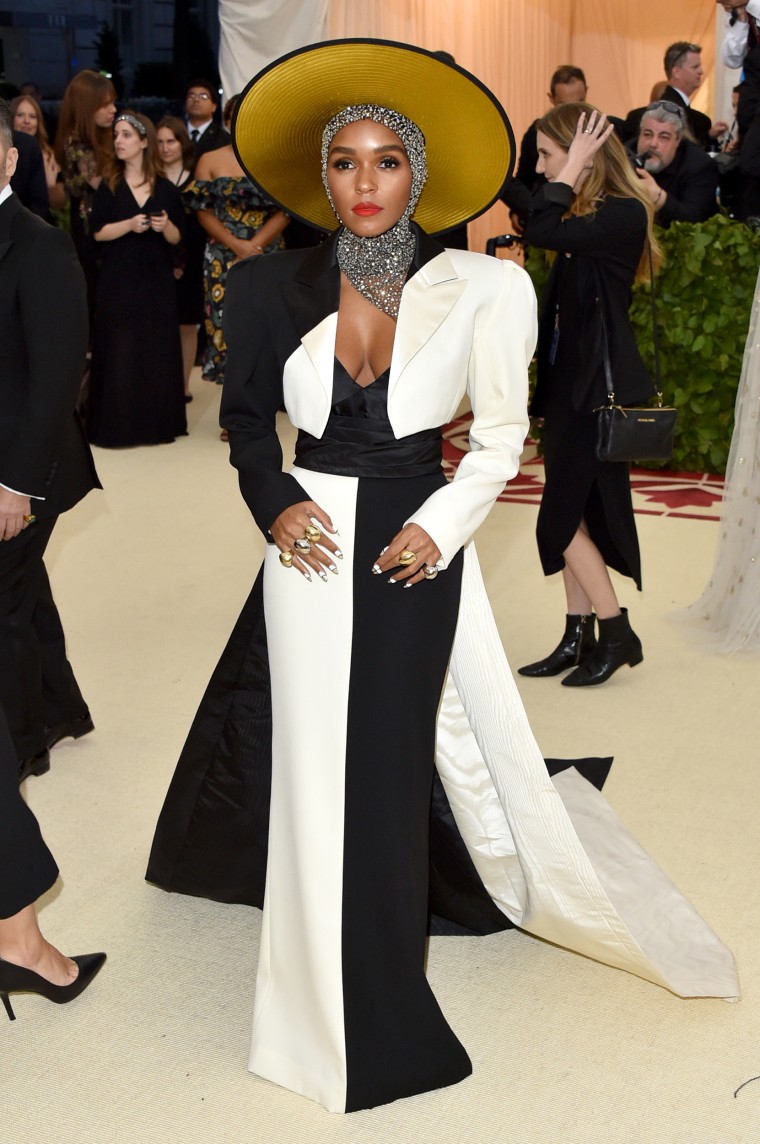 Monae was the talk of the red carpet with her halo headpiece and signature black-and-white Marc Jacobs dress and cape.
Priyanka Chopra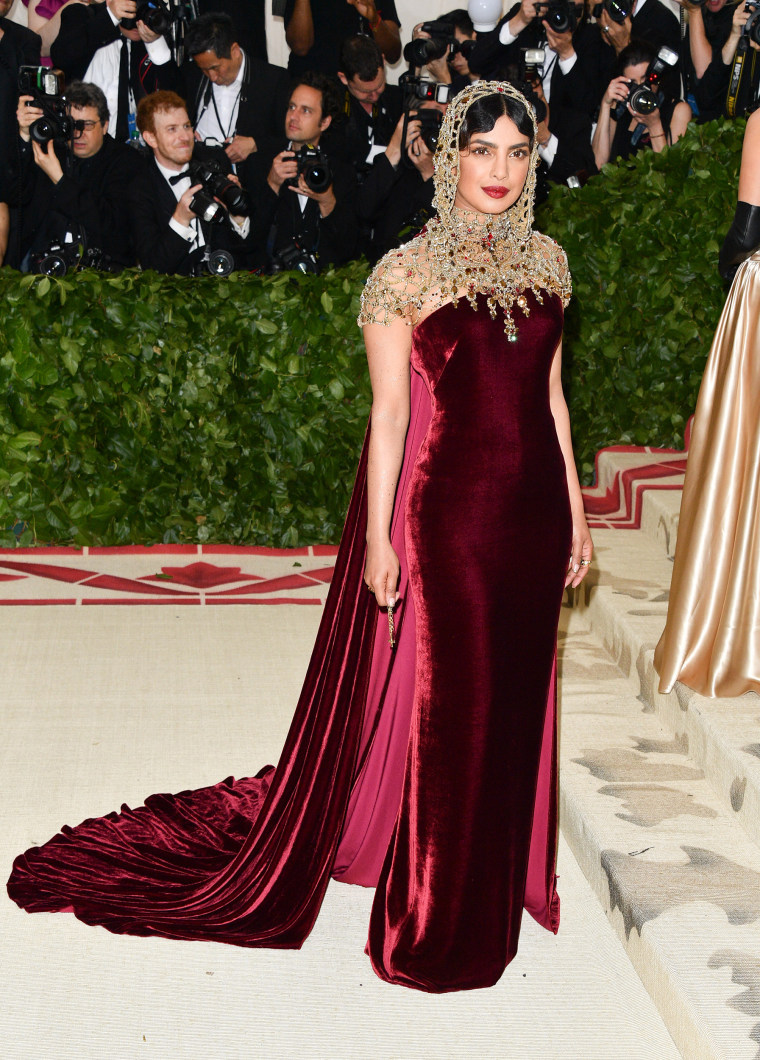 The "Quantico" star had a unique take on the evening's theme, donning a chainmail headdress that could have been inspired by a medieval knight. She paired the headdress with a burgundy velvet Ralph Lauren gown.
Lena Waithe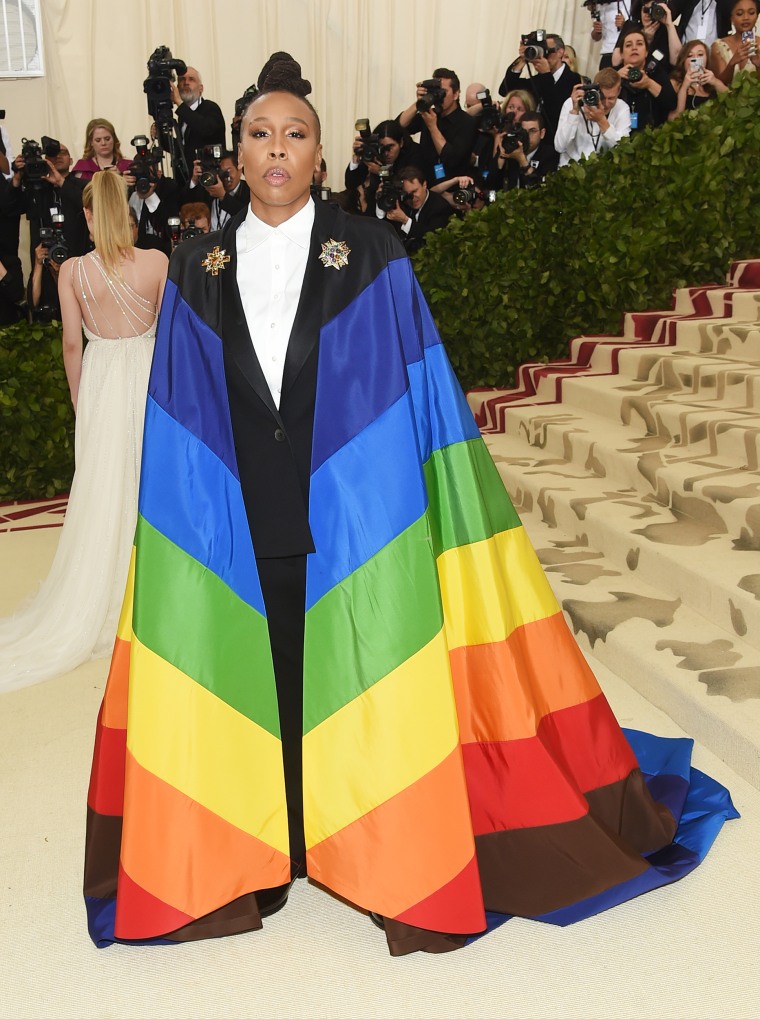 The "Master of None" actress made a powerful statement with her flowing rainbow cape inspired by the LGBT pride flag.
SZA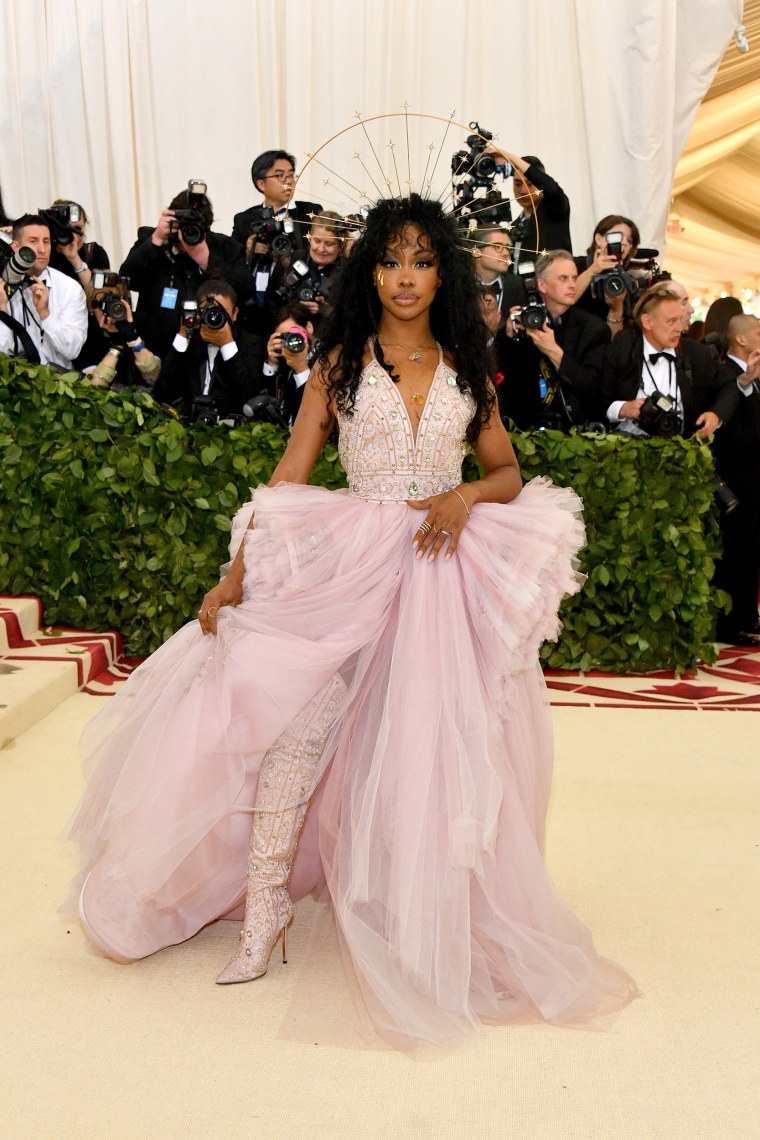 The singer-songwriter looked angelic in a celestial headpiece and a dreamy, pale pink Versace gown.
Anne Hathaway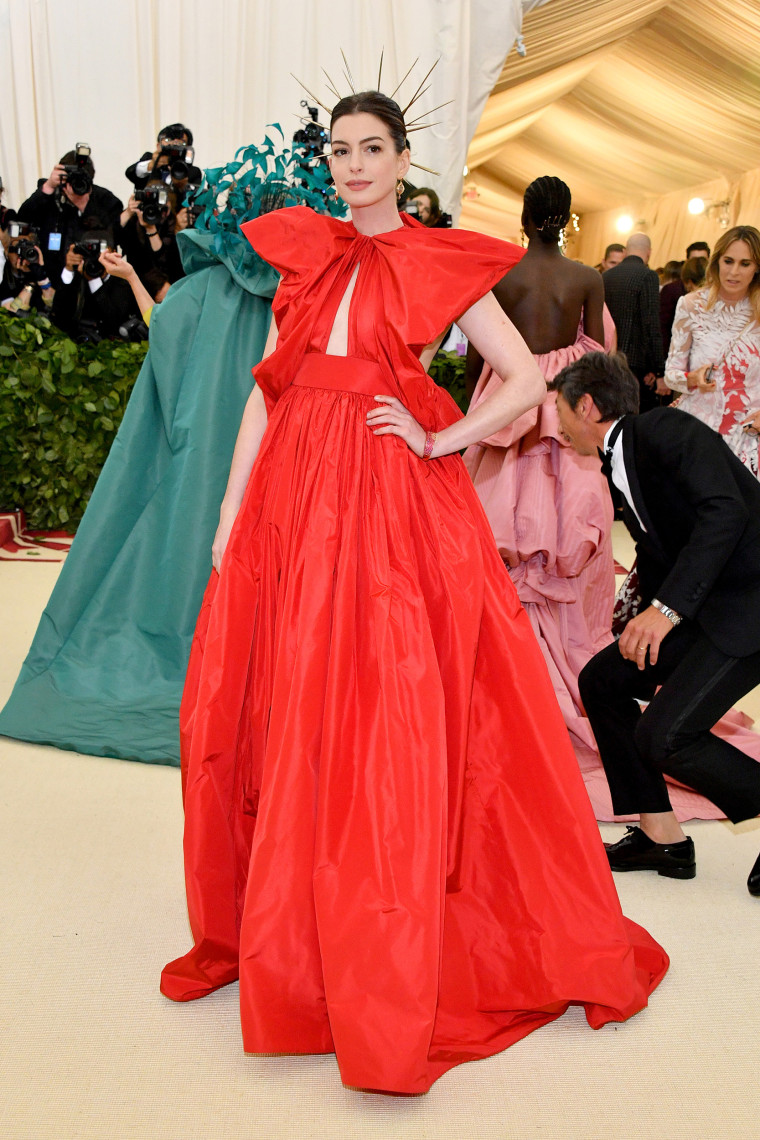 Hathaway looked drop-dead gorgeous in a red, ruffled Valentino gown and a unique, spiked headpiece.
Kris Jenner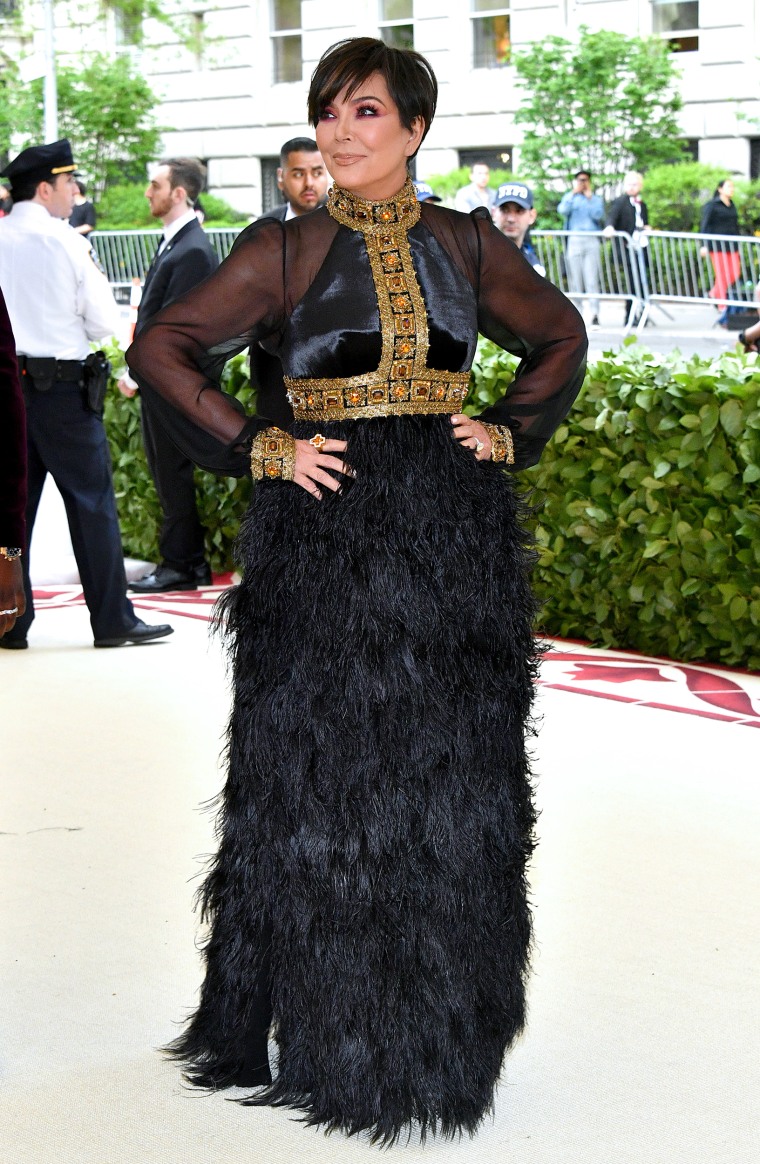 Black and gold were some of the most popular colors on the Met Gala red carpet this year, and Kris Jenner definitely got the memo with her feathered black dress with a Renaissance-inspired embroidered bodice.
Mindy Kaling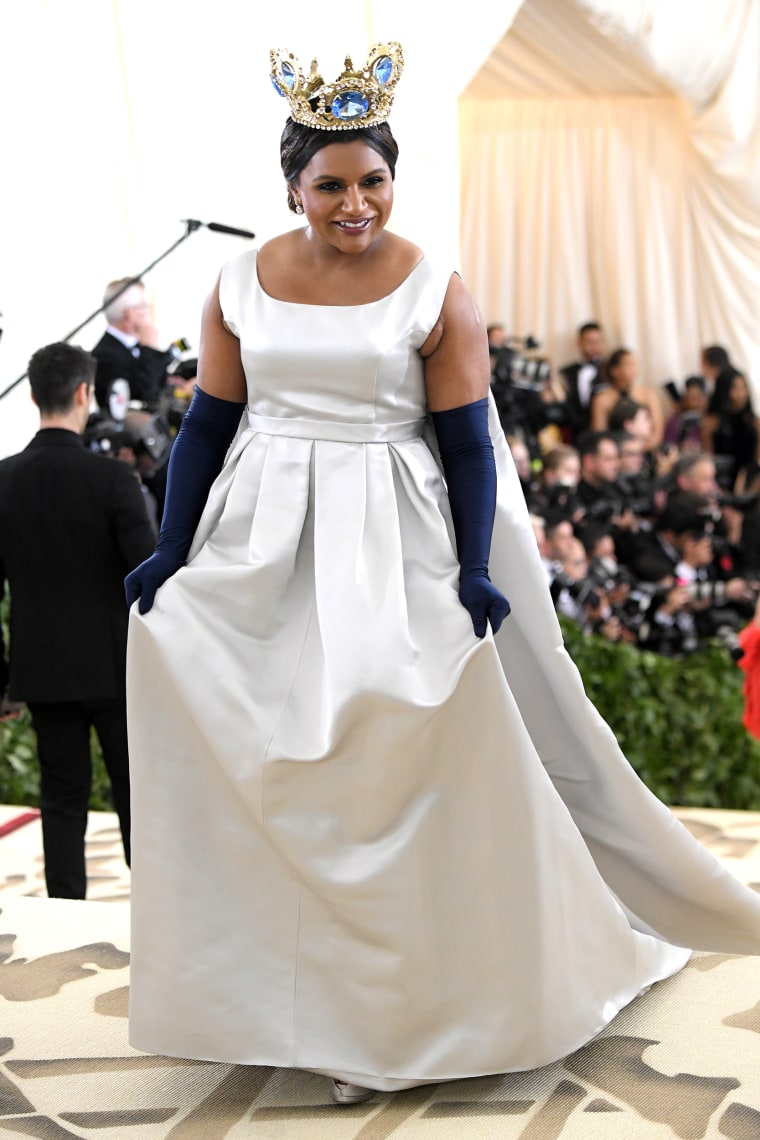 The "A Wrinkle in Time" star looked every part the fashion queen with her regal dress, gloves, and enormous, glittering crown.
Kendall Jenner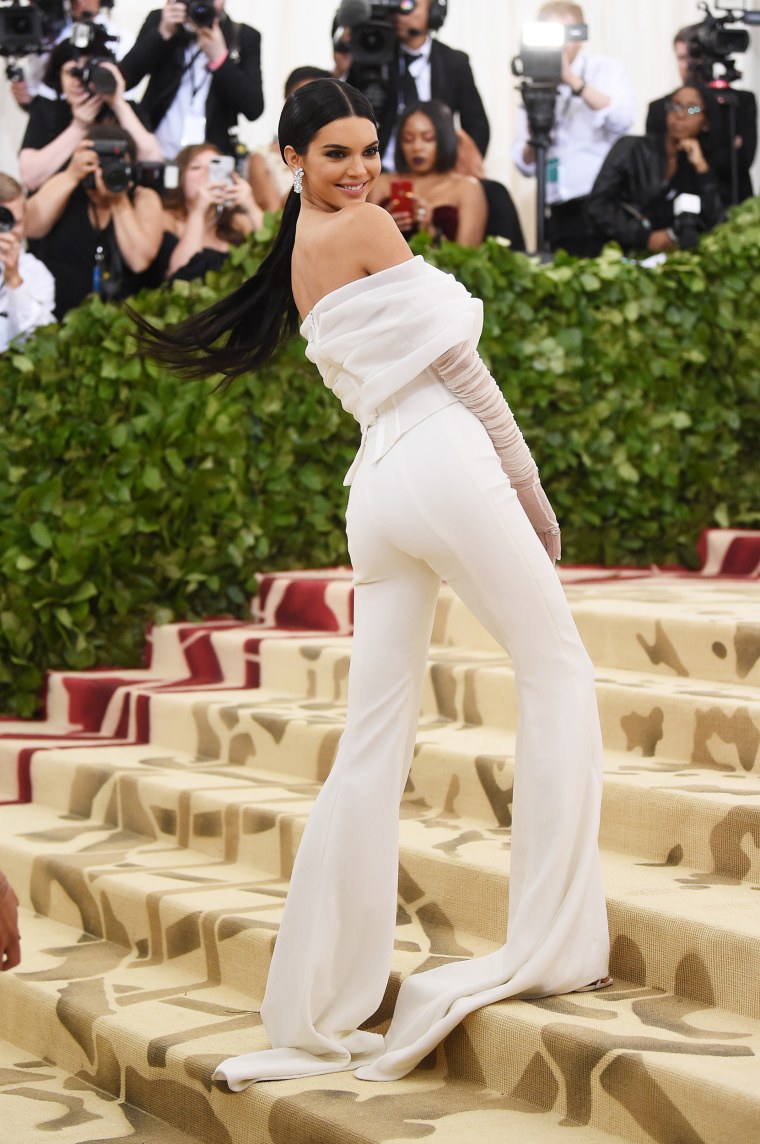 The model kept it simple and elegant with a stunning white pantsuit. She was one of the few female guests to wear pants to the gala.
Princess Beatrice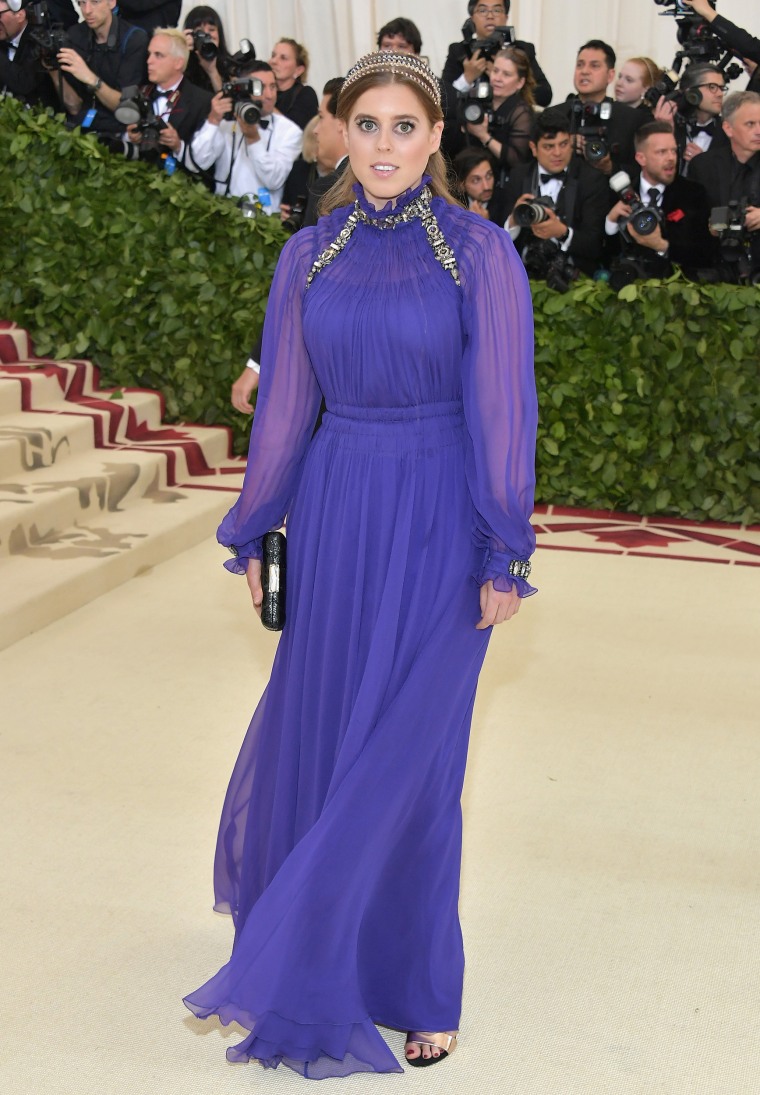 There were plenty of crowns on the red carpet, but Princess Beatrice gave the gala a royal seal of approval. Naturally, she wore purple, the traditional color of royalty, and her beaded hair embellishments were a subtle nod to the evening's "Heavenly Bodies" theme.
Ariana Grande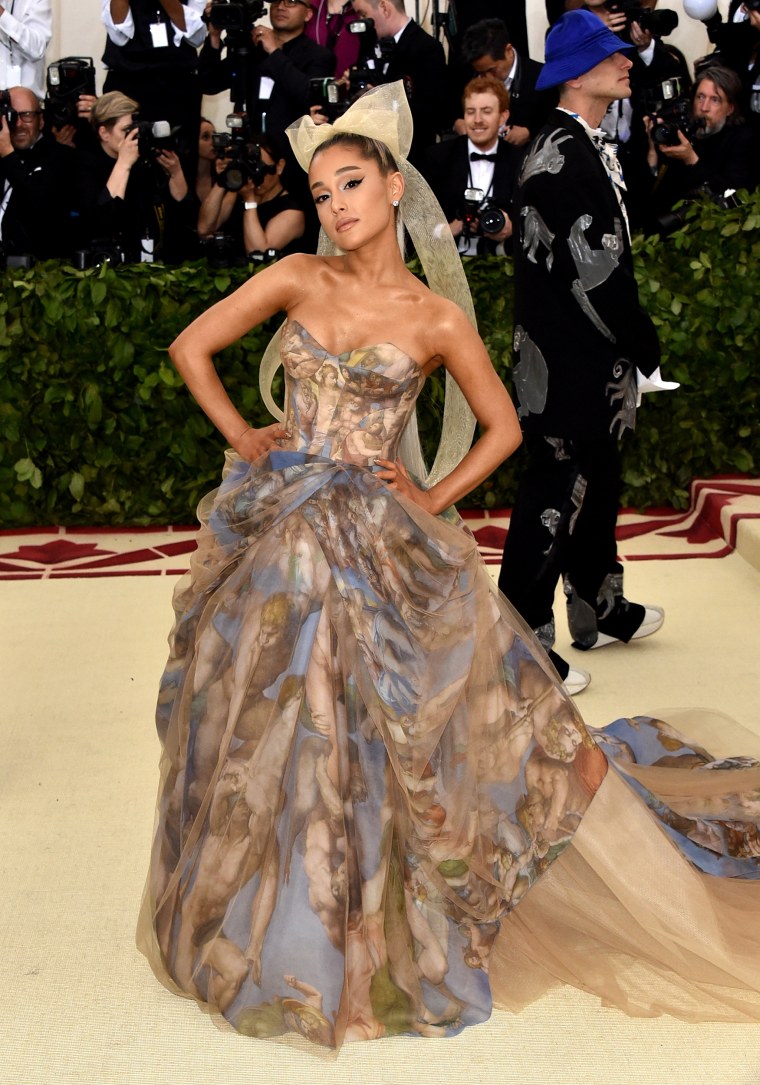 This was the singer's first Met Gala and she owned the heavenly theme in a strapless, pastel Vera Wang gown printed with images from the ceiling of the Sistine Chapel.
Kerry Washington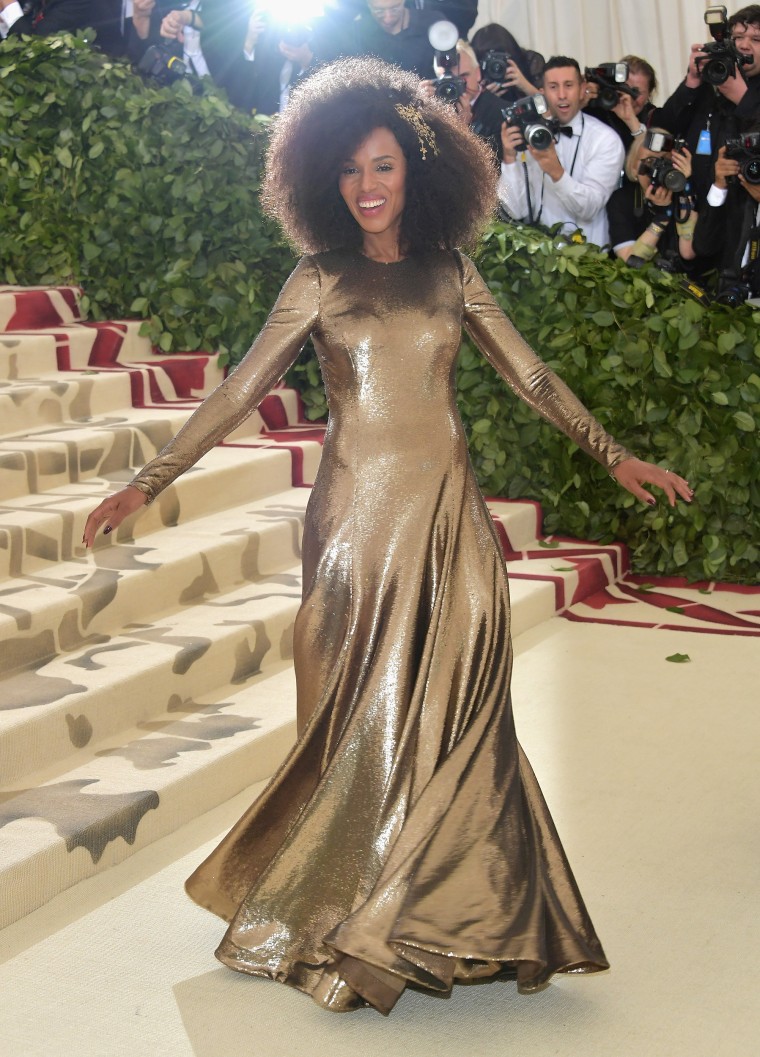 The "Scandal" star looked like a goddess in her shimmering gold gown and dazzling, gold hair accessory.
Olivia Munn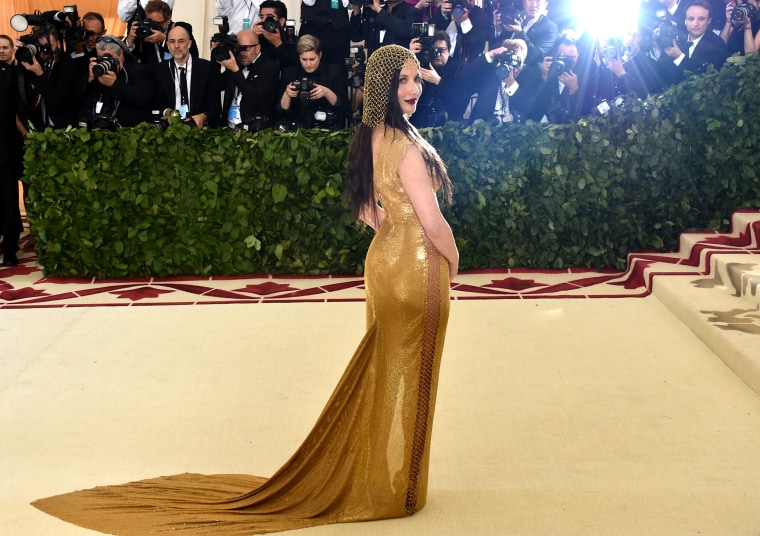 Munn also went for a dramatic, all-gold gown, paired with a chainmail-inspired headpiece.
Ashley Graham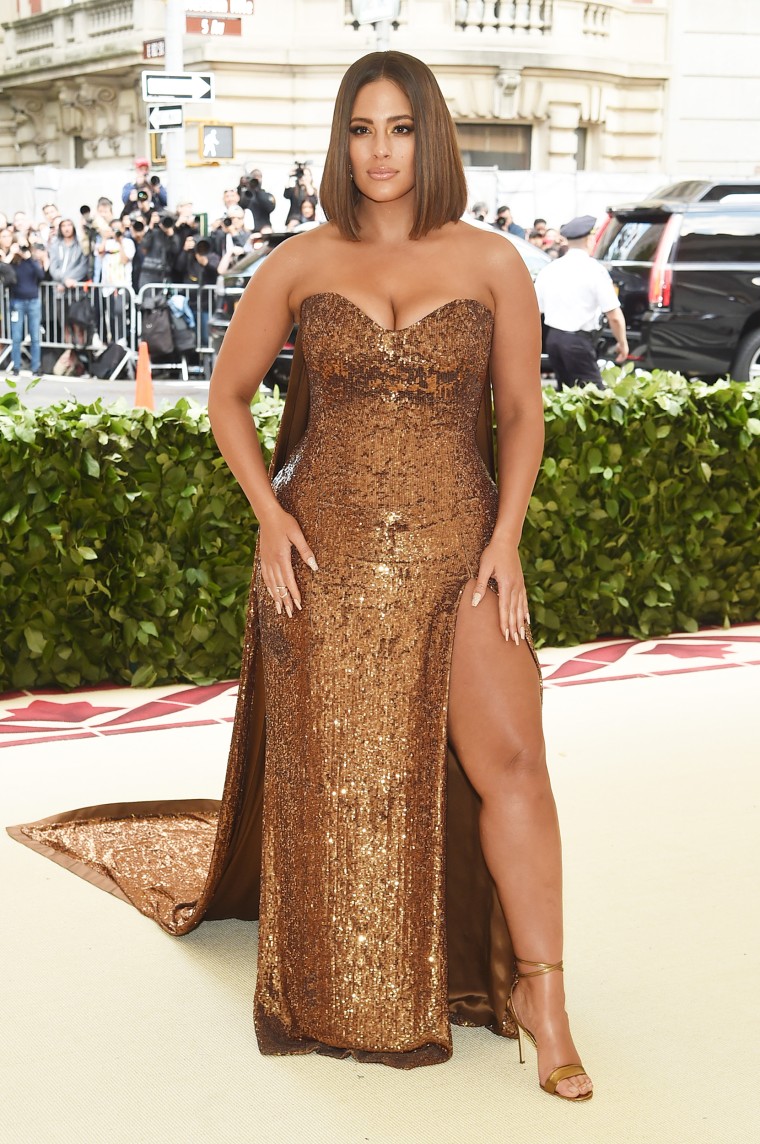 The supermodel also got the metallic memo, arriving in a glittering, bronze gown with a high slit and long train.
Frances McDormand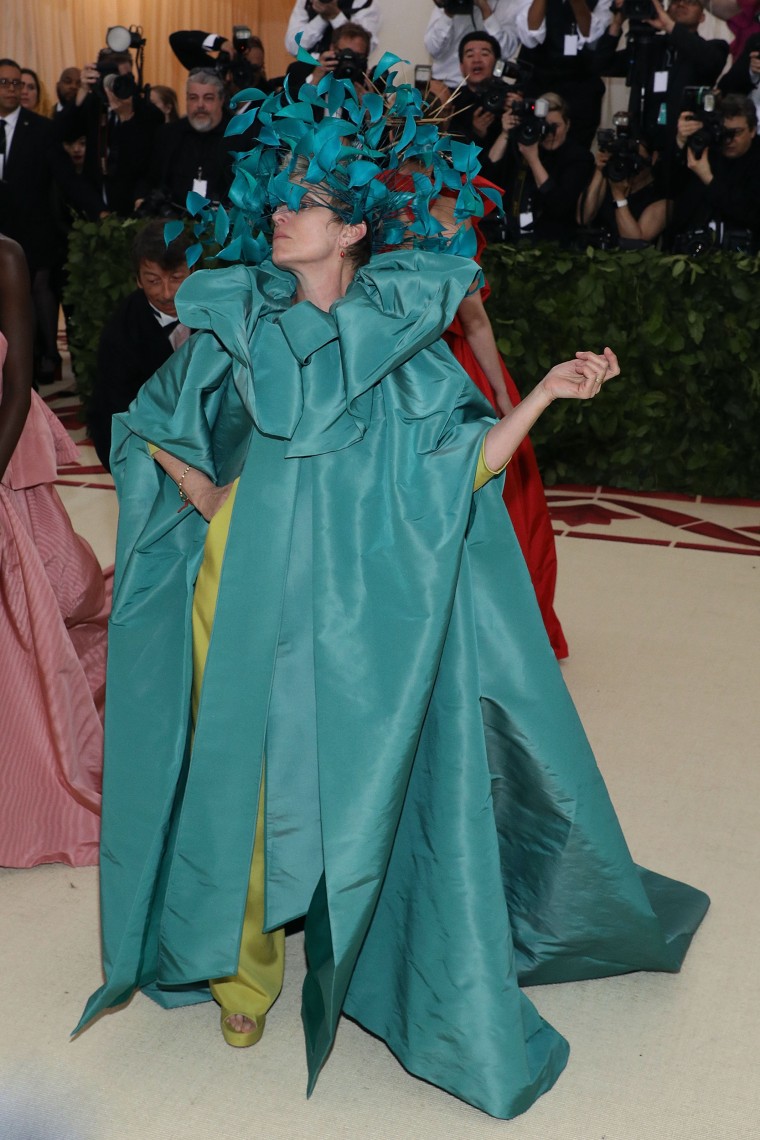 The "Three Billboards Outside Ebbing, Missouri" actress usually sticks to classic silhouettes on the red carpet, but there was nothing understated about her turquoise cape and truly amazing headdress, which she flaunted around the red carpet.
Lynda Carter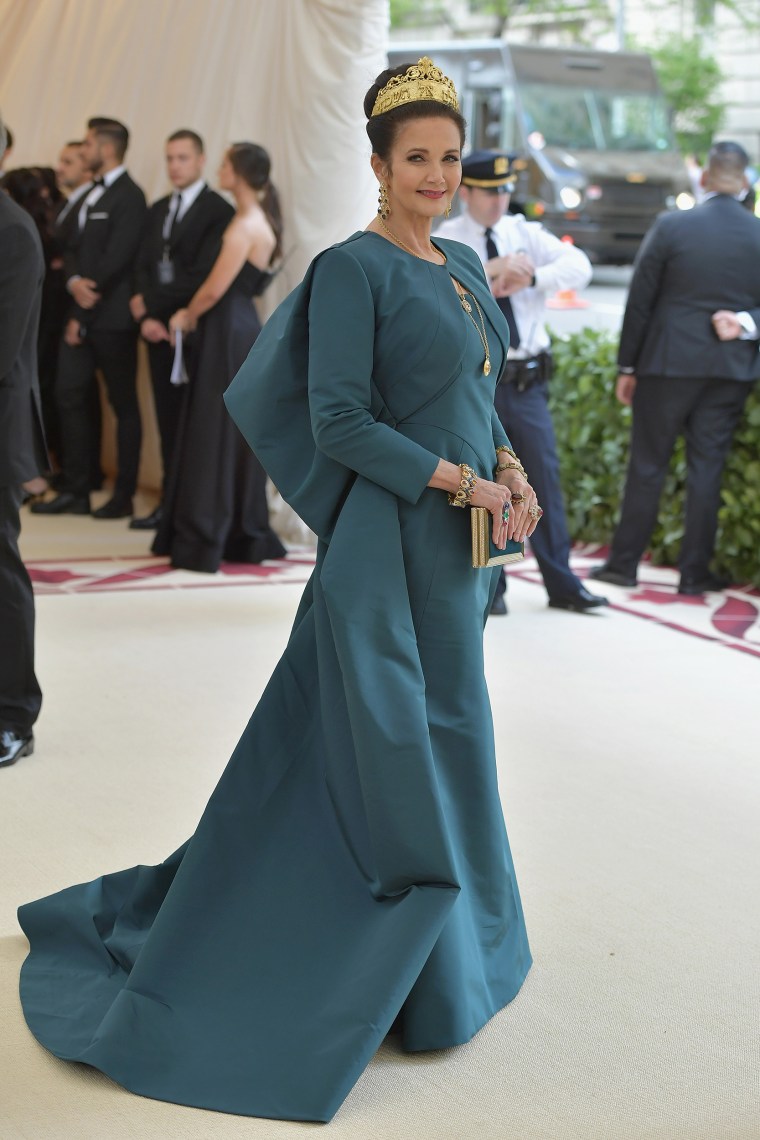 The original Wonder Woman looked every bit like red carpet royalty with her gold crown and teal Zac Posen gown.