Something old? Something new? Check and check.
Jewelry designer Gabe Bratton has created the ultimate wedding gift: custom jewelry made from scraps of lace — cut from a wedding dress that might otherwise spend a lifetime gathering dust in the closet.
"Putting a pair of kitchen shears to an expensive, irreplaceable dress is understandably daunting, but we start with photos and talk through what will work best for a particular fabric," Bratton told TODAY.com. "If someone comes to me with a thin, fragile piece of lace, I suggest earrings or a small necklace. Heavier fabrics are ideal for something more durable, like a cuff bracelet."
Fabric swatches are chosen, trimmed and soaked in wax. They can then be used to create a plaster mold of the lace pattern. Metal is poured into these molds, with options to suit every taste and price point.
And it's Bratton's collaborative spirit that helps potential clients say "I do" to her vision.
Though the customized pieces aren't exactly cheap (brides can make appointments to chat with Bratton about their individual vision), many seem to believe that re purposing an heirloom gown is worth it.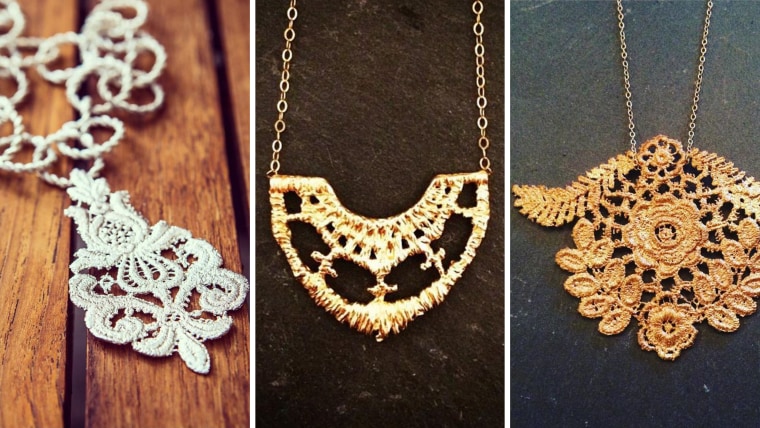 "I care very much about each of their stories, and knowing that helps them feel good handing over something so special," she said. "At the end of the process, I want them to have something that they can pass down over the years."
Each custom order takes four to 10 weeks. In between, Bratton works on her own more experimental collection. "I like to mix different fabrics and textures. Right now, I'm playing with setting stones into the canvas and burlap."
Talk about finding a diamond in the rough.