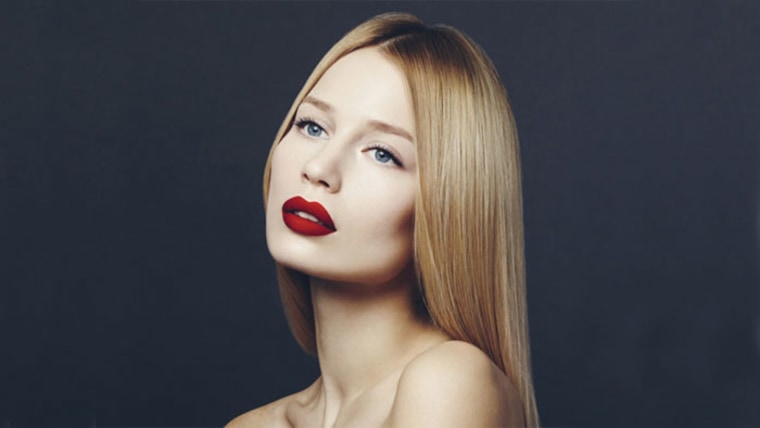 Hunting down the perfect lipstick hue usually ends in dozens of tubes rolling around at the bottom of your bathroom drawer — and you no closer to finding a color you love. We recruited some of the beauty industry's top pros to share the secret to finally locking-down a lip color that's totally flattering.
Consider your irises
"Eye color can really help determine which lipstick shades will pop against your specific complexion," says celebrity makeup artist Joy Fennell. She suggests enhancing green and hazel irises with cherry-red lips. Blue eyes, conversely, often work best with coral hues, which fall opposite them on the color wheel. "The orange complements the blue without overpowering [it]," Fennell explains. What's a brown-eyed woman to do? Think pink. Rosy tones balance brown coloring and encourage a refreshed, wide-awake look.

Let your hair guide you
Another strategy is to make hair color your starting point, says celebrity colorist Ludovic Audesson of the Alessandro Mangerini Salon in New York. "Auburn hair looks beautiful with lipstick shades that offer a violet undertone," he says, "while light and ashy blondes really need pink undertones, even in deeper shades." The possibilities for women with brown hair are broader, but "orange, red, or violet [hues] can all work nicely on brunettes."

Hoda Kotb, Natalie Morales and more share favorite lipsticks
Determine your skin's undertone
A final technique involves using your skin tone to select a lipstick hue that works in your favor. But how exactly do you find your skin's undertone? It's as easy as looking at the underside of your wrist in natural sunlight, says makeup artist and Hourglass Cosmetics brand ambassador Moani Lee. If your veins appear bright blue, you have a cool undertone and pinks or berry colored lipsticks will work best. If veins appear green, you're warm-toned. Salmons, peaches and corals should be your go-tos.