Sure, she's an Oscar-winning actress, but Gwyneth Paltrow is throwing herself into another important role in her life: entrepreneur.
As her Goop lifestyle brand and skincare line continues to grow, the star has shifted her attention away from the big screen. On Friday, she told TODAY's Matt Lauer that it's her "24/7 focus right now."
"We took some investment last year so as soon as we had other people's money, I realized I really better focus on this completely," she explained.
But does that mean she's leaving acting completely behind? Not necessarily.
"I'll return to acting probably," Paltrow said, adding, "but probably not right now."
MORE: Gwyneth Paltrow defends her diet: 'I really don't have any rules'
While she's set on being the full-time force behind Goop, she's also upfront and vocal when it comes to critics. When some characterized the brand as pricey or out-of-reach for most consumers, she was quick to correct them.
"I think that people who are going to criticize — and I'm always only open to criticism and learning more — but people who are going criticize should have all of the empirical information," she said during her visit to TODAY. "So to say that we're so expensive when we actually have a range across all price points ... you know."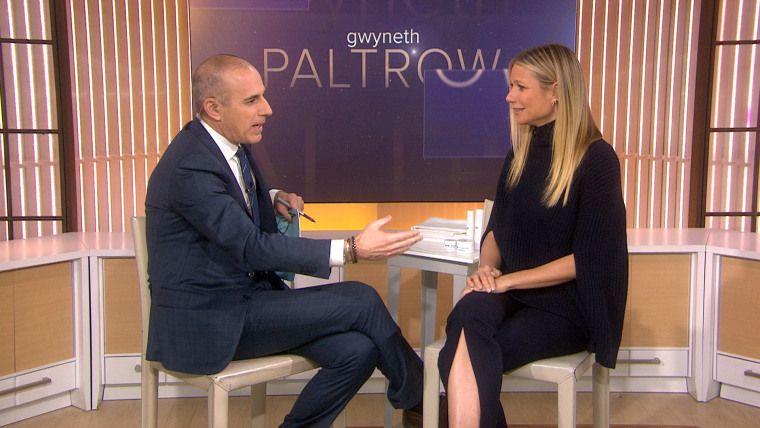 MORE: Gwyneth Paltrow says she's 'incredibly close to the common woman'
While Goop is getting all of her career attention, the rest of Paltrow's focus is where it's always been — on her family. She and her kids Apple (11) and Moses (9) recently shared the ultimate family outing as they watched Chris Martin take the stage with Coldplay for the Super Bowl halftime show.
"It was pretty incredible," she said of her children's chance to see their father in that venue. "It's also a little weird that your first football game is that. ... But they were so proud of him, and It was such a gorgeous performance — very uplifting. They were thrilled."
Follow Ree Hines on Twitter.