Fencer Ibtihaj Muhammad, 30, of Maplewood, New Jersey, is the first United States athlete to compete in the Olympic Games in a hijab — and that's not just a fun fact. Faith, it seems, has been an integral part of her identity as an athlete since her childhood.
"I'm from a family of five kids," she told TODAY. "And in my household, my parents were really searching for sports that would allow all of us siblings to fully participate while still keeping our arms and legs covered."
Muhammad's parents weren't familiar with fencing as a sport, though. It wasn't until her mother drove past the local high school's team practicing one day that she even considered the idea.
RELATED: Meet the Olympic hopefuls for the US Women's Gymnastics team
"The kids were wearing their long pants and hats, and my mom just thought, 'This is perfect,'" Muhammad said. "That's where it all began."
Muhammad was 12 when she joined her first team; then, she fenced in high school and was recruited to Duke University, where she continued her athletic career. It was around graduation that she began to eye the opportunity to pursue fencing professionally.
RELATED: The road to Rio kicks off with Olympians on TODAY
"That's when I was looking for a job, and what sort of drew me to the idea of trying to go for the national team was honestly the lack of diversity," she said. "I wanted to change that."
In 2010, she got her spot on the national team. And after a qualifying event in Athens, Greece, she grabbed another coveted spot: At the Olympic Games in Rio de Janeiro this past August.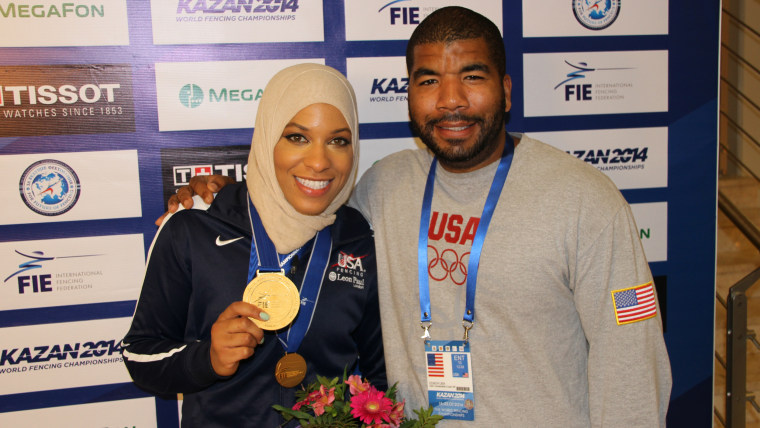 "As a child, with fencing, I had finally found this unique intersection between a physical activity I loved and something that could fit well with my religious beliefs," said Muhammad. "What drew me to keep working at it after high school and college was simply the desire to change the face of the sport and the overall narrative."
"Historically, fencing is a very white sport. It's reserved for people with a lot of money," she said. "That's never been my reality, growing up as one of five children in a middle class family.
"I remember going to competitions in high school and having parents from other teams tell me that fencing wasn't for black kids, or Muslim kids. And I wanted that to be different for other kids in the future."
RELATED: Swimmer Cassidy Bayer, 16, prepares for Rio Olympics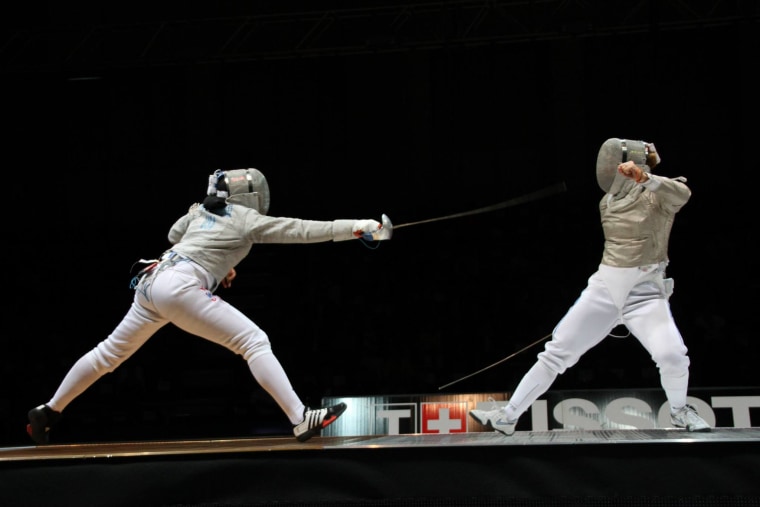 She added, "I want people to see that there are black people who fence and Muslims who fence. I've always wanted other minorities to see themselves in spaces outside of the cultural norm. We can be athletes, too."
RELATED: Olympic swimmer Katie Ledecky gives advice to girls
But more specifically than that, of course, they can be extremely successful athletes — a fact Muhammad has proven time and again. Most recently, it's been her ability to score a spot on the Olympic team before the qualifying events were even finished that has wowed fencing enthusiasts around the world.
"There are still more qualifiers, but there comes a point in the qualifying process where you can't be beaten anymore ... you can't be passed by anyone," she laughed. "I honestly didn't even realize any of this until I saw an article that popped up yesterday."
She said, "Fencing was just uniquely accommodating as a Muslim youth growing up in America. I'm not sure if I would still even be involved otherwise.
"And it keeps me in the sport, because I love the fact that I am different. I love the fact that I can provide this different kind of narrative."
This story was originally published on Feb. 5, 2016.