The TODAY Wedding planning is officially underway!
While the gown and tuxedo for our couple Kaitlin Roseman and John West have already been voted on (you'll have to wait until the wedding on March 24 to see all the winners), it's time to take on the next challenge in the process: the bridal party!
RELATED: America says 'I do!' Meet the winning couple of TODAY's wedding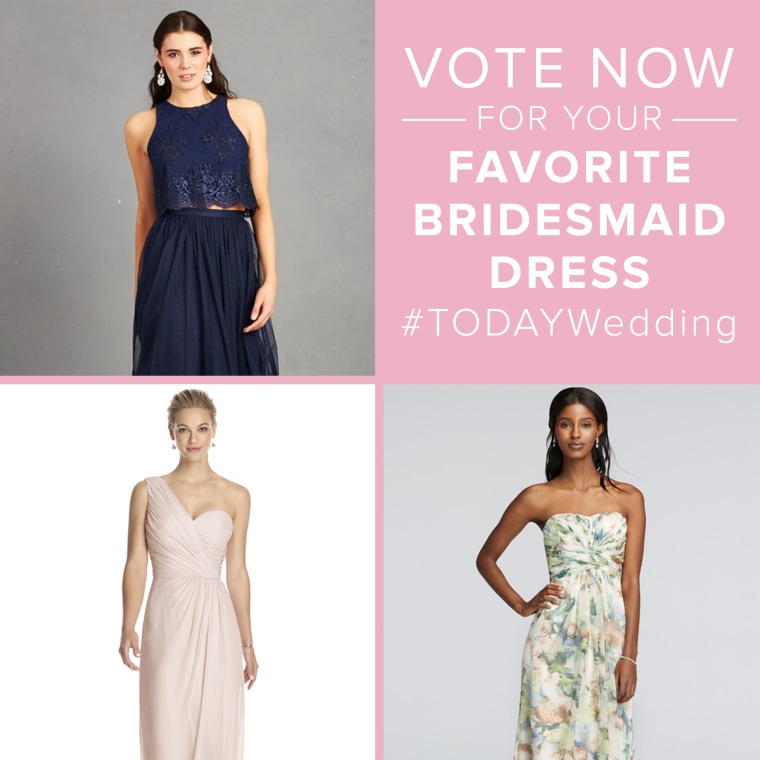 There's no denying that picking one outfit for all of your closet friends to wear can be a tricky situation. Whether it's finding a silhouette that suits everyone, a color that matches your wedding theme or a dress that's budget-friendly for all, this hurdle can often lead to issues. Luckily, a modern trend is making it much easier!
RELATED: Put a ring on it! Vote for the TODAY Wedding winner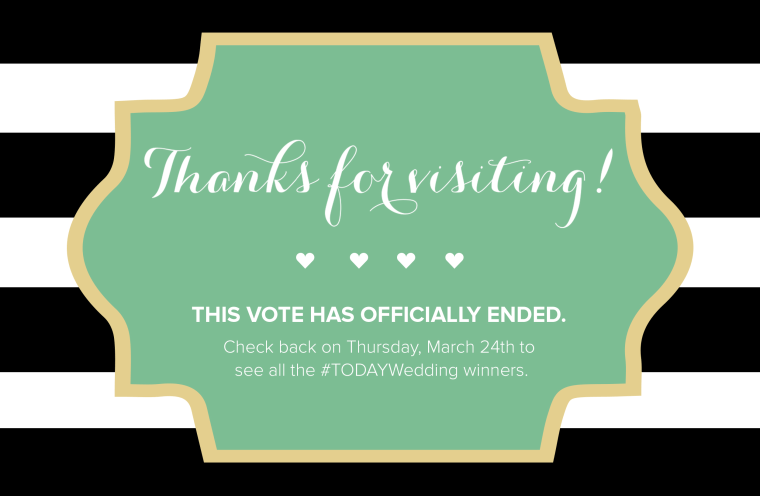 "There are a lot of exciting things happening with bridesmaids dresses right now. Brides are becoming more daring and open to non-traditional styles," said Keija Minor, the editor-in-chief of BRIDES magazine. "At BRIDES, we're no longer always seeing bridesmaids in matching dresses and a matching color. Often, we're seeing women opt for the same color, but different style gowns, or the same style but in different colors, or choosing bold prints, even if the silhouettes are different."
Our TODAY Wedding couple doesn't have to worry about this part. Instead, it's up to YOU to decide which dress (or dresses) the bridal party will wear.
Take a peek at the three different options and vote for your favorite, then tune in on March 24 to watch the wedding and see all the winners!
1. Two-piece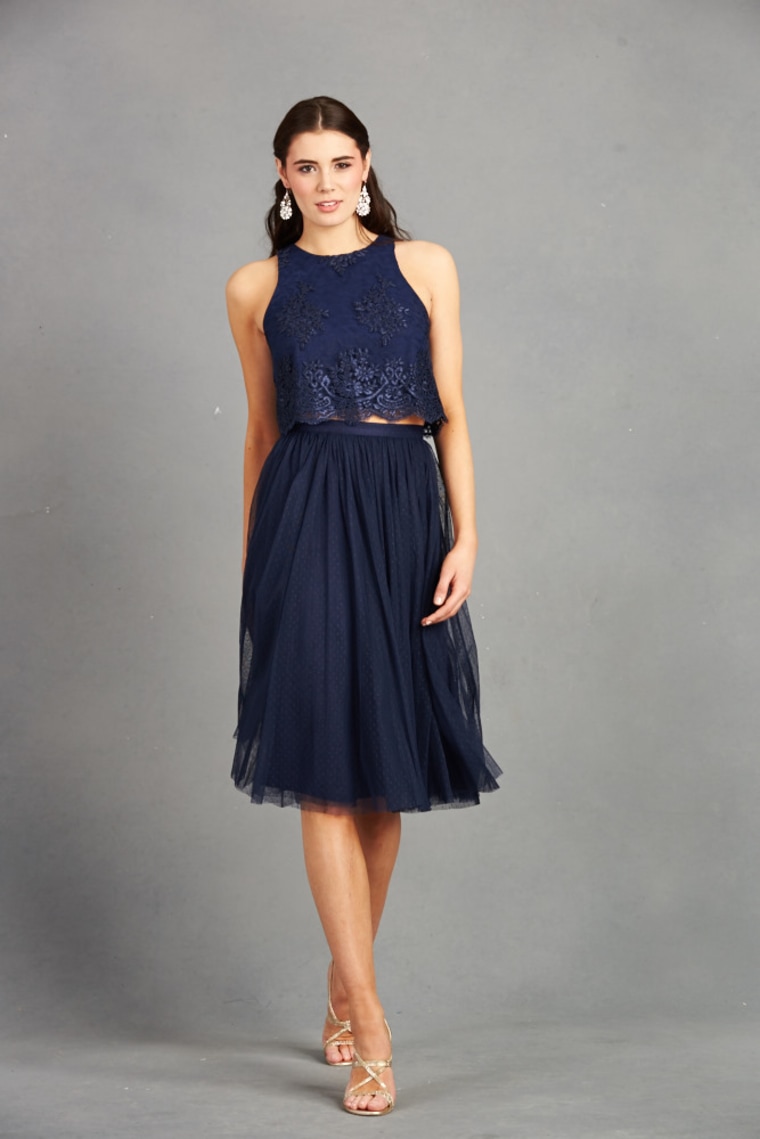 "A separate skirt and top feels fresh, fashion-forward and allows for more versatility," noted Minor. "Many brands have lines of separates that you can mix and match — which means your bridesmaids really are more likely to wear these again."
This skirt-and-top combination from Donna Morgan is trendy and hip, yet still sophisticated. The lace detailing on the top and pleated skirt make this outfit perfectly fit for a formal affair.
2. Blush (with a group ombré effect)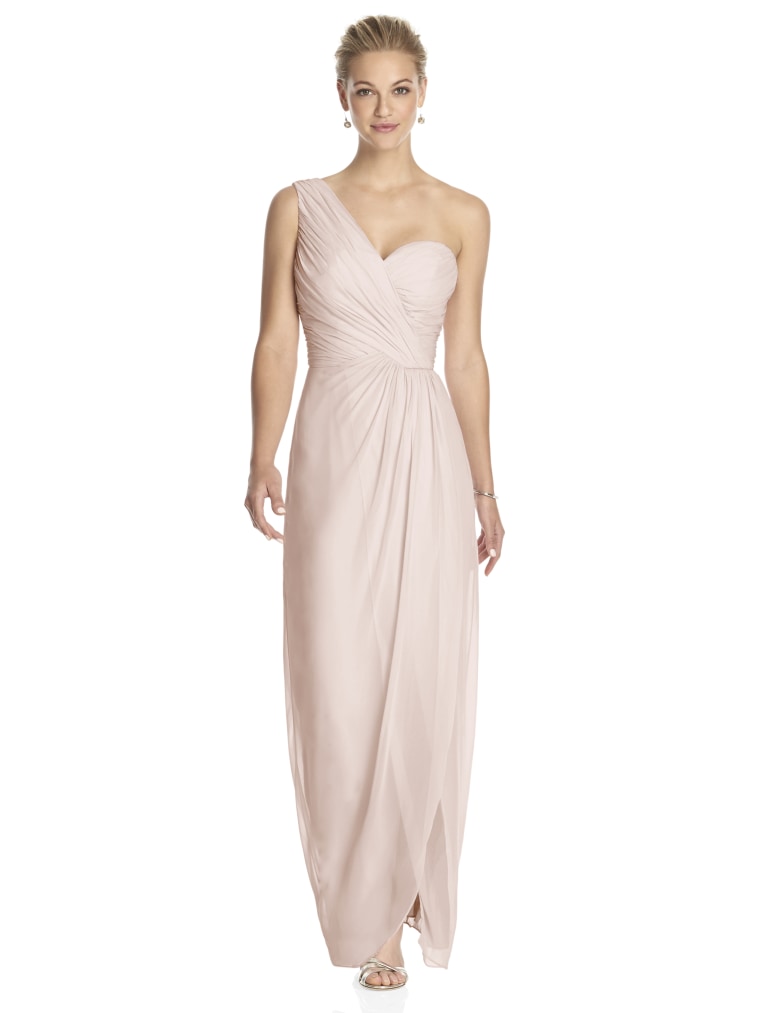 "Dresses in gradients of one color add depth, creating an ombré effect and interest in your pictures," explained Minor. "Your 'maids can each choose a shade that's most flattering for their skin tone … and will appreciate when they can pick whichever color best reflects their personal style."
This Grecian-style gown from the Dessy Group comes in tons of colors, including three shades of pink that look lovely together (blush, rose and cameo) to create the ultimate ombré effect. The one-shoulder neckline and slit are universally flattering for all body types.
RELATED: Bridesmaids, rejoice! The new wedding trend is all about individuality
3. Floral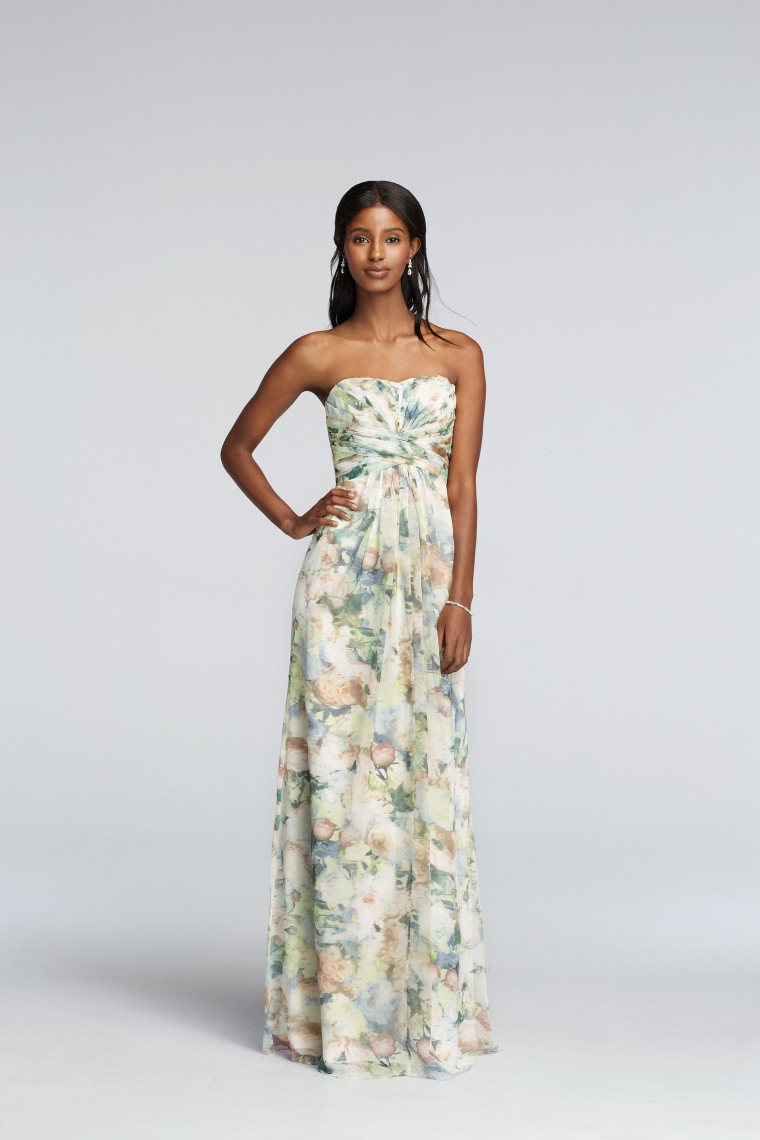 "If you're wearing a simple and understated dress, a bold and feminine floral print is a great way to add color and surprise," said Minor. "Just make sure to choose a pattern that isn't too overpowering and to add the bouquets accordingly (something simple would work best)."
This floor-length, floral-printed gown from David's Bridal features a sweetheart neckline, giving this dress a lot of feminine flare. A pastel pattern, like the one featured, will work on anyone's coloring since it's not overpowering.
While our TODAY Wedding bride Kristin has left this decision up to America, Minor is happy to help other brides-to-be. Here, she shares five easy tips to help ease the bridesmaid dress selection process.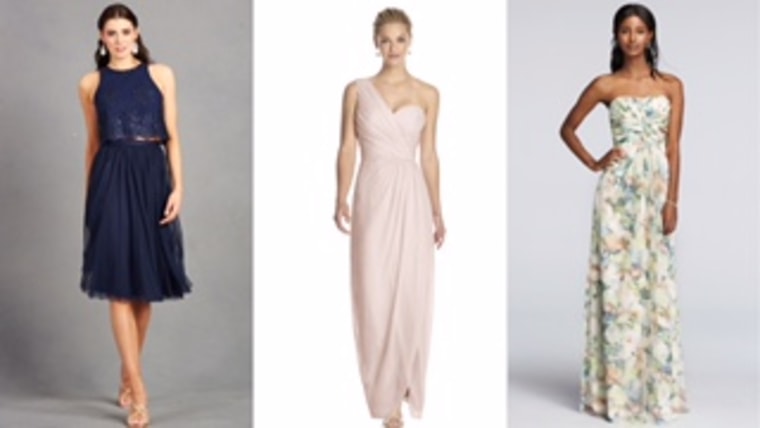 1. Be conscious of varying budgets
"Take your bridesmaids' personal budgets into consideration and don't forget to account for alteration costs. There are options for every price point and your friends will forever appreciate your thoughtfulness ... and you'll save yourself some drama," said Minor.
2. Do some research online first
"Having an idea of what you're looking for before you get to a salon will save time and energy. Ask your bridesmaids if they'd also like to research and share input during the early stages of shopping," recommended Minor.
3. Be aware of timing and your schedule
"You should start shopping for your bridal party at least seven to eight months before the big day (or you may start incurring rush charges). It takes two to three months for orders to arrive and four to six weeks for alterations. Plus, shopping early means you may be able to find a sale or a trunk show," advised Minor.
4. Have your bridesmaids professionally measured
"Each designer sizes differently and when ordering online, make sure to accommodate the largest measurement for alteration purposes," explained Minor.
5. Chose a generally flattering shape
"A-line looks great on all body types versus something very tight fitting. You want your bridesmaids to look and feel like their beautiful selves," noted Minor.
To follow all of the contenders for "My Big Fat TODAY Wedding," take a look at our Pinterest board.