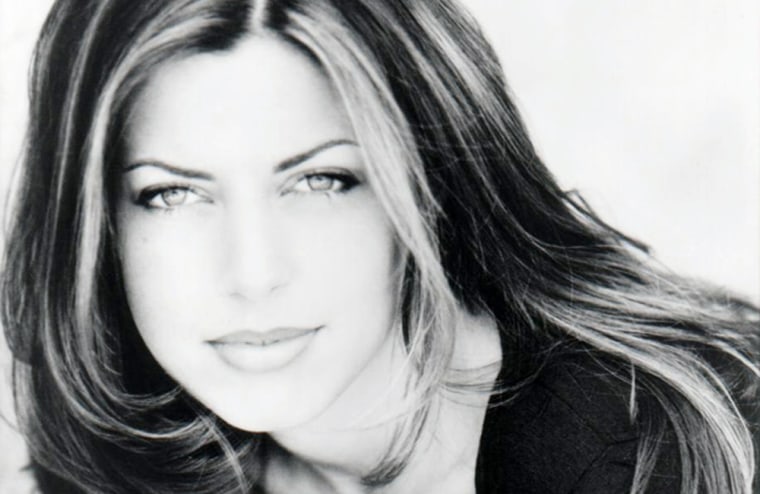 TODAY style editor Bobbie Thomas reports all week long from the 2007 fall collections in Bryant Park.
Feb. 9, 2007 | 4:47 pm
Feb. 8, 2007 | 12:20 pm
Bringing 'SexyBack'
After hitting the shows all day and then working on a special assignment last night (I took one for the team, ladies! Tune into TODAY on Feb. 14 for more ...), I needed a break! So, I cabbed it over to Madison Square Garden to catch Justin Timberlake perform. The crowd (which included Gwyneth Paltrow and Donald and Melania Trump) went wild for his reenactment of the now-infamous SNL "special box" skit, complete with cast member Adam Samberg and classic Color Me Badd attire ... proving that some 80s trends should not be revived!
It's a cinchEvery designer — from Michael Kors to Alexander McQueen — featured belts as a major item in their collections. Whether you buckle up over a cardigan, dress or coat, it's definitely the must-have accessory of the fall season, and the most inexpensive way to change the look of any outfit.
Feb. 7, 2007 | 7:54 pm
Red carpet readyAs Oscar time rolls around, starlets will be clamoring for gowns by Marchesa, a critically-acclaimed line from designers Georgina Chapman and Keren Craig. (It's named after their muse, European socialite Marchesa Casati.) Fashion "it" girls J. Lo and Sienna Miller donned dresses from the British pair at this year's Golden Globes. This week, their fall collection featured even more awards show-worthy frocks, including an attention-grabbing white tux.
White onForget that old saying — you can wear white after Labor Day! White accessories were everywhere ... particularly shoes and gloves, as seen at the Betsey Johnson show.
Feb. 7, 2007 | 12:02 pm
A more mature Marc
The man everyone wants to see during Fashion Week, Marc Jacobs, proved once again that he is the quintessential trendsetter, and had all the fashionistas buzzing. For spring 2007, the celeb-favorite designer presented lots of voluminous silhouettes. But for fall, his collection was clean, sleek and polished, with tailored, ladylike pieces. Models sported menswear-style vests, 20s-inspired hats and structured bags.
Feb. 6, 2007 | 8:05 pm
The man, the myth, the legendAndre Leon Talley, legendary confidante to Vogue editor-in-chief Anna Wintour, did not disappoint at the Oscar show Monday. Known for his grand style and large stature, he dazzled in a bejeweled jacket straight from the Baby Phat runway — or rather a recreation specially made for him! Kimora Lee, director of Baby Phat, described it as a total "'Devil Wears Prada' moment," when Talley requested the coat, which had just debuted in her show Friday night.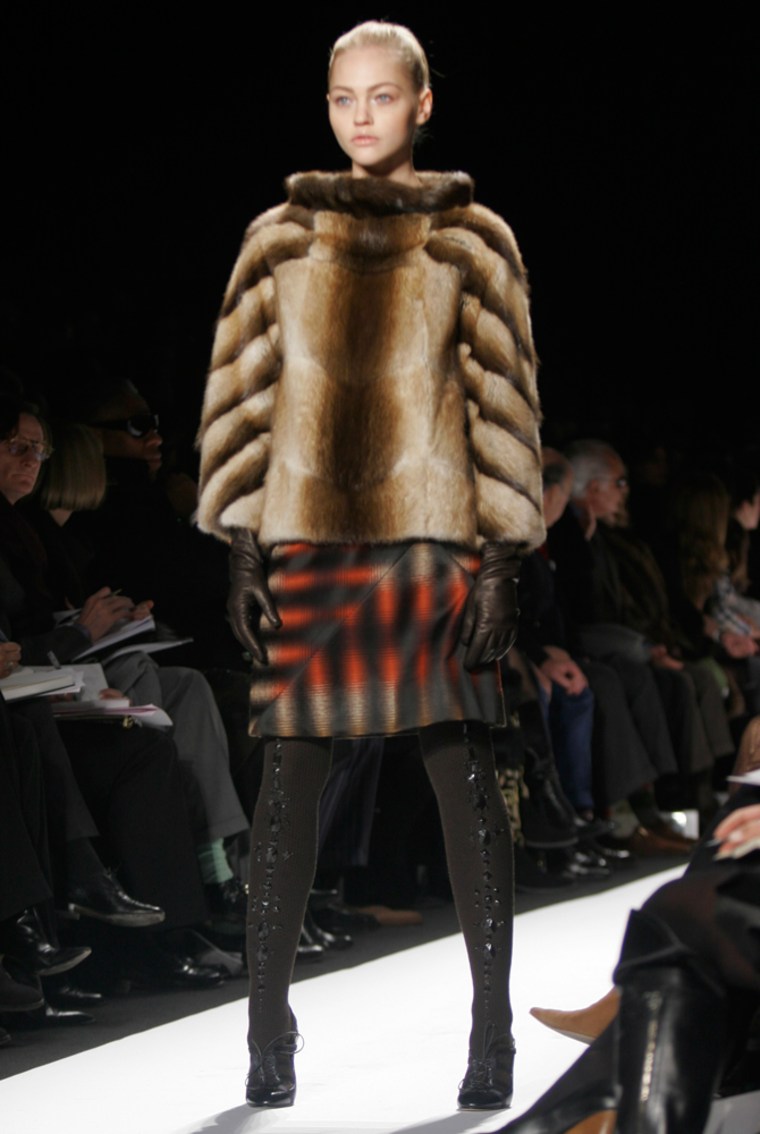 Rhinestone cowboyOf course, Andre epitomized the theme of Fashion Week — sparkle and shine. Jewels, gems and sequins shone brightly in many of the collections so far ... like Baby Phat, Marchesa and Carolina Herrera, where stockings were perfectly adorned. Even the Moet & Chandon champagne bottles were decked out, with the designers' names set in glittering stones.
Turn up the volumeLove it or hate it, voluminous dresses remain a big (literally) trend in '07 ... as seen at Max Azria and Doo. Ri. Not a fan of the billowy look? Reign it in with a belt (another huge trend from the shows) for an hourglass figure. Also, try layering with lighter weight fabrics like jersey and chiffon to create volume without bulk, suggested Doo. Ri, a master of draping. And keep it short! Pair a fuller mini with opaque tights and platform shoes of the same color to exaggerate the leg. You need every extra inch!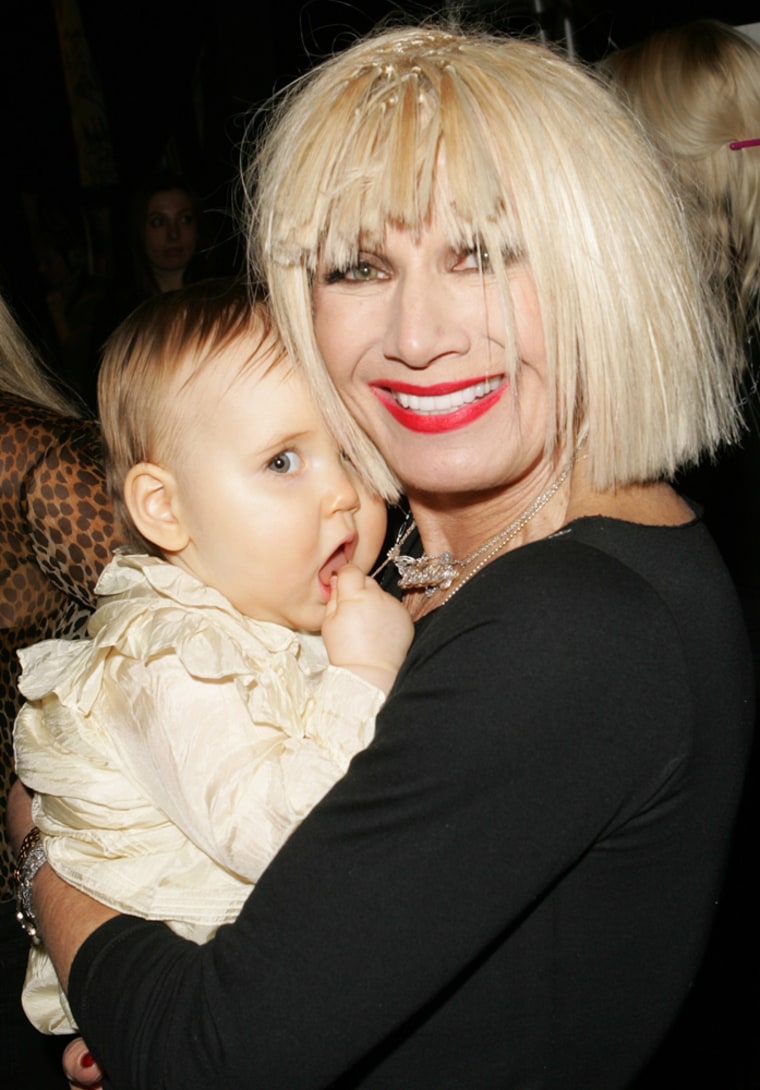 Hot mama ... err, grandmaIt's always a party at the Betsey Johnson show! This year, the fun, funky designer presented a more toned-down, polished collection, a departure from the bright blue eyeshadowed and red lipped models of the past. But she didn't stray too far from her signature campy style — models strutted the runway in short shorts under fur coats and French maids with feather dusters opened the show. And of course, the hip grandmother closed with her famous cartwheel!
HawkeyeRenowned hair stylist Orlando Pita created this masculine look for the Doo. Ri runway — a cross between a mohawk and curly updo. He stressed treating hair as an accessory — if your outfit is more feminine (such as those at Doo. Ri), try a more sleek, pulled-back style and vice versa .... Could this be my coif for the Oscars? Stay tuned ...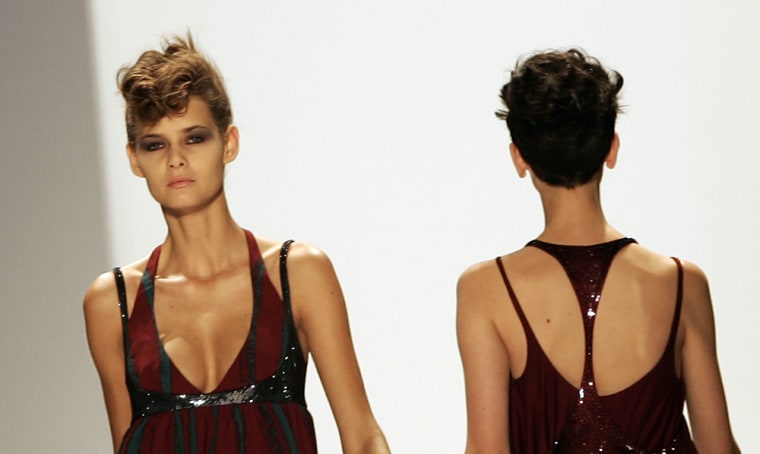 Quote of the day
L.A. designer Max Azria, who featured lots of pleating in his collection, offered the best style advice: "Be cool. Smile."
More to come on Marc Jacobs, Marchesa and winter whites ...
Feb. 5, 2007 | 4:45 pm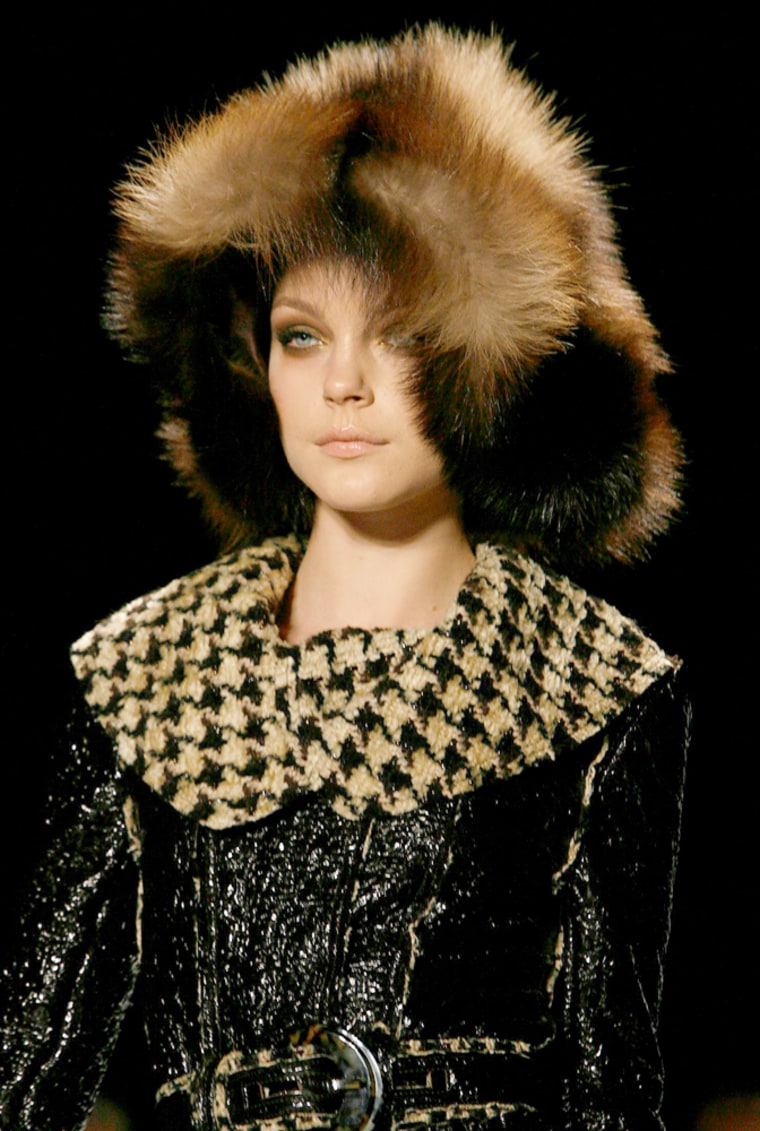 Elmer Fudd: Fashion icon?
As the bitter winter weather hit New York, lots of fashion editors stayed toasty in Bryant Park with fur trapper hats, ala Dr. Zhivago. But the trend wasn't just in the crowd ... fur was abundant on the runways. With fuzzy hats to vests to boots, models sported the look from head to toe at Carolina Herrera, Oscar de la Renta, and Luca Luca to name just a few .... "Women have never been in more control of their destiny," said de la Renta of his female-friendly collection.
Even the PETA-sponsored Marc Bouwer show featured fur — faux, of course! The socially-conscious designer believes that the latest technology allows you to achieve the same look and style, without harming any animals.
Why knot?
At the Oscar de la Renta and Luca Luca shows, the fur was flying and so was the fake hair! Stylists frantically clipped in extensions to add length, volume, and texture. The models' coifs included fashion-forward updos and Zulu knots that were polished, but edgy, while extreme ponytails were swinging on the Sass + Bide runway.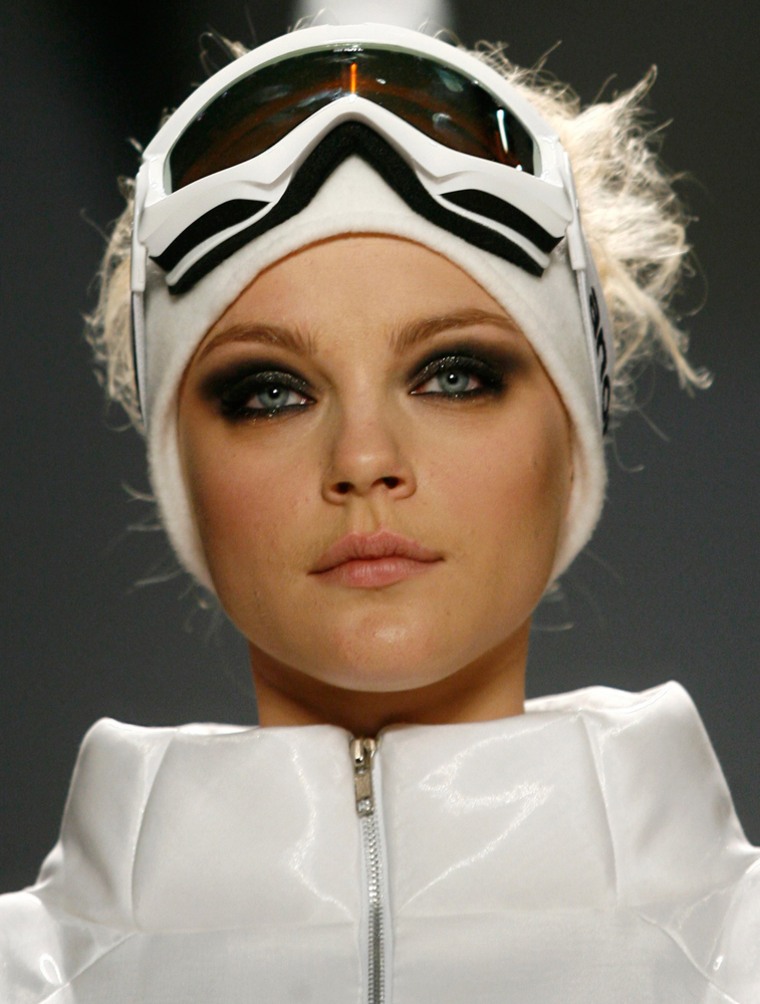 Glam starBe prepared to channel your inner David Bowie! Tom Pecheux, make-up artist for Luca Luca, created an ultra-glam glittery eye for the runway show. But if you want to be sexy instead of scary, avoid color and dust some shimmer over a neutral or black lid. Don't worry if a little sparkle falls to your cheeks, it's great way to highlight your features. "I love it. It's totally me," said Carmen Electra of the dramatic make-up look.
Shine on
Get ready to rock this fall! Metallics proved to be a major trend on the runways today. From gold lamé to brocade, shimmery fabrics are back in a big way. Think Olivia Newton-John, circa 1982. Luca Luca, Tracey Reese, and Miss Sixty (and everyone else!) presented lots of looks in gold, silver, and pewter, including shiny hosiery. Carolina Herrera even sent bejeweled stockings down her catwalk. And the must-have item of the season still remains black opaque tights, but updated with some shine — as seen at Douglas Hannant, Oscar de la Renta, Luca Luca.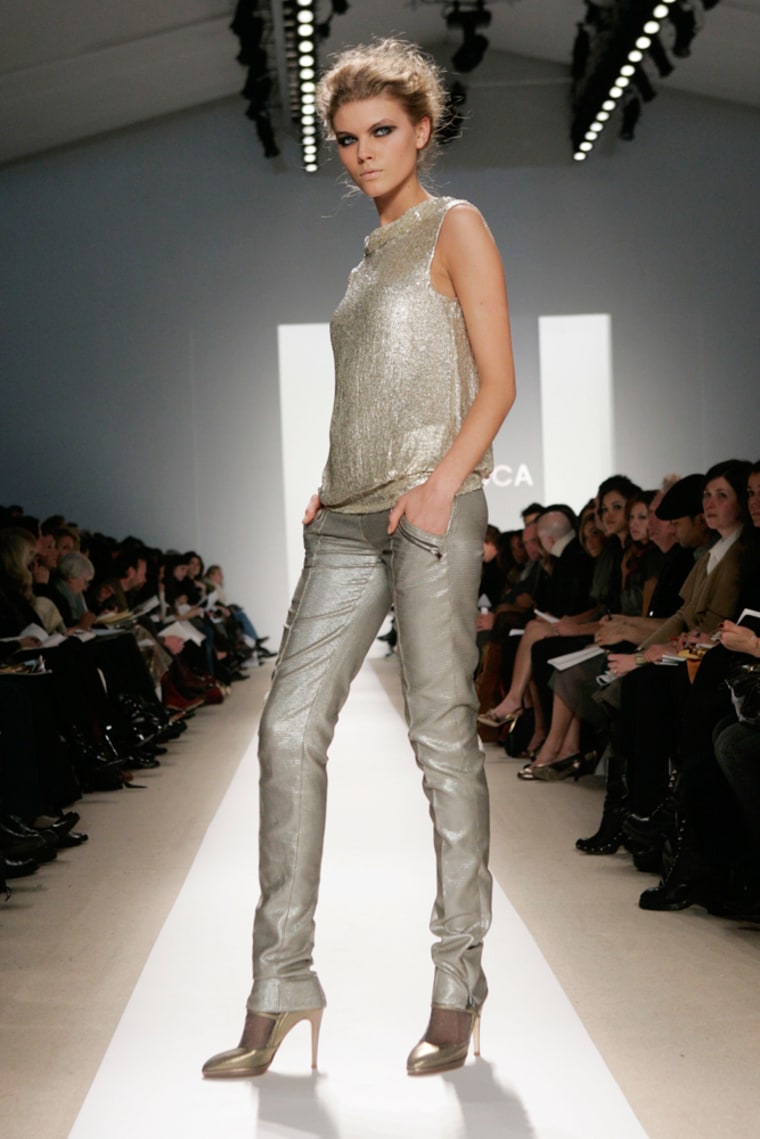 Buzz bits  Luxe velvet evening gowns were seen at Oscar de la Renta and Marc Bouwer .... Caps were everywhere, from berets to tophats. Still in style: waist-cinching belts (over everything from cardigans to evening gowns) , cropped jackets, volumnious dresses as seen at BCBG Max Azria and the slim pant ... also, red lips (ala Christina Aguilera) remain strong in '07.