If you haven't been following the madness that is the launch of the H&M collaboration with Balmain, here's a refresher. The affordable mass-market retailer last week launched a collection with the high-fashion house. This got a lot of attention — both public and media — first because H&M's designer collaborations frequently get major hype.
But secondly, it got attention because a certain celebrity family — perhaps you've heard of the Kardashians? — favors the designer.
(Kim wore Balmain during her wedding week, and Kendall Jenner stars in the new collection's campaign.)
That brings us to the collection, which included a few pieces in the realm of normal human budgets, like a simple suede and leather clutch for $34.99. But most pieces soared into the aspirational price category, for instance, beaded dresses priced at $499 or $599.
That probably sounds like a lot of money to spend on a frock — because it is. But if those figures gave you sticker shock, consider what happened when the pieces from the collection sold out, predictably, in a flash.
Resellers are now hawking pieces from the collection at many times those steep original prices. And people are buying! At the time of this writing, for instance, an auction for that $599 velvet beaded dress had just closed at $1,525 with 34 bids.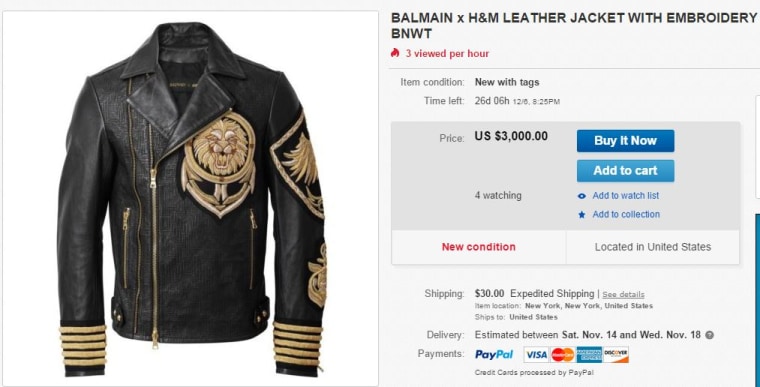 Another version of the same item had 24 eBay users watching it — with a price tag over $4,500 in U.S. dollars equivalent.
If that doesn't already strike you as the complete insanity that it is, consider that those prices are actually even higher than the cost of Balmain's everyday non-fast-fashion pieces. So you could, for instance, score an impeccably tailored LBD for $1,580 … and probably make the purchase over champagne and chocolate or whatever they give you when you're fancy enough to buy couture in the brand's boutique.

Or you could end up spending three times the price for the lower-end version once available next to the food court at the mall. Let that sink in.
Stop the insanity!
Alesandra Dubin is a Los Angeles-based writer and the founder of the lifestyle blog Homebody in Motion. Follow her on Facebook, Instagram, Google+ and Twitter.