When Anna Kendrick first heard a "Pitch Perfect 3" movie was in the works, she was all on board. Something she wasn't so jazzed about? Some risqué wardrobe suggestions from "people at the top."
"It's funny — whenever we do the wardrobe fittings I feel like we get notes from the top saying they should be tighter and sexier and show more skin," Kendrick told Harper's Bazaar UK. "And I'm like, that's not why people are coming to see the movie. They definitely aren't showing up because of our sex appeal."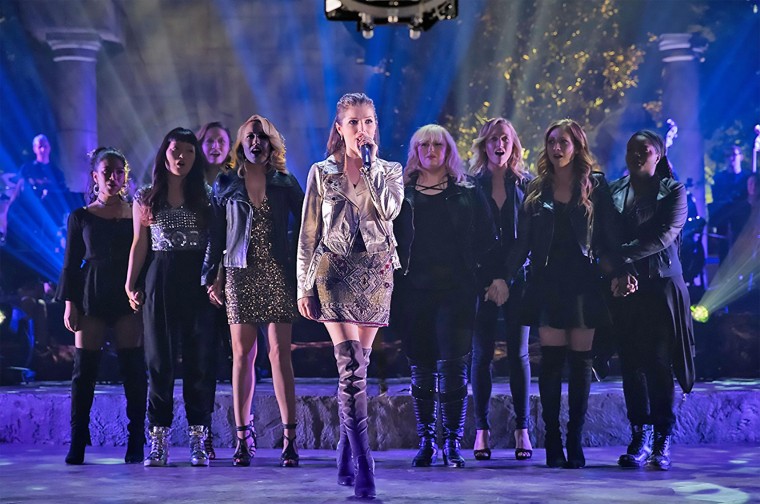 Kendrick and her hilarious girl squad return to the big screen Dec. 22 for the third installment of the series, which follows an all-girl group of a capella singers called The Bellas and their hysterical hijinks.
In an industry where sex sells and little is left to the imagination, the movies have made a name for themselves thanks to their comedic appeal, rather than their blatant sex appeal. Kendrick's character Beca even gushes over the diverse group of misfits in the first film, saying, "I love you awesome nerds."
So when Kendrick was pressured to wear "tighter," "sexier" outfits or "show more skin," she certainly wasn't ready to cave in. "It's nice that audiences are interested in seeing a movie of misfits and girls of different shapes and sizes," she told the magazine.
Of course, Kendrick isn't opposed to showing a little skin — the fashionista looked gorgeous at the film's recent premiere — but she isn't afraid to speak out about her views when necessary.
Kendrick, who released her comedic memoir, "Scrappy Little Nobody," last year, is known for her refreshing honesty and also discussed the developing sexual harassment scandal in Hollywood with the magazine, saying she hopes women in all industries feel safe to come forward.
"I spoke to friends the other day, one who works in tech, and one who works in marketing, and I said, I'm so glad this is happening and I hope it continues to happen in industries that are less visible, that isn't just Hollywood and politics," she said.
The 32-year-old actress also touched upon female casting in Hollywood, saying she hopes her recent experiences are indicative of a change in the casting process: "This year I've done a bunch of movies where I was the first person cast — even if I wasn't the lead character and there was a male lead which was a bigger role — it's just anecdotal, and just this year, but it was nice."