When Riley Bodley went jeans shopping at American Eagle Outfitters recently, she was surprised to discover she had gone up two sizes, from a 0 to a 4.
She felt "a little disheartened" by the change, she admitted in a Facebook post — and also confused, because her new size 4 jeans didn't look that different from the size 0 pair she had bought at American Eagle five years earlier.
When Bodley, 20, got home, she compared the two pairs of jeans, and she discovered that her new size 4 pair (on top) was, in fact, noticeably smaller than the size 0 pair.
"This made me wonder, how small has a size 0 actually gotten?" she wrote. "The media makes young girls feel the smaller the number they wear, the more beautiful they are, and this is certainly NOT true."
Bodley's post has racked up more than 25,000 likes and 38,000 shares on Facebook, and many women have added comments about their own sizing frustrations at American Eagle and other stores.
"I noticed this last time I went!" one woman commented. "I have always bought my pants from American Eagle, last time I went in I bought FOUR pairs of jeans and I knew my size so it was a quick run in and out...got home and went to wear a pair and they were way too small!"
Another woman pointed out that sizes often seem completely arbitrary from brand to brand, and not just for jeans.
"Sometimes sizing seems totally random," she wrote on Bodley's post. "I can wear a UNIQLO small tee shirt but I can't even fit in a Zara XL blouse. It's just frustrating if you try clothes on in person, but it'd be maddening if you were trying to buy online."
American Eagle offers women's jeans from sizes 00 to 20, as seen in their sizing chart below. A quick comparison to other brands reveals the lack of size standardization across stores. While size 4 jeans at American Eagle have a 26.5-inch waist, a size 4 waist is 26 inches at Old Navy and 27 inches at Abercrombie & Fitch. And size 4/5 Levi's jeans have a waist measurement of 28.25 inches.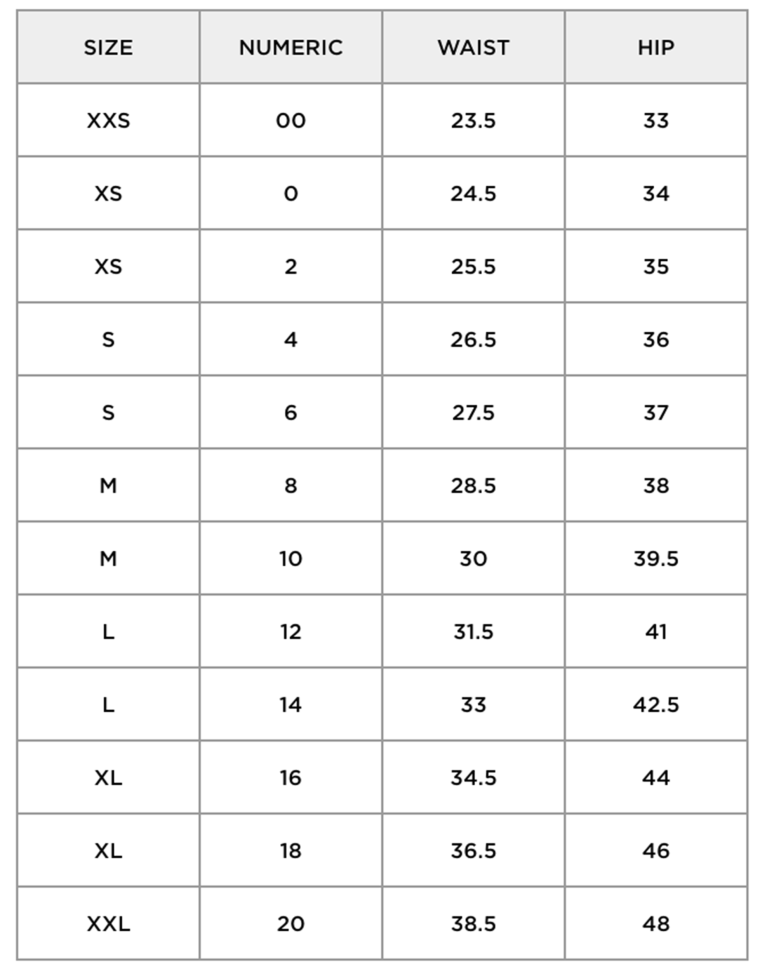 Bodley was surprised to see her post get so much attention, but she understands why her message struck a chord with so many people.
"I think people can relate to it because in today's society it seems more difficult for people, especially young girls, to accept their bodies," she told TODAY Style in an email. "It doesn't help when some companies seem to have size inconsistencies."
Bodley's post echoes a similar controversy last year surrounding sizing at American Eagle, when college student Missy Rogers posted photos of size 4 and size 10 shorts that looked basically the same.
In response to Bodley's recent post, American Eagle emphasized its commitment to body positivity.
"American Eagle Outfitters appreciates feedback from our customers," the company's global brand president, Chad Kessler, told TODAY Style in a statement. "Our goal is to maintain consistency in product sizing, and we have reached out to Riley to discuss her experience. We are also deeply committed to body positivity and welcome the dialogue on this critical issue."
It's true that American Eagle has increased its emphasis on body positivity. The company's sub-brand, Aerie, has won praise in recent years for featuring curvy and non-airbrushed models.
However, Bodley maintains that sizing inconsistencies — which, in this case, make women jump to a larger size even when their measurements haven't changed — can be harmful to women's body confidence.
"Size is literally just a number and does not define you," Bodley wrote on Facebook. "Find clothes that make you feel comfortable and confident, and know your beauty is not defined by the size you wear."
RELATED: