If you were unnerved over the holiday weekend by Animal Planet's special "Mermaids: The Body Found," take a deep breath. It's OK to go back in the water again, and you can quit eyeing your copy of "The Little Mermaid" suspiciously.
The two-hour program is fiction, but it's presented in documentary style, with actors playing scientists who claim to have found the body of a mermaid on a Washington state beach.
The channel admits this in a press release about the special, saying "the film is science fiction, using science as a springboard into imagination."
But that didn't stop some from being sucked in and believing what they saw.
Urban legends site Snopes.com added the "Mermaids" hoax to its site on Tuesday. The site began its posting by quoting an email reading, in part, "In this documentary they showed a video that was taken from a boy's phone on the beach it shows a live mermaid. Now my father and I would like to know if this video is real. I don't like to say that we are suckers to everything we hear, but I am open to new ideas."
Snopes.com creators Barbara and David P. Mikkelson quickly debunk the hoax, pointing out that "the program was not fact but rather speculative science fiction, and it included obvious CGI-produced video sequences."
The site also noted a tie-in website, believeinmermaids.com, which features a fake message claiming that the site has been seized by the U.S. Department of Justice and Homeland Security.
Others were in on the joke from the start. Tweeted Green Bay Packer Tom Crabtree, "If you believed one second of the Animal Planet's 'Mermaids' show, then turn around because Sasquatch is standing behind you."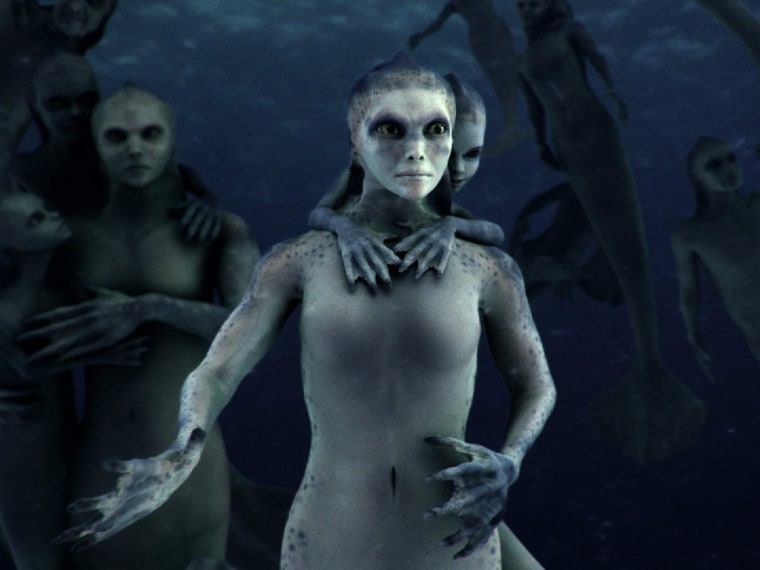 The program aired in Australia in 2011, and the hoax was thoroughly debunked at the time by columnists there. Brad Newsome of The Sydney Morning Herald wrote at the time, "The version that I saw doesn't even do viewers the courtesy of admitting that it's fake until the credits are about to roll," and dismissed the "aquatic ape" theory, a real hypothesis first proposed in 1942 and presented in the show, as "rather fringe." He also wrote, "People love that sort of stuff, I get it. But it belongs on more tabloid channels that don't have any pretensions of scientific or historical credibility."
"Mermaids: The Body Found" will air again on June 17 on Animal Planet.
Did you see the show? Did it seem realistic, or do you know anyone who believed it? Tell us what you think on Facebook.
More in The Clicker: