Keith Urban's recent serenade to his wife, Nicole Kidman, wasn't necessarily romantic — after all, it was videotaped from a car dashboard — but many of his Facebook fans thought it was a lot of fun.
Posted Thursday morning, the video shows the country star beside the Academy Award winner in the front seats of a car and giddily singing along to his new duet with Carrie Underwood, "The Fighter."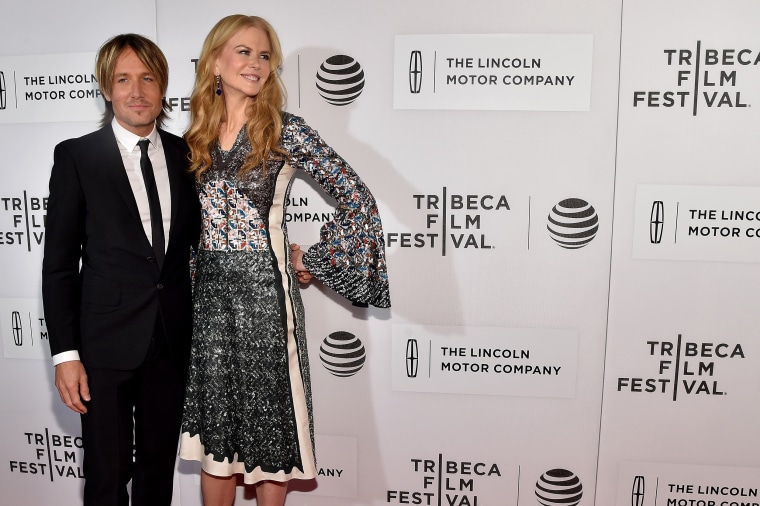 While Urban, a four-time Grammy Award winner, is better known of the two for his singing, Kidman also has chops as a chanteuse, as her Oscar-nominated turn in 2002's "Moulin Rouge!" proves. So, it's not too surprising how well she fills in for Underwood in the "American Idol" champ's absence, or how she acts out lyrical verbs, including "fall" and "cry."
RELATED: Keith Urban stuns fan by giving her his guitar on TODAY
Even the amateurish nature of the post has its charms. In addition to the low resolution of the video, suggesting it was taped with a smartphone, a glitch in the song playback at the 15-second mark results in a brief but hilariously awkward silence and some funny faces. But just as quickly, the track is back on track, and the two-minute singalong continues along its merry way, ending with a laugh and a sweet embrace.
Within five hours of its posing, Urban's Facebook video had been viewed almost 4.5 million times, and collected more than 138,000 likes.
Urban had more laughs in store this week, although he might have been surprised to be the reason for them as a guest on Ellen DeGeneres' talk show. There, he learned about the meaning of Throwback Thursday, and joined the audience in laughing at one of his old headshots.
MORE: From adorable baby faces to hilarious '90s style: The 10 best celebrity #TBT pics
"Wow," he told DeGeneres while analyzing the retro photo, in which he's sporting high, spiky hair and a challenge for an orthodontist. "You know, I hadn't met a lot of dentists by then."
As a consolation, DeGeneres replied, "Well, look at you know," eliciting cheers from her studio audience.
In more serious fashion, DeGeneres commended Urban for how "sweet" he is with Kidman, with whom he'll celebrate a 10th wedding anniversary June 25.
RELATED: Keith Urban to Ellen: My dad put me on the road to Nashville
"Someone asked me if it was life-changing, meeting her, and I said, 'I think it was more like it was life beginning for me,'" Urban said. "I feel like I spent all the years leading up to that, preparing. I didn't know I was, but that's what it seems like in hindsight."
Follow TODAY.com writer Chris Serico on Twitter.