For anyone who's been missing the most bromantic couple on television, never fear. It's time for another season of "The Voice."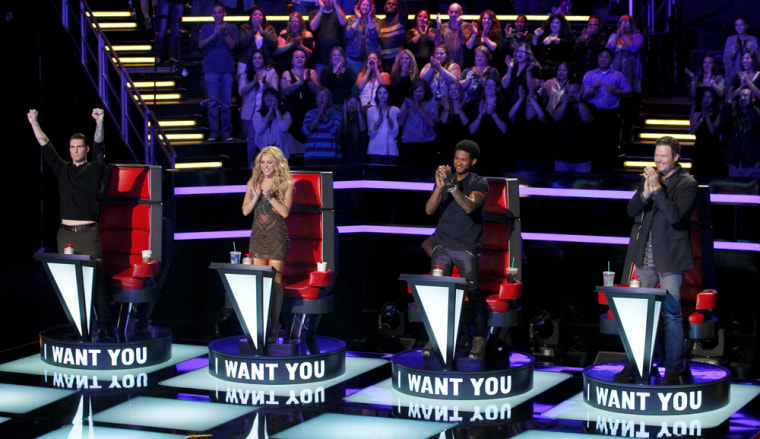 Adam Levine and Blake Shelton return to the NBC rotation Monday for their sixth season, taking aspiring musicians with big voices and turning them into iTunes superstars, while trading good-natured quips at each other's expense. It's a job that's worked out well for them so far. 
Between the two, they have all five titles, with Usher and Shakira looking to break into that club this cycle after failing to do so in their first stints as coaches in season four.
But it's not just a bromance — it's a two-man dynasty. However, there may be some new wrinkles that affect the TV-friendly relationship, which is just one of the things to watch out for this season.
Will the bromance continue?
The Levine/Shelton lovefest was the big story of season five, but Blake spent most of the time as the senior partner. After all, he'd won three seasons in a row heading into the last cycle — at one point, stacking the trophies on his desk as a reminder to auditioners that he was the guy who coached champions. He knew how to win, and everyone else was merely trying to knock him off.
Now, the dynamic has changed. Levine broke the string with his own win in season five. Will Shelton relish his new role as the hunter instead of the hunted? Will he throw some sharper elbows at his fellow coach? Will he get less attention from host Carson Daly now that he's not the defending champion?
The love triangle
Miranda Lambert's name comes up on "The Voice" each year. Every woman who dreams of being a country music star cites her as an influence, and whenever that happens, Shelton reminds hopefuls that he's married to her. Who could turn down that sales pitch? The answer, so far, has pretty much been nobody.
It took six seasons, but Lambert's finally coming onto the show as something other than a guest performer — and she's not joining her husband's team. She'll be the guest mentor on Team Shakira instead.
Forget those "special latte" jokes — Daly couldn't ask for a better source of material than this.
New versus old guard
Unlike other singing competitions, the coaches have a lot of influence over who wins. That's because they can get the audience to root for their favorite coach as well as their favorite singers. The result? The more they do things that the audience likes, the better their acts do.
The mix of coaching and kibitzing hasn't been easy for everyone to master — just ask CeeLo Green, who had nothing to do for the last month of season five because all his acts were already gone. But Levine and Shelton have been great at getting the viewers to root for both them and for their singers.
Usher came close to pulling that off in his first go-round, even sporting spectacles to show his solidarity with his season four finalist, Michelle Chamuel. But it'll take a lot for either him or Shakira to end the old guard's stranglehold on the title, and show that "The Voice" is more than a two-man game.

"The Voice's" two-night premiere kicks off Monday and Tuesday at 8 p.m. on NBC.