The odds were in Team Adam's favor Tuesday night — three of the four finalists on "The Voice" originated from his team. But in the end, it was Blake Shelton and his sole remaining contestant who took home the big prize.
Congratulations to ... Craig Wayne Boyd! 
"It feels wonderful," Boyd grinned during a visit to TODAY Wednesday; he returned Thursday to perform. 
Before the coronation, Boyd was preceded by a raft of performances from musicians including Mark Ronson, Bruno Mars, Jennifer Hudson, Ed Sheeran, Meghan Trainor and Fall Out Boy.
Boyd had emerged as a serious contender amid Adam Levine's trio of singers: Matt McAndrew, Chris Jamison and Damien. "It's you and me against an army," Shelton told Boyd. "I like our odds. I like the underdog."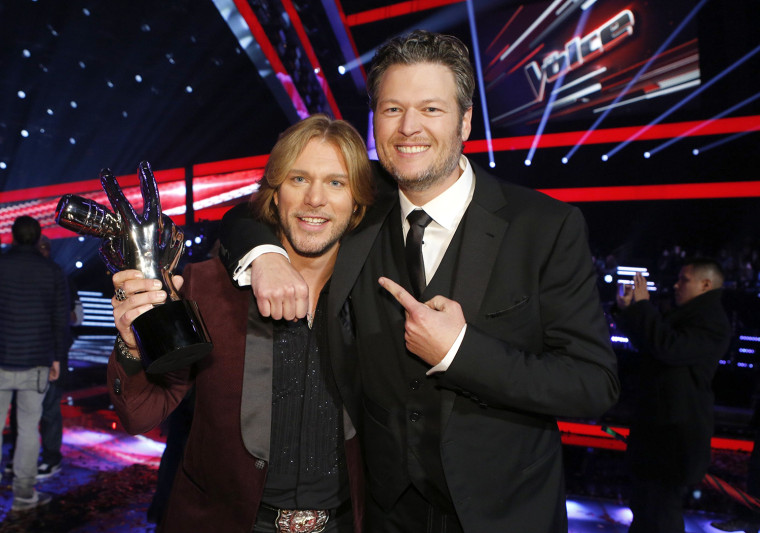 The night before the finale, all four contestants performed a duet with their respective coach and one never-before-recorded solo piece. ("Voice" trivia: This marks the first time since season one that contestants have performed original songs on the show.)
For his original single, Boyd performed "My Baby's Got a Smile on Her Face," a song Shelton said he wrote long ago but has not been able to record because, "It's so freakin' hard to sing!"
Of course, the boys of Team Adam weren't about to let Boyd have all the glory with that twangy effort. McAndrew delivered what was perhaps the best performance of the night when he sang his original song, "Wasted Love."
"It was an amazing song," Maroon 5 frontman Levine said afterwards. "It's one of the best songs I've ever heard in my life."
By the end of Monday night, the song was ranked No. 1 on the iTunes Top 100 chart. Boyd's original song held the No. 2 spot.
Damien, who was brought back as the wildcard contestant for the finals, performed a version of Elton John's "Don't Let the Sun Come Down on Me" with Levine, but the former TSA agent's standout performance was his original song, "Solider."
The gospel-inspired song allowed Damien to show off his impressive range and, while it didn't chart nearly as high as the original songs performed by Boyd and McAndrew, it certainly earned raves on Twitter.
Jamison had many chances to show off his signature falsetto during the finals. After teaming up with Levine for a falsetto-filled performance of Robin Thicke's "Lost Without You," Jamison once again hit all the high in "Velvet." The sexy R&B tune was well-received by the ladies in the audience, as well as the coaches.
"A star was born on this television show with you," said Pharrell Williams after the number, who, like Gwen Stefani, had no contestants in the finale for the win.
But better luck to Stefani, Williams and even Levine in the future — think they'll be able to beat Shelton next time? Tune in next season!