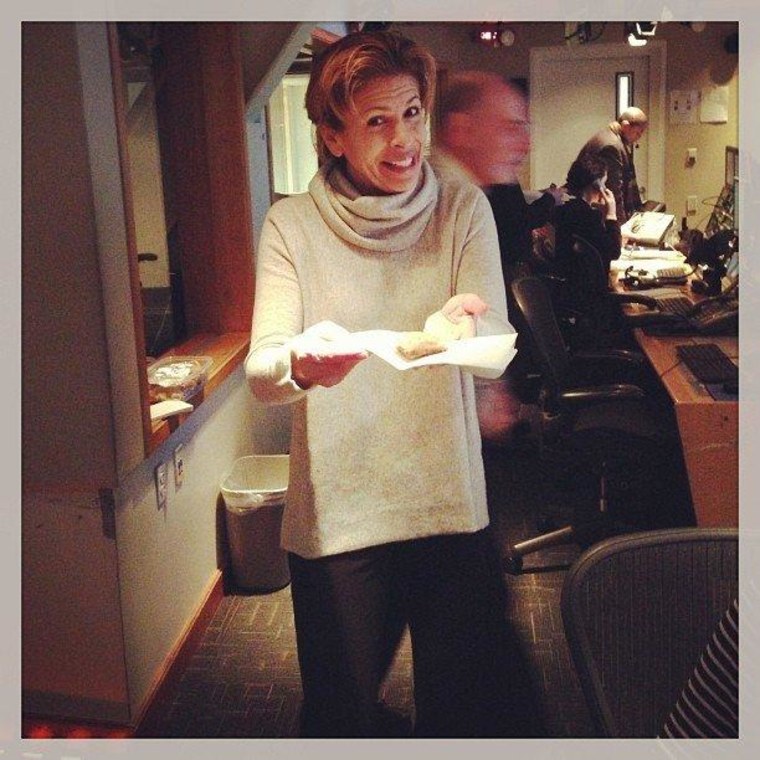 Sure, spending time with family and friends is great, but we all know that one of the best parts of the holidays is eating sweet, butter-laden treats.
Hoda got in on the spirit by sharing some of her mother's baklava at the studio. She re-tweeted a picture of herself spreading flaky pastry joy in Studio 1A, inspiring mass Internet jealousy.
But fear not -- we asked Hoda to share Sami's recipe, and she obliged. It's the next best thing to having baklava "elf" Hoda deliver it to you personally.
Sami's Baklava
Syrup:
1/2 cup sugar
1/2 cup honey
1 cup water
1 teaspoon vanilla extract
Filling:
6 cups of walnuts, ground into small pieces (but not too fine)
1 cup sugar
2 tablespoons butter
2 tablespoons water, or more as needed
Ingredients:
1 16-ounce package of phyllo dough
4 sticks of unsalted butter
Directions:
1. Make the syrup by heating all the ingredients together in a saucepan until the sugar melts. Then put it in the refrigerator to cool.
2. Make the filling by mixing the walnuts and the sugar, then adding the butter and 2 tablespoons water, plus more as needed. (Filling should be just moist.)
3. Melt 4 sticks of unsalted butter.
4. Unfold packages of phyllo dough sheets.
5. Brush a 9 x 13 pan with butter; take 3 to 4 sheets of phyllo dough at a time, put in the pan, and brush with butter (keep the remaining dough covered to prevent from drying out).
6. After you've brushed approximately 12 sheets with butter, spread on half of the walnut filling and continue adding more phyllo dough sheets. Spread on the remaining walnut filling. (Make sure to leave enough sheets to cover the last walnut filling, and brush every 3 to 4 sheets with butter. Drizzle any remaining butter on the top.)
7. Cut entire pan into diamond shapes. (Don't cut all the way through.)
8. Bake in preheated 325 degree oven for 1 hour or until golden brown. (After baking, you may decide to put the pan under the broiler with the oven door open for a few minutes for a more golden color on top. But watch out! It burns easily.)
9. Add cooled syrup and complete the diamond shape cutting all the way through. Remove from pan immediately. Serve and enjoy!
(Reminder: Keep the phyllo dough covered with foil while working with it -- it prevents the dough from drying out.)
Julieanne Smolinski is a TODAY.com contributor whose body mass is usually 90% phyllo by New Year's.
More:
Hoda and Kathie Lee's favorite holiday recipes