Despite turning in a judge-pleasing samba on "Dancing With the Stars" Monday, former "Jersey Shore" star Nicole "Snooki" Polizzi was sent packing, but she wasn't prepared to say goodbye to the ballroom.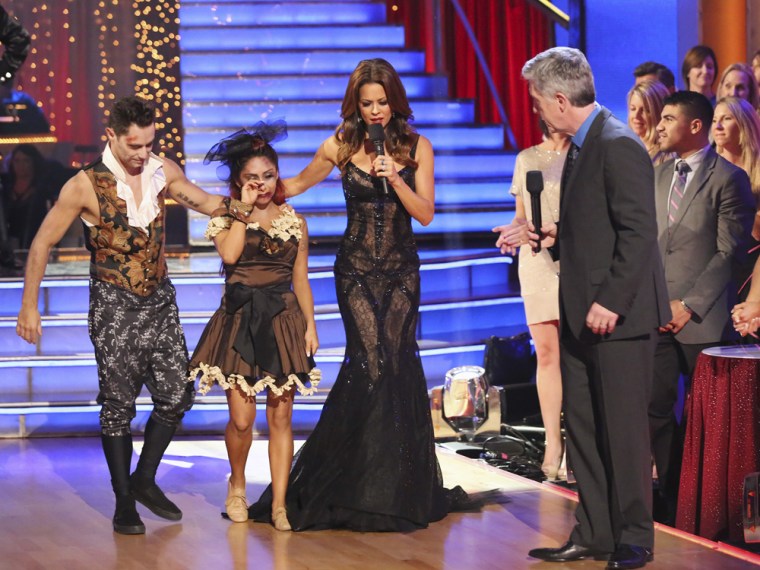 "I definitely didn't think I was going to go home yet and I'm not ready to go home," a teary Polizzi told reporters after she was voted off.
"This experience has been amazing," she said, adding that her pro partner, Sasha Farber, was also fantastic.
The MTV personality couldn't find many silver linings to her surprise exit. Asked if she'd now have time to do things such as take her son, Lorenzo, trick or treating, Polizzi sighed, "I was going to do that anyway. It just sucks. I don't want to go."
She almost didn't.
While host Brooke Burke Charvet was wrangling Polizzi and Farber for their on-camera exit interview, funnyman Bill Engvall came close to stepping forward to offer to leave in her place.
"When they said one of us on our team, which Snooki and I were both on, was going to go, I said to (pro partner) Emma (Slater), 'I'll buy you a drink on the plane to New York,'" Engvall said. (Ejected duos leave the "Dancing With the Stars" studios in Hollywood, Calif., and fly to New York where they do a round of exit interviews.)
"But when they said 'Nicole and Sasha,' I said, 'No. This should be me.' My lovely partner and my producers explained to me that it's not just a dance competition. Staying on the show is about your fan base."
Pro dancer and team captain of group Spooky Bow Bow, Valentin Chmerkovskiy, also explained to Engvall that his leaving wasn't necessary.
"We owe a lot to Val," Slater said. "He's been very kind to Bill."
Staying on the show is bittersweet for Slater. She and Farber, who were both bumped up from the show's dance troupe to being pros this season, have been dating for three years.
"At least I get him back," Slater said.
"You're going to see Sasha more than I'm going to see my wife," Engvall quipped to Slater.
The stand-up comic embraced Polizzi before she departed the studio.
"We were both crying when I gave her a big hug and I said, 'It should have been me,'" Engvall shared. "She goes, 'Shut up!' Her show wasn't really my demographic, but I said to her, 'I didn't want to like you, but now I do — a lot.'"