/ Source: TODAY contributor
Carrie Bradshaw once said that in New York, life is what happens when you're waiting for a table.
But for Carrie's portrayer, Sarah Jessica Parker, New York is what actually made the new "Sex in the City" movie happen.
While she settled comfortably into her role as ever-evolving columnist Bradshaw, Parker said it took Manhattan to make the story work three years after the popular HBO series ended.
"She is the fifth lady," Parker told TODAY co-host Meredith Vieira, indicating the sweeping urban vista from the Top of the Rock observation deck at 30 Rockefeller Plaza. "She is the provenance of all of this good fortune for all of us in the last 10 years, and the first place of our source material.
"It's a real delight to be here. I will not forget this."
Parker fielded fan questions – from 70 stories below — on topics from shoes to sequels to her son. But with the movie ready for its American opening on Friday, Parker, 43, was truly taken with what's happening now in her life: the release of a project closest to her heart and identity.
"I think there's a great sense of gratitude, of pride," Parker added. "We got to tell this rather unconventional romantic comedy. We found a studio that wanted to help us tell this story about four women over 40 who are arriving at a point in their lives where they're pursuing meaning and love in a different way than they did in their 20s.
"And we got to be back on the streets of New York. It was seemingly impossible on paper to accomplish — and we did it."
Small screen to big screenThe show "Sex and the City" ran on HBO from 1998 to 2004, chronicling the lives of four 30-something female characters living in New York. Story lines tackled socially relevant issues for single women in the 1990s, as well as relationships with men and the fun of fashion.
While Kristin Davis, Cynthia Nixon and Kim Cattrall filled support roles and are back on hand for the movie, it was Parker's portrayal of Bradshaw — a semiautobiographical character from author Candace Bushnell's book of the same name — that drove the show's main plots.
Parker told Vieira that the movie evolves from some of the man-hunting exploits on the show, while her character also tries to resume her relationship with longtime boyfriend "Mr. Big," played by Chris Noth.
"It's about how to be the person you can be after the last 20 years of being the person you were then," Parker said.
Parker said she loved the responsibility of serving as co-executive producer and lead actor, as was often the case on the show. With the TV series maintaining a popular following through syndication, she felt an obligation to serve the show's diehard fans.
"It's very unique to have a job that is really dictated by the viewers," Parker told Vieira. "We were very cognizant of the fact every single day that without their commitment and dedication through syndication and DVD [sales], that we would not be able to make this movie.
"This was really an opportunity that they really gave to us. We want very much, and it is our fervent hope, that we have been worth the wait and worth their devotion."
Of sequels and shoes
Even though the movie is just being released, Parker was asked by a fan named Arianna if a sequel would be in the works.
Parker said that "we have not uttered the word" and that such early talk of a follow-up film would "look greedy on our part."
But she also revealed a more important reason for resisting such a future commitment. She and her husband, actor Matthew Broderick, have a 5-year-old son, James Wilkie, whom Parker puts first on her priority list.
"[The movie has] been the real last year of my life, professionally," Parker said. "And I've had to figure out how to make certain that he is well and good. That's been absent in a lot of ways, and it's time for me not to be [absent] for a while."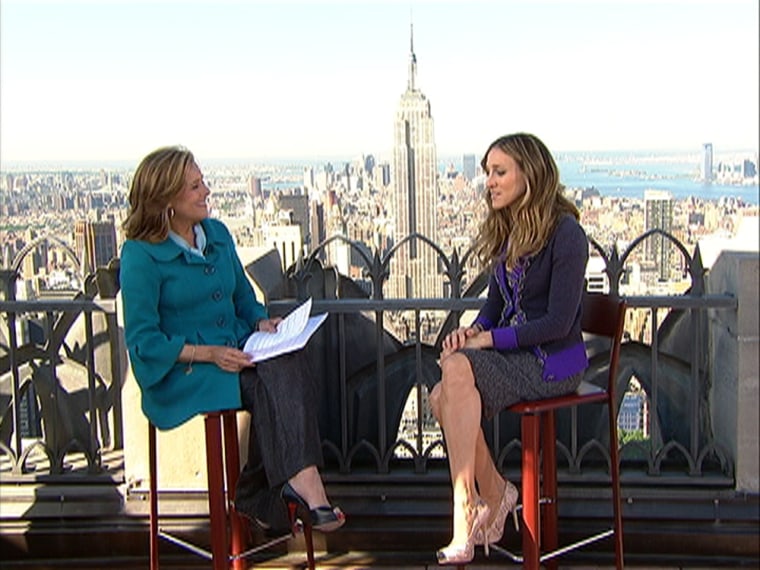 Also notably absent in Parker's real life is the famous shoe collection of her character on "Sex and the City." Responding to a question from viewer Darlene about how many shoes she has in real life, Parker said she didn't mean to disappoint — but she isn't footing that kind of bill.
"I love a well-made shoe and I love wearing them, but it just didn't fit in my life the same way," she said. "It's not practical … but I love getting to borrow them."