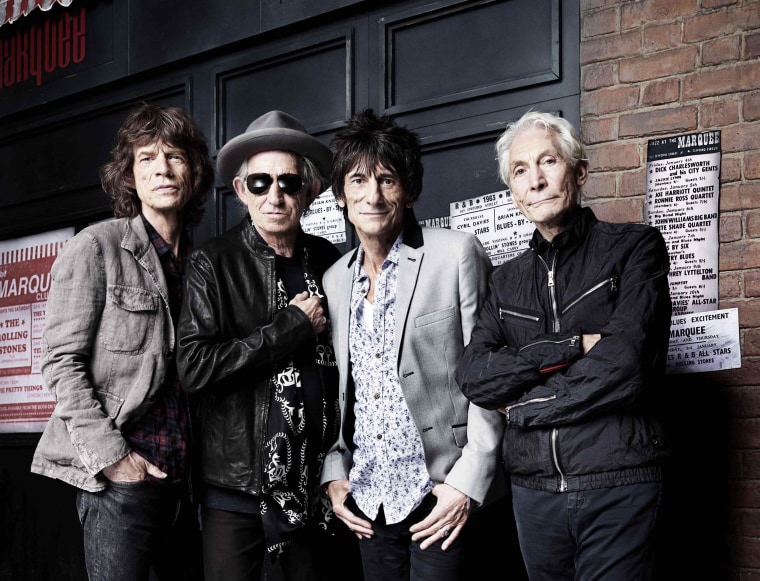 The publicist added: "He passed away peacefully in a London hospital earlier today surrounded by his family. Charlie was a cherished husband, father and grandfather and also as a member of The Rolling Stones, one of the greatest drummers of his generation."
Many U.S. fans last saw Watts on their television sets April 18, 2020, in the depths of the world's struggle against the coronavirus pandemic.
During the Global Citizen fundraiser concert "One World: Together at Home," broadcast on major U.S. networks, Watts and his bandmates — Mick Jagger, Keith Richards and Ronnie Wood — delighted viewers with a stay-at-home version of "You Can't Always Get What You Want."
A casually dressed Watts donned headphones and happily air drummed in what appeared to be his living room.
Earlier this month, the group announced that Watts would miss its upcoming U.S. tour to allow him to heal from an unspecified medical procedure. At the time, a representative for Watts said the procedure was "completely successful."
"For once my timing has been a little off. I am working hard to get fully fit but I have today accepted on the advice of the experts that this will take a while," Watts said in statement Aug. 4, announcing he'd be sidelined.
The "No Filter" tour, which was postponed due to the pandemic, is set to resume Sept. 26 in St. Louis.
Condolences from throughout the music world poured in as word of Watts' passing spread.
"A very sad day. Charlie Watts was the ultimate drummer. The most stylish of men, and such brilliant company," the music icon Elton John said in a statement, posting a throwback, black-and-white image of the two.
A shaken Paul McCartney, 79, posted a condolence video, calling Watts "a fantastic drummer."
"He's a lovely guy and I knew he was ill, but I didn't know it was this ill," a downcast McCartney said.
"Charlie was a rock and a fantastic drummer, steady as a rock. Anyway, so love, love you Charlie, I've always loved you, beautiful man and great condolences and sympathies to his family."
Charles Robert Watts was born on June 2, 1941, the son of a truck driver and grew up in London's Wembley neighborhood.
His parents bought him his first drum kit and he played in local jazz groups.
As a young adult, he worked as a graphic artist but never lost touch with his love for the stage.
He eventually hooked up with Alexis Korner's Blues Incorporated, a group which had once featured Jagger on vocals.
Jagger's new group, the Rolling Stones, needed a drummer and soon added Watts — and the rest is rock history.
Watts' work was particularly prominent in Stones classics such as "Paint It Black," "Satisfaction," "Jumpin' Jack Flash," "Ruby Tuesday" and many others.
He's survived by his wife of 57 years, Shirley Ann Shepherd, daughter Seraphina and granddaughter Charlotte.
This article was originally published on NBCNews.com.