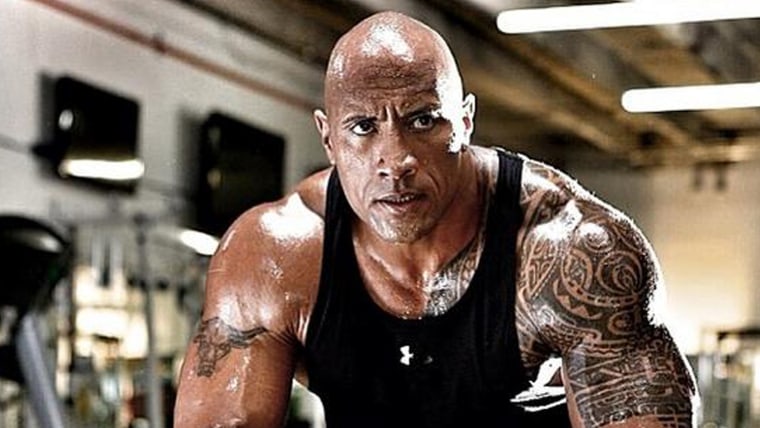 Dwayne "The Rock" Johnson might be the only guy ever to wear a fanny pack who deserves your respect. A throwback fashion statement is just one of the gems you get if you mine The Rock's Instagram feed these days.
Many photos offered up by the pro wrestler turned action film star show him pumping iron to maintain and even enhance the physique necessary to pull off the title role in "Hercules" (in theaters Friday). He told TODAY on Tuesday that while training in Budapest, he was "working out twice a day for six months," and he'd start at 3:30 a.m.
Mix in shots of the actor holding a koala or playing patty cake with a young girl, and it's clear there's a softer side to The Rock.

WATCH: Dwayne Johnson tells TODAY he 'was born to play' Hercules
"Always be the hardest worker in the room," Johnson said on this photo, one of many taken in a gym. Our arms hurt typing this.
Johnson called pal David Beckham "one of the best dudes I know," and then flexed hard enough to mess up his hair.
A series of images catch Johnson coming and going via private jet. "Struttin' and cuttin' right to the gym," he said here. Of course.
We've looked at all the muscle photos, so not really much to say about this throwback offering. You look cool, Mr. Johnson. Those things were great for holding keys and such, right? No hate.
By the way, Jimmy Fallon noticed that fanny pack photo, too, and had great fun with The Rock during a visit on "The Tonight Show" on July 22.
Now, here's Hercules with a dagger in place of the fanny pack.
Aww pause: "When a 3yr old asks HERCULES to play patty cake in the middle of shooting an epic battle scene ... He plays patty cake."
Awww take two: Johnson gave a big shout out to Australia for all the love during shooting of his film.

"Good thing she has a helluva sense of humor because she's tough to look at," Johnson joked about co-star Irina Shayk, who plays his wife in "Hercules."
We smell what The Rock was Instagramming here: pancakes! (He told TODAY that while buffing up for "Hercules," he was eating seven to eight meals a day!)
Bye bye pancakes!
Here's a throwback with a different kind of style. "Superman don't need no cape," Johnson said on this image from his rookie WWE year. 
"Myself and our brilliant Academy Award winning artists had one goal in mind — to create a truly iconic character for a generation," Johnson wrote on this photo. "The transformation took 3 1/2 hrs every day for 95 days. Proud of the inspired work and I hope you will be too."
And then, that one time, The Rock met The Pebble. "Great meeting you little man. Be a good boy, work hard and listen to your mama and daddy," Johnson wrote. "And trust, Uncle Rock ... ladies love muscles, but love brains more so study hard."
Follow Kurt Schlosser on Google+