The Barden Bellas are back for "Pitch Perfect 2," and this time they'll feature a new face — and the return of one gal who won't ever graduate on to new things.
Hailee Steinfeld, who plays the newbie, and Brittany Snow, the star behind seventh-year senior Chloe, both stopped by TODAY Thursday to talk about the highly anticipated sequel.
"It was pretty intimidating," Steinfeld said of joining the cast of veteran Bellas. "But I think more exciting and thrilling and a little surreal, because I was such a huge fan of the first movie that being a part of this was just awesome."
WATCH: Natalie dances her way through 'Bella Boot Camp'
It was awesome for Snow, too, whose Chloe character just keeps getting ... more Chloe.
"Yeah, she's gotten dumber and dumber," Snow said of the perpetual student. "It was very fun to play. She's just so passionate about singing with the Bellas that she doesn't want to give it up no matter what. ... Stay in school, guys. Stay in school forever!"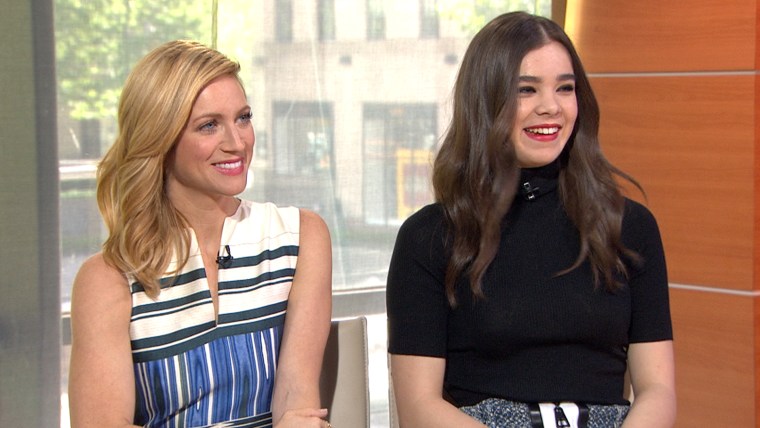 Both actresses promise fans will see plenty of song and dance in "Pitch Perfect 2" — especially dance.
WATCH: Natalie goes behind the scenes of 'Pitch Perfect 2'
"There's a lot of crazy dancing," Snow explained. "We do hula hoop and glow stick and twerking. ... We really had to take it to the next level.
See those moves for yourself when "Pitch Perfect 2" opens in theaters nationwide Friday, and check out what star Anna Kendrick told us about the film earlier this week.
Follow Ree Hines on Google+.