One of the most endearing memories I have of my dad is the smell of his aftershave lotion. Whenever I see the red box with the white sails on the drugstore shelf, I think of my father. Obviously, there's nothing profound about cologne — I mean, there are so many other more important ways to remember my dad — it's just the smell or the idea of the smell is something that sticks with you.
Introduced in 1938, Old Spice — a mix of "base notes" including cedarwood, vanilla, amber, sandalwood and patchouli plus "spice notes" of clove, nutmeg and cinnamon and "top notes" of bergamot, lemon and orange — remains a best seller. It also still comes in a hefty off-white, ceramic bottle featuring a simple sailboat, which has morphed over the years from a Colonial clipper ship to the current sailboat/yacht logo.
Today, however, it's possible to view the Old Spice commercial on YouTube, visit collectors' sites online — Old Spice Collectibles not only showcases products from the past but also offers up some interesting history — or search for vintage paraphernalia at online auction sites, such as eBay.com. Of course, new bottles of the old cologne are still sold at drugstores nationwide and run about $6.40 to $10.25 for 6.37 ounces.
This past year, Procter & Gamble, which now owns Old Spice, introduced a new fragrance called OS Signature. Packaged in a short, sleek clear glass bottle, the new scent was designed for "guys who exude a laid-back confidence — something women find completely irresistible," according to company literature. A 1.7-ounce container of the eau de toilette sells for $22.99. Watch out mom!
Primp your daddy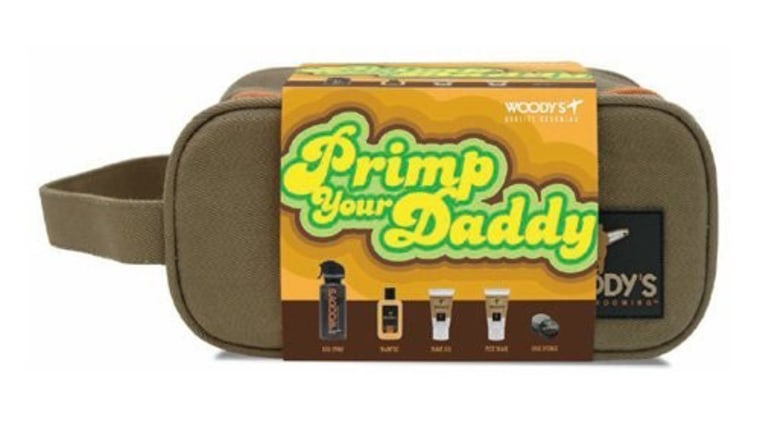 These days, many men's grooming products target a new generation of dads — dads that not only do diapers, the dishes and even vacuum, but also men who are concerned about appearance and style. The scents and packaging of these products continue to cater to what's considered masculine traits but there is more of an emphasis on primping rather than just maintenance.
Take for example, Mesa, Ariz.-based Woody's, a line of men's products that supposedly combines "the effortless cool of surf culture" with "the community spirit of the barbershop." Whatever that means, the company has packaged its goods so that they appeal to men who are tough but also have a sensitive side. The 12-ounce Meat and Potatoes Bar, $13, is packaged like a slab a beef but contains natural essential oils.The Love Grenade, a body and linen spray is "enhanced with Pheroxene, a complex of natural essences and human pheromones," the much-talked about chemical substance humans release that elicits a response in members of the same species. A 4.25-ounce container sells for $12.95.
Best value, though, is the "Primp Your Daddy Bag." Priced at $26.95, the kit contains a sampling of Woody's every day grooming products plus a travel-sized shoe sponge. The sampler, which comes in a handy canvas zippered bag, is sold at M.U.G. online, a cyber shop with a retail store in Mesa, Ariz.'s Superstition Springs Mall.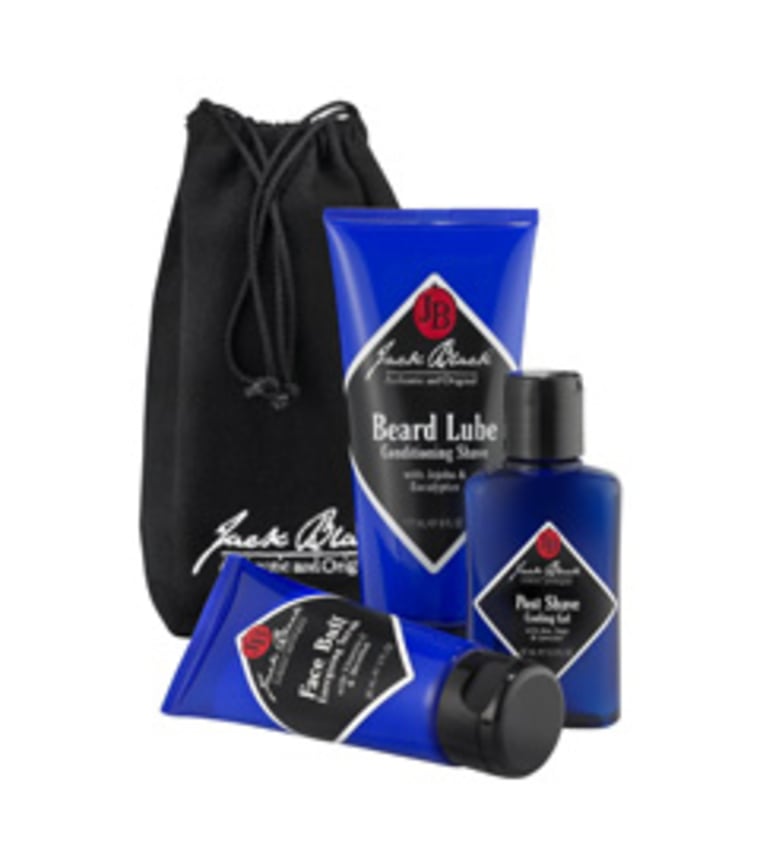 Another popular metrosexual men's brand is Jack Black, a line of men's grooming products packaged in cobalt blue containers with labels that resemble premium-brand cigar and liquor labels.
Jack Black has plenty of gift sets, from the three-piece Shave in the Bag for $44 to the Liquid Magnetism Blue Mark for $72. The best deal is the On the Road travel pack. Priced at $55, the kit would cost $80 if the products were purchased separately. The starter set contains six of the company's bestselling products including beard lube, body wash, face moisturizer, face scrub, hand cream and lip balm. It comes in a sturdy, black micro-fiber pouch. Jack Black products can be found at high-end retail stores nationwide, such as Nordstrom and Bloomingdale's, and online at the company's Web site, drugstore.com and Sephora.
Save the Males, citrus smells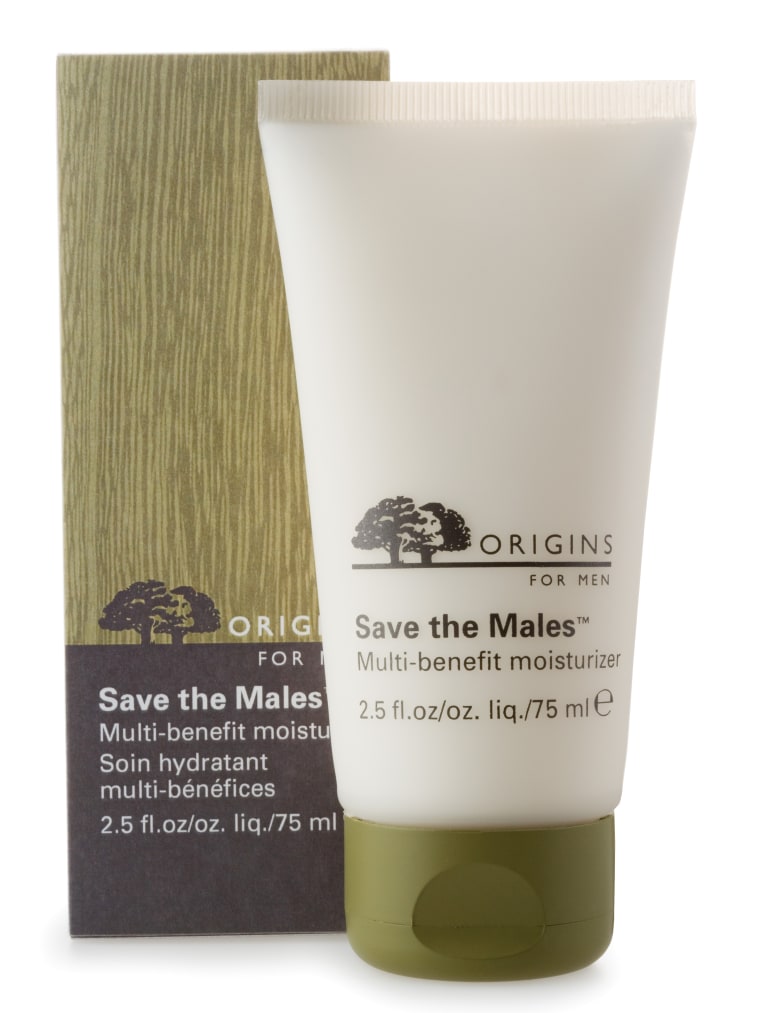 Just in time for Father's Day, Origins introduced a new addition to its male grooming products line. Cleverly called Save the Males, the multi-benefit moisturizer not only hydrates the skin but also "provides anti-oxidant protection."
The oil-free and lightweight moisturizer has "no creamy leave behind"… "something real guys want to avoid," says an Origins company spokesperson. In addition, an avocado extract helps control excess oil because men tend to produce more oil than women, he says. A sunflower seed, barley and cucumber extract also helps create a moisture barrier after shaving when the skin is exposed and sensitive. A 2.5 ounce bottle sells for $32.30 at online and brick-and-mortar Origins stores nationwide.
Other products in the Origins for Men line include an Easy Slider pre-shave oil (1.7 ounces for $18.50), a Blade Runner Energizing shave cream (5 ounces for $14) and an aftershave soother called Firefighter Plus (1.7 ounces for $16.50.)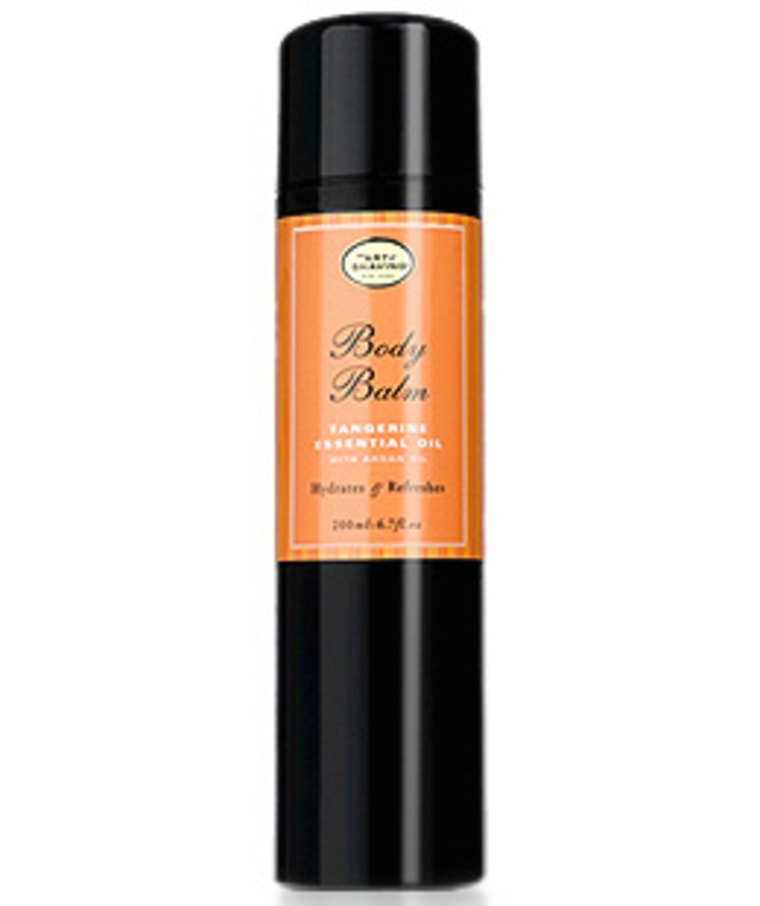 In contrast to products produced to excite dad, The Art of Shaving introduced two new concoctions that may have a calming effect on dad. Made from California lemons peels, a 3.5-ounce bottle of Art of Shaving's lemon eau de toilette sells for $70. The lemon essential oil is known for its fresh scent and its therapeutic qualities.
Another citrus-based product is a new body wash and body balm, rich in tangerine essential oil. The body wash, which retails for $22, "cleans, purifies and moisturizes." The body balm, priced at $28, "moisturizes, nourishes and protects the skin." Both come in 6.6 ounce bottles.