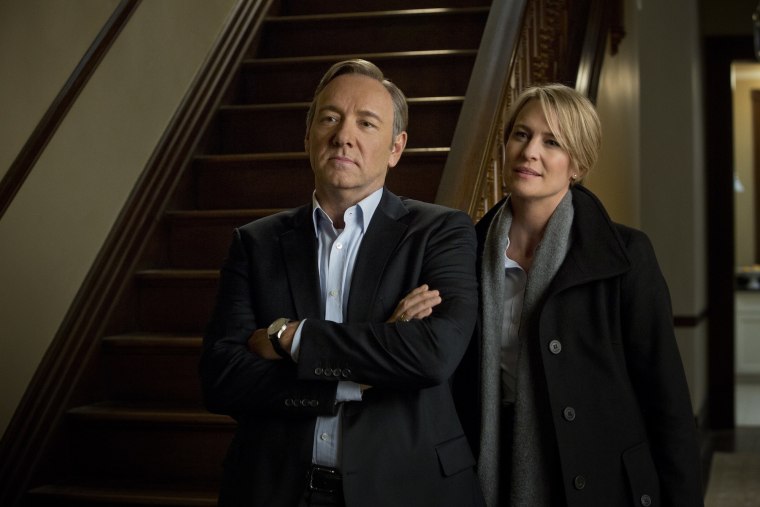 As if the government shutdown weren't troubling enough, the Internet has been rife with rumors this week about the shutdown of America's new favorite political drama, "House of Cards," at the end of its sophomore season, which Netflix will stream sometime next year.
The rumors kicked off last week at the Vancouver Film Festival, where a co-executive producer of the show remarked that the Kevin Spacey-led drama, which won three Emmys last month and was nominated for six others, including outstanding drama series, "is only going to go a second season and I think that's it. Kevin Spacey likes to do movies and Robin Wright likes to do movies."
Well, it may be true that Spacey and Wright, who plays his wife, like to see themselves on the big screen, but little else related to this widely spread story is checking out. For one thing, Rick Cleveland, the co-executive producer who spoke out in Canada was fired from Netflix's hit show in the first season, according to a show source who spoke to TODAY after the rumor circulated. So whatever he has to say about the show is speculation, to put it nicely. 
Although Netflix won't comment about Cleveland's statements or confirm if its flagship original series will return for a third season, there are a few indications that it will. In an interview last month with NBC News, executive producer Beau Willimon, who actually still works on the show and runs the production, said he was filming the second cycle but thinking ahead to future seasons. When Netflix bought the show, it gave producers an unprecedented 26-episode order, but that didn't mean there wasn't the possibility or desire for more, Willimon said. 
"We certainly approached the show with a film-making sensibility—not just in the shooting of it but also in the narrative," Willimon said at the time. "I didn't write the show thinking about commercials or cliff-hangers or how a traditional TV season is structured or with a particular episode order in mind. Everyone on this show is a rebel. We like breaking the rules and we like trying new things."
In that same vein, Modi Wiczyk, the co-chief executive officer of Media Rights Capital, which produces "House of Cards," told the Baltimore Sun last month that he would "be shocked if there wasn't" more life to the series beyond its first 26 episodes.
What remains indisputable, however, is that the man who sparked the rumors really has no idea.