Mila Kunis and Ashton Kutcher go way back. Long before they had a baby (and one more on the way), before they were married or even dating, they were simply co-stars and friends — and it stayed that way for very long time.
Until one day, something suddenly changed for Kunis.
"Late Late Show" host James Corden asked the "Bad Moms" star how they went from "friend zone to end zone."
RELATED: Mila Kunis talks 'incredible father' Ashton Kutcher and baby No. 2 on TODAY
"Ashton did my chemistry homework for me (on the set of 'That 70s Show),'" she recalled. "He was so not the guy I was, like, 'You're so hot!'"
He was just a pal — one she kept in touch with over the years, as they went on with their own lives — but nothing more.
"Then I ran into him at an awards show, and at first I was like, 'Wow, that guy's really tall.' That's what I thought," she explained. "Then he turned around and I went, 'Huh!' That moment you hear or see in movies where your heart skips a beat — and it happened with Ashton. I was, like, 'Stop it!' ... It was the weirdest thing. I was, like, 'This isn't really happening.'"
RELATED: Ashton Kutcher raves: Mila Kunis is 'greatest,' 'perfect,' 'incredible' mom
But it was happening, and it soon led them to a friends-and-a-little-more situation.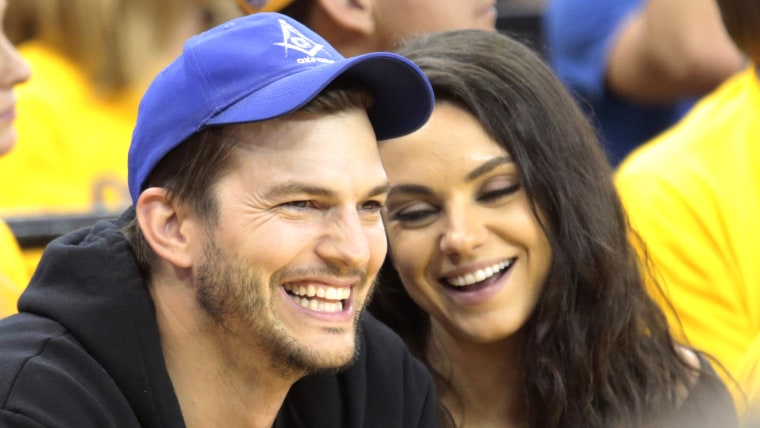 "The truth is we both did a movie (about this)," she said. "I did a movie called 'Friends With Benefits' and he did a movie called, 'No Strings Attached,' and if we would have just paid attention to how those movies turned out, we would know that we can't go into a relationship this way," Kunis laughed. "And yet, we did exactly as both of those movies foretold. We literally shook hands and were like, 'We're going to have fun because we're both single and young.'
In the end, they had a lot more than just fun.
"Three months later we're living together," she said. "Six months later, we're married and have a kid. Like, literally, we clearly didn't watch the end of either one of our movies."
Follow Ree Hines on Twitter.