With five decades in show business and a long line of hit films to his name, Michael Douglas is no stranger to making headlines. But the story that's gained the most attention for the star in recent weeks is an op-ed about anti-Semitism that he wrote himself.
Douglas shared the personal tale of family and faith that prompted the piece during a Tuesday morning visit to TODAY.
It all started when Douglas' teen son, Dylan, rushed to his dad's side during a summer vacation in Europe.
"He came up to the room really upset," the actor recalled. "This man had been yelling at him, and he didn't know why. And I'm looking at him — and he'd recently had a bar mitzvah and so we had given him a Star of David — and I saw this Star of David shining, and I thought, 'No, this couldn't be.'"
He realized in that moment that the confrontation that confused his son was likely an anti-Semitic rant.
"I went down to the pool to ask this man what the problem was, and he went off about how there's too many people in the world and there's got to be rules, regulations. ... I said, 'Well, Dylan, you've just had your first taste of anti-Semitism.'"
While Dylan's dad tried to help him process the difficult lesson he'd learned about how others can act with senseless cruelty, it was Dylan himself who'd taught his dad about faith months earlier.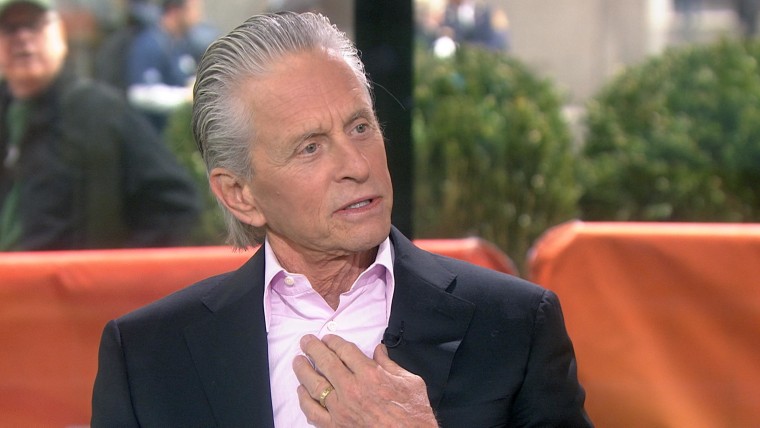 "The irony is my father [Kirk Douglas] is Jewish, my mother is protestant ... I married Catherine [Zeta-Jones], who is Catholic," Douglas explained. "Just from going to school and meeting a couple of Jewish friends .... six months later, [Dylan] said, 'I want to have a bar mitzvah.' We were touched. I have to say, Kirk was over the moon."
And Douglas found his own calling, thanks to Dylan.
"As a result, he's brought a lot of spirituality to our lives," the star explained.
Douglas is now involved with the Genesis Prize Foundation — a group devoted to honoring those who excel and inspire others through their devotion to the Jewish community — and was even named their 2015 Genesis Prize laureate.
"Now I'm actively involved with bringing interfaith families together," he told us.
See more from Douglas when his new film, "Beyond the Reach," opens in limited theaters April 17.