Art imitated life on Thursday's episode of "Grey's Anatomy" when Dr. Meredith Grey, played by Ellen Pompeo, contracted the coronavirus.
After last week's two-hour premiere episode that saw the medical staff at Grey Sloan Memorial Hospital on the front lines of the virus, the following week had Meredith hospitalized amid her own battle with the illness. She remained feisty and tried to talk her way into being allowed to quarantine in a hotel so another patient could take her spot in the hospital. Her request was rejected and she later wound up passing out in her room.
Watch TODAY All Day! Get the best news, information and inspiration from TODAY, all day long.
"Last week we felt Meredith Grey's pain as a doctor treating an early surge of COVID patients. This week we begin to experience what it is for her to be a COVID patient herself," showrunner Krista Vernoff told The Hollywood Reporter.
"Over 1,700 health care workers in the U.S. have died of COVID to date. Many thousands more have been infected. Health care workers are on the front lines of this crisis, living through a war for which they were not trained."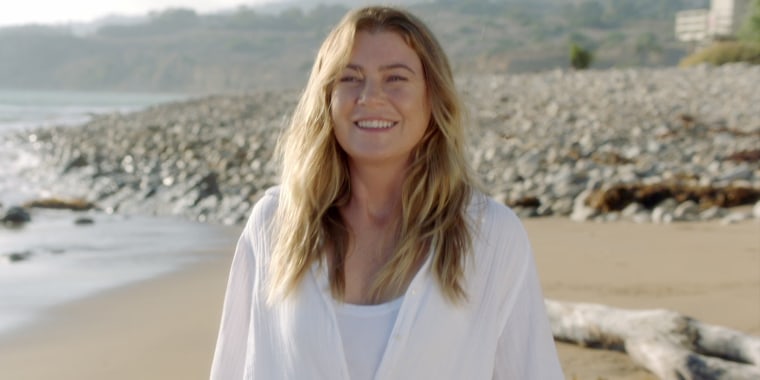 Vernoff said having Meredith deal with the virus presented a chance for viewers to see just how arduous it is for medical professionals to treat patients who have the coronavirus.
"We saw an opportunity to dramatize and illuminate their plight through the incredibly well loved and well-known character of Meredith Grey," she said. "Doctors and nurses are fighting for us and falling for us.
"The least we can do is wear a mask, socially distance and stay home whenever possible. Meredith has a real fight ahead of her. And ... she has that beach. Darkness and light. It's a powerful season. Stay tuned."
Patrick Dempsey appeared again on Thursday's episode, one week after he shocked viewers by returning to the long-running drama in a dream sequence on a beach as Meredith's late husband, Derek, who was killed off the show in 2015.
On Thursday's episode, Meredith had another dream featuring Derek where they called each other's name from a distance before she was awakened by her sister.
"I want to go to the beach," Meredith said.
After Dempsey's initial return, he said it wouldn't be a one-time thing.
"I'm throughout the season," he told "The Ellen DeGeneres Show" this week about how many episodes will feature him.