We're not waiting for Friday to have fun on the plaza! Meghan Trainor brought some weekend-worthy good times to the stage Tuesday morning for our Citi Concert Series.
The "Lips Are Movin" singer performed several songs — including her breakout hit, "All About That Bass."
She got things started with a crowd-pleasing number, "No," off her new album.
RELATED: Meghan Trainor asks concertgoers to sing along in tribute to Christina Grimmie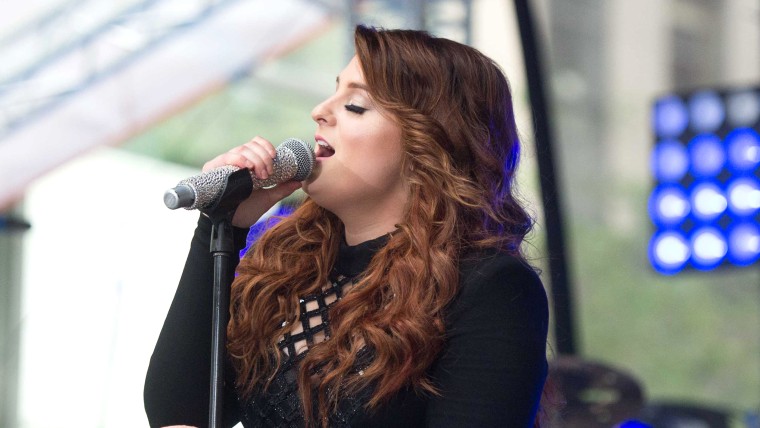 In between songs, the 22-year-old told TODAY's Savannah Guthrie and Matt Lauer that she's happy to take the stage with a sound that's so different from doo-wop vibe of her first album.
"There is a lot more to Meghan Trainor that the world hasn't even seen yet," she teased. "So we're just dipping our toes in the water with (the new material). The next album? Who knows?"
Trainor's fans, also known as Megatrons, came out to the plaza early to make sure they'd get a chance to see her perform live — and to give her a chance to see their signs.
RELATED: Meghan Trainor reveals 11 things you didn't know about her — and if she'd date a fan!
It's been a big year for Trainor, whose sophomore release, "Thank You," shot straight to No. 3 on the Billboard album chart when it debuted in May. And it's going to be a big summer for the hit maker, too. She's kicking off her "Untouchable" tour July 14.
If our latest summer concert has left you wanting even more live music, stay with us this week. On Thursday, we have Macklemore and Ryan Lewis, and on Friday, Aerosmith frontman Steven Tyler will be here to rock the plaza!
Follow Ree Hines on Twitter.