Rarely one to shy away from the risqué, Madonna admitted to TODAY's Carson Daly that she was a bit self-conscious when her children witnessed the production of her new album.
"Every time my kids would visit me in the studio, it would just so happen that I'd be working on a song like 'Holy Water' or 'S.E.X.,'" she said in Tuesday's interview. "And I'd be like, 'OK, just could — I'll be — stay outside. I'll be right out.'"
She said her kids — college freshman Lourdes Leon, high-school student Rocco Ritchie, and 9-year-olds Mercy James and David Banda Mwale Ciccone Ritchie — react in different ways to her mature content.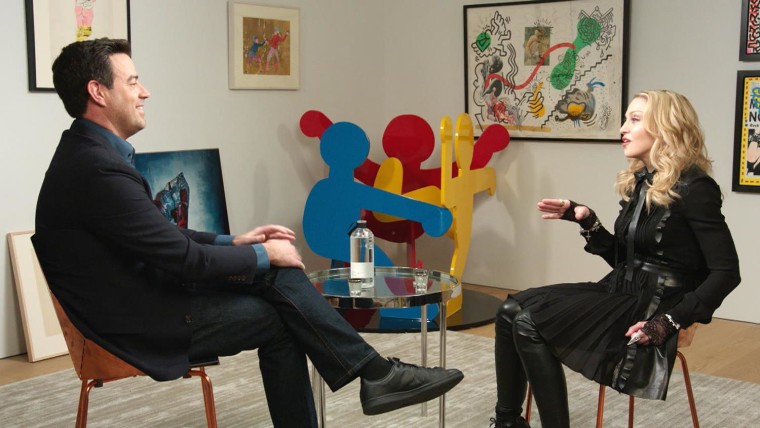 "At this point, Rocco doesn't care," she added. "It just goes over his head. He's like, 'Oh, mom. Mom's being mom.' The other little kids don't really — they're not tuned into that frequency yet. And Lo is horrified by all of it. She just wants me to be her mom."
Of course, Madonna doesn't have to choose between being a boundary-pushing music icon and a loving mother. Released Tuesday, her 13th studio album is the appropriately named "Rebel Heart."
MORE: Madonna's top 3 tips for college students (including her daughter, Lourdes Leon)
As Daly noted, Madonna's Instagram feed reflects both components of that album title, with controversial images mingling alongside family photos.
"The more kids you have, the more responsibilities you have, the more you have to really be aware of time, time management, and juggling lots of balls in the air, and thinking, 'Oh, my God, this is how am I gonna do this? How am I gonna promote my record and show up at my daughter's show?'" she said. "You know what I mean? It's a tug of war."
In November, Madonna returned to the African country of Malawi, where she adopted Mercy and David.
"I love taking all of my kids there," she told Daly. "They walk into hospitals, and tell jokes and stories, and embrace children who are in some pretty extreme states health-wise. And they're not afraid. And I love that. And I love to see them behaving in a generous way towards human beings, you know, outside of their world."
Traveling the world remains a constant for Madonna, who turned 56 in August and remains one of the world's top-grossing touring acts. But, as her onstage tumble at the Feb. 25 Brit Awards proves, it's not always a glamorous experience. "It's just physically draining," she said. "It kills me. But, I mean, that's life."
Despite amping up the energy as a stage performer known for turning heads, she insists a mellower Madonna emerges when the show's over. "No partying when I'm on the road," she told Daly, who'd suspected otherwise. "I'm really boring on the road, I swear."
Sometimes, her life is pretty boring at home, too. Daly recalled running into Madonna at an Oscars party, where he said she told him she had to leave because she had jury duty the next day. "I got out of it," she told him. "I had to go, they just cut me for creating a disturbance. They were like, 'Get lost.'"
Follow TODAY.com writer Chris Serico on Twitter.