Lupita Nyong'o understands why people may have thought she and Janelle Monáe once dated.
There were rumors a few years ago that the two stars were in a relationship.
"She has magnetism that they were obviously picking up on. She is that enigmatic," Nyong'o told Rolling Stone. "People are curious about enigmatic people. I was not surprised. And I don't mind being associated with her in any capacity."
Nyong'o, who won an Oscar for best supporting actress for "12 Years a Slave," met the singer when Nyong'o attended her first Met Gala, and was blown away by how genuine she was.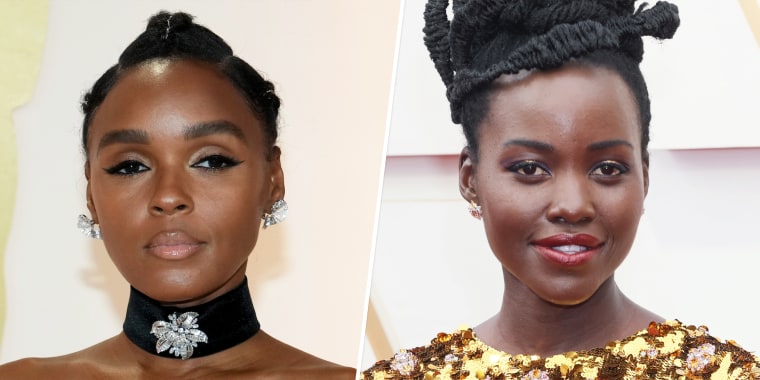 "This world is still extremely new to me and unbelievable," Nyong'o recalled. "(Janelle) came up to me and just gave me the realest hug. I think we may have swayed to the music. She was just like, 'I'm so proud of you, and just thank you for being you.'"
Nyong'o, 40, said Monáe, 37, made it a point to keep open the lines of communication.
"At some point, (Janelle) asked me for my phone, put her number in and said, 'Let's stay in touch.' She was like, 'I really mean it. If you need anything, I'm here for you,'" Nyong'o said.
The pair have remained close, although the "Black Panther" star says Monáe does maintain an aura of mystery.
"Just because you're a close friend of hers doesn't mean you get to know everything about her," she said. "I think that's what makes her interesting as an artist."
Monáe revealed she's nonbinary in April 2022.
"I'm nonbinary, so I just don't see myself as a woman, solely," she said on "Red Table Talk."
"I feel all of my energy. I feel like God is so much bigger than the 'he' or the 'she.' If I am from God, I am everything. I am everything, but I will always, always stand with women. I will always stand with Black women. But I just see everything beyond the binary." 
That announcement came after she told Rolling Stone in 2018 that she identifies as pansexual, which is when a person is attracted to people without regard to sex or gender. Monáe said she had previously considered herself bisexual, "but then later I read about pansexuality and was like, 'Oh, these are things that I identify with too.' I'm open to learning more about who I am."
Monáe has a solid music career and acting career. The eight-time Grammy nominee has a new album, "The Age of Pleasure," coming out June 9. She has also starred in such critically acclaimed films as "Moonlight," "Hidden Figures" and "Glass Onion."
"She's extremely gifted," Nyong'o told Rolling Stone. "It's built into her spirit. Her openness creates intimacy onscreen. It's really cool to see her move from one thing to another and do it with such mastery."
When asked by Rolling Stone if she feels a sense of obligation as a symbol for the queer community, Monáe stopped short and said she has to be her own person first.
"You cannot project onto artists," she said. "You have to understand that experiences will be had and people will change and evolve and not be the person you look up to. As much as you love and care about me, I'm on my own journey that has nothing to do with music, has nothing to do with art."