Wisdom comes with age, so it's really a shame that it's during our youth that we could use that hard-earned knowledge the most.
But actress Kerry Washington isn't letting that dilemma keep her from dishing out advice to her younger self — especially when what she has to say could help young people today.
In a video produced for Teen Vogue, the "Scandal" star addresses herself at age 18, and lets young Kerry know the important lessons she's learned about goals, growing pains and gratitude.
MORE: 'Scandal' star Kerry Washington: 'I didn't grow up thinking I was pretty'
"Make sure that your dreams are yours," she says. "Make sure that you are not pursuing the dreams that somebody thinks you should have, because dreams take a lot of work and a lot of support, and you'll be more inspired to go after them if they are really, really yours."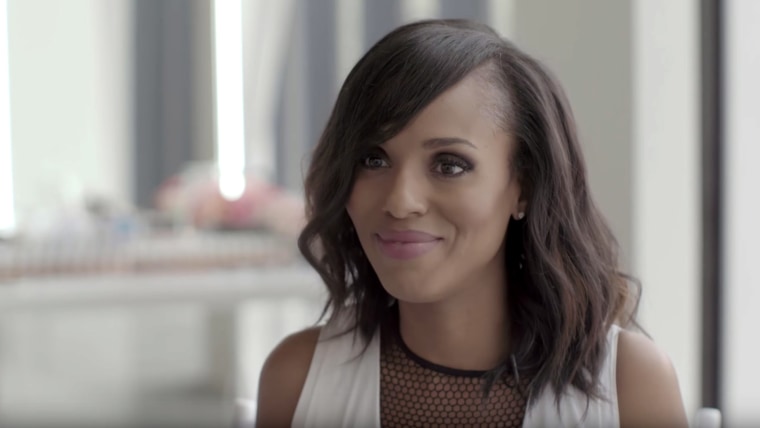 She also suggests that she should always have a plan in life, but keep it flexible, because "sometimes when you make a plan, God laughs because God has another plan. And that plan is probably better than your plan. You just have to hang in there and be patient for it."
But that doesn't mean that she thinks any of it's easy.
"Just know that everybody has growing pains and the only way out is through," she says, adding, "You're going to find therapy and it's going to be amazing!"
MORE: Kim Kardashian talks family, hopes and makeup goals in letter to her future self
Washington doesn't only talk of lessons in the clip. She also wants her teen self to know just how good she's got it.
"Now that I'm a mom, I'm just like endlessly more grateful for my parents and grateful to them," she raves. "Because I now really understand what it means to parent, and not a day goes by that I don't think about how blessed I am to have been born to the parents I was born to."
The now-39-year-old ends with a perfect bit of wisdom that any teen (or anyone else) could use.
"The things that challenge you the most in life are probably going to be the things that you look back on and are so grateful for because they made you better," the actress stresses. "So, the things that challenge you, try to be grateful for them and try to imagine how they have been put in your life specifically to help you."
Follow Ree Hines on Twitter.