It's not easy being green, especially in the social-media era.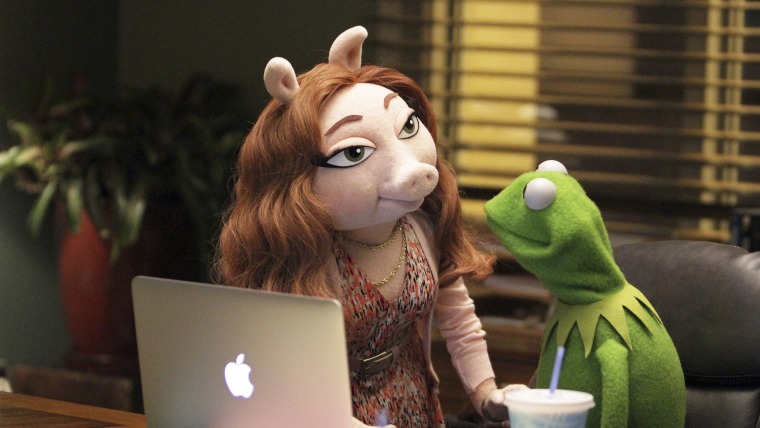 The usually beloved Kermit the Frog endured some serious backlash this week, when Muppets fans learned about a new pig companion, Denise, who's rumored to be his first new girlfriend since he and Miss Piggy announced their breakup Aug. 4.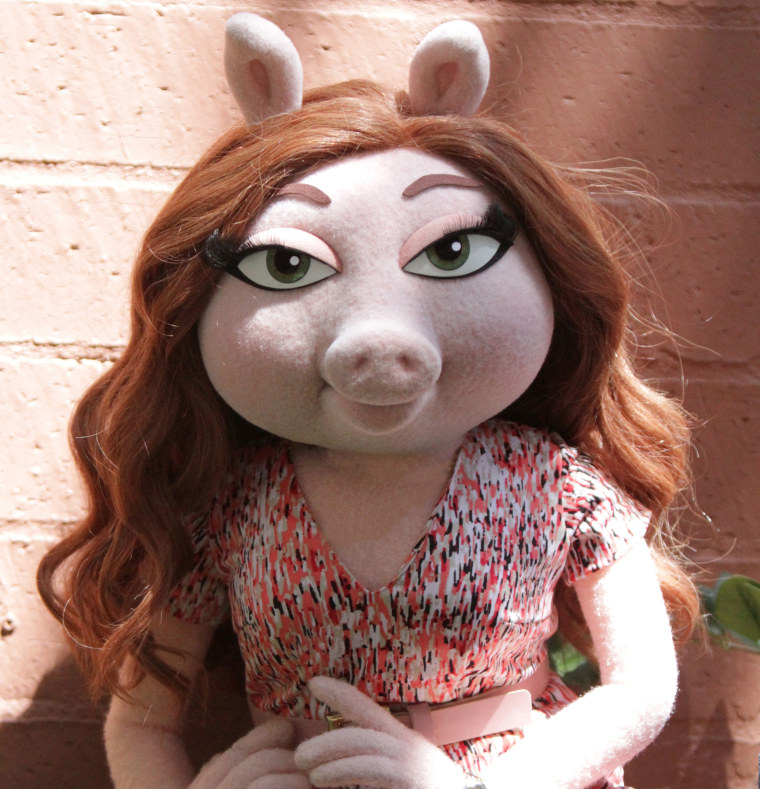 (Disclaimer: TODAY.com realizes the Muppets are fictional characters, and puppets at that. But it's hard not to be emotionally involved after four decades of laughs, wacky adventures, and stirring renditions of "The Rainbow Connection," OK?)
Kermit and Denise had appeared together in promos for their new ABC series, which premieres Sept. 22. But a day after People reported Monday that they were more than friends, the Muppets' official Instagram and Twitter accounts confirmed that development, adding that "Kermit is seeing Denise, [supposedly] head of marketing at ABC. We're bracing for Miss Piggy's coming wrath."
The resulting fallout on social media prompted the frog to issue a statement Tuesday on Twitter.
"Sheesh," reads a tweet posted to Kermit's official account. "I can't believe I already have to do this again... Here is the official statement on my relationship status: While I prefer to keep my personal life private, this is Hollywood, so who am I kidding? It is true that I am dating again. However, at this time no one woman — pig or otherwise — is my official 'new girlfriend.' We are simply close friends."
It's an understatement to say many fans expressed emotions and made comparisons. Frequently.
Despite being a showbiz vet who's often been able to feel footloose and fancy free despite setbacks, Kermit couldn't shake the venom expressed by supposed fans who weren't as quick to be "Movin' Right Along."
To be fair to Kermit, Miss Piggy has been seen making googly eyes at Liam Hemsworth, whose first Instagram photo — posted the same day of People's report about Denise — shows the actor charming Kermit's ex, prior to his cameo on the show. (And to be fair to Piggy, her googly eyes are kind of a default setting.)
And while Kermit may have a thing for Muppet pigs, Piggy's new type appears to be human actors. In addition to Hemsworth, Piggy's warmed to William Shatner, calling herself "very much available" Tuesday on Twitter, after the "Star Trek" star inquired about her relationship status.
Much like non-Muppets who endure heartbreak, Kermit and Piggy are working through their individual issues. Kermit's a notorious commitment-phobe, and Piggy has a reputation for being a bit of a diva, as TODAY's Kathie Lee Gifford found out for herself last year.
But why is there such anger being hurled at puppets who are just trying to find love in this crazy world? While most people would love to see great couples stay together, what's the point in shouting them down on the Internet? Since when does negativity reinforce love? Couples shouldn't bullied after a breakup just because they broke up, nor should they be bullied into getting back together. And what exactly has Denise done that warrants a steady stream of vitriol? Puppets have feelings, too! (Well, fundamentally, they don't. But, conceptually, name-calling should be frowned upon regardless.)
Despite the nasty comments that Kermit, Piggy and Denise have faced recently, they're all doing their best to remain professional in the days leading up to their TV premiere.
We'll see how long that lasts. It may not be long before the felt starts flying.
Follow TODAY.com writer Chris Serico on Twitter.