Keith Urban and Nicole Kidman celebrated 11 years of marriage Sunday, and to mark the occasion, the country crooner shared his love for her on Instagram.
He also shared a trio of cute selfies!
The photo-packed post shows the couple cuddling for the camera — going from matching grins to giggles to one sweet kiss. (Be sure to swipe or click through to see all of the pics.)
"Happy Anniversary Babygirl," he wrote in the caption. "Eleven years and you still feel like my girlfriend!!!"
That sweet message, which earned plenty of "aaaawww" responses from fans, isn't surprising coming from Urban, who's never been shy about just how much he adores and appreciates the Oscar winner.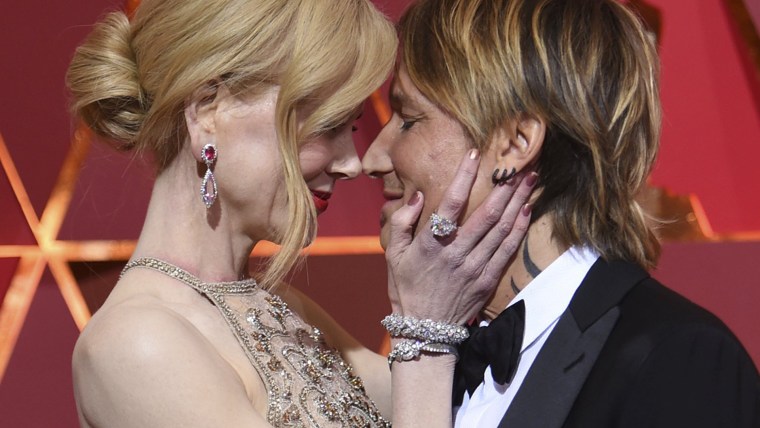 Just weeks ago, when the singer accepted four honors of his own at the CMT Awards, Kidman took a starring role in his acceptance speech.
"I want to say a massive thank you to my wife Nicole," Urban told the audience after winning Male Video of the Year. "You have no idea how much of what I do, she's involved in every little piece of it. ... She hates me saying this, but I want it to be said because she helps me so much making these videos what they are."
And he credits her with so much more than helping him succeed in his career.
In an interview with Hits Daily Double last year, he simply said, "If I'm a better man, it's because of her."
In fact, Urban believes he started becoming a better man for her before he even met her.
He once told Ellen DeGeneres, "Someone asked me if it was life-changing, meeting her, and I said, 'I think it was more like it was life beginning for me.' I feel like I spent all the years leading up to that, preparing. I didn't know I was, but that's what it seems like in hindsight."