When Jeffrey Tambor plays Maura Pfefferman — a transgender adult who comes out to her children late in life — on the Amazon Studios series "Transparent," authenticity matters more to him than reviews.
"It's not about getting a good review," he told TODAY's Jenna Bush Hager, who recently spoke with the cast and creator of the groundbreaking series that's gearing up for its second season. "It's not about getting, 'Oh, you're the most believable.' It's — you have to do it right. Your representation matters."
For what it's worth, Tambor also happens to have earned critical acclaim for his performance, which — like the streaming TV series, itself — won a Golden Globe Award earlier this year.
In the dark comedy, Judith Light and Tambor play a divorced couple navigating a complicated path: Tambor's character's decision to be a woman, known as "Maura."
"When Maura comes out, we have to say, 'Wait, what is my journey now? What is my truth now?'" Light said. "And now we have to be able to look at ourselves as say, 'What and who will we be?'"
Maura is a layered character who both unites and divides her adult family while she tries to find her way and her own truth. It's a transcendent concept that viewers "absolutely" can relate to, even if they don't understand the transgender community, Tambor said.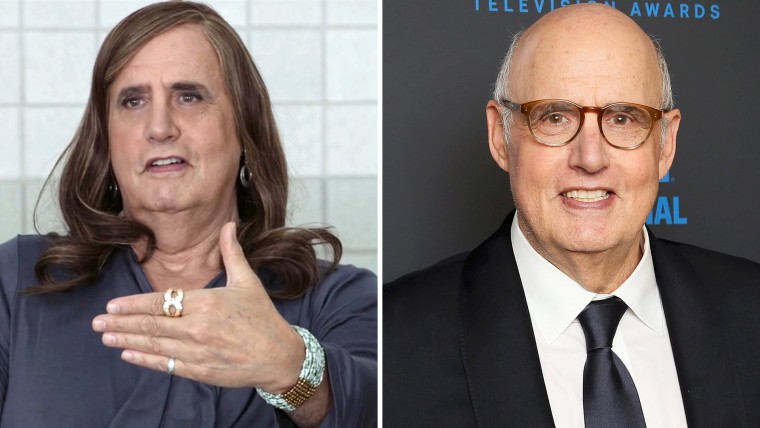 Added Light, "It's about a family. And everybody understands that. That's a universal."
And it helps that "the Pfeffermans are a funny, funny family," Tambor noted.
It's also a very personal series for "Transparent" creator-director Jill Soloway, who said she didn't anticipate the scope of its reception.
"I wrote the script because my own parent came out as transgender three or four years ago," Soloway told TODAY. "There was, like, this tiny voice that was like, 'Oh, this is gonna be your TV show.' I was almost writing it as a love letter to my parent to say, 'This is how much I love you.'"
While the awards are nice, Soloway says "Transparent" has brought her family closer together, allowing for a "really excited, constant conversation about what it feels like to be in this moment."
Soloway calls her creative approach "directing from the feminine," an effort to be "more collaborative instead of competitive."
Tambor appreciates her perspective.
"Working with Jill Soloway, it is the safest, most adventurous set you can get," he said. "There is no mistake. There's no error. … It is so transformative a set, and so free, and so empowering."
Since the series' 2014 debut, there's been a greater public understanding of what transgender means, partly because of Caitlyn Jenner's high-profile transition. Tambor said he'd just spoken with Jenner, who "said wonderful things" moments before TODAY's interview.
"The world has changed," Tambor added. "And that's a good thing."
It's a sentiment echoed by Jay Duplass, Gaby Hoffman and Amy Landecker, who play Maura's adult children.
"I think the most exciting thing to me is the normalization of all of these issues," Duplass said.
Added Hoffman, "There's a paradigm shift that's taking place, and we are a part of it. And we didn't create it; it didn't create us. But it's all just this magical moment that is long overdue."
Landecker said she's pleased the show is reaching the parents of young people who have made this transition, adding, "[They're] seeing this and saying, 'I can handle my child better. I can handle this experience better.'"
Transgender staff members, including Zackary Drucker, are a significant part of the production team. "This is the first time we've seen a trans character situated in a family narrative," Drucker said.
"Transparent's" second season premieres late this fall, and Amazon was expected to announce Thursday that it would be picked up for a third season. No matter how long the series runs, Soloway hopes its legacy exudes positivity.
"I would love for people to be able to look back and see the … tipping point where tolerance and acceptance and love for trans people became undeniable," she said.
Comedy, according to Tambor, can help make that a reality.
"There's laughter, there's tears, but at the end of the day, it's about saving lives," he said. "Because lives are at stake. And laughter is the great teacher here, you know?"
Follow TODAY.com writer Chris Serico on Twitter.