/ Source: The Associated Press
Coming face-to-face once again with her former husband, Michael Jackson's ex-wife took the witness stand and did something few had predicted: She turned the tables on prosecutors.
Called by the district attorney's office to bolster their argument that she had been pressured to praise Jackson in a videotaped interview, Debbie Rowe instead said she refused to be coached when she spoke to Jackson associates to defend the singer against a damaging TV documentary.
"I didn't want anyone to be able to come back to me and say my interview was rehearsed," Rowe said. "As Mr. Jackson knows, no one can tell me what to say."
Rowe also testified that she had not been truthful about everything in her videotaped interview but said she could not remember specific areas where she had been dishonest.
Jackson is accused of molesting a 13-year-old boy in February or March 2003 and conspiring to hold the accuser's family captive to get them to rebut the documentary that showed the singer saying he lets children sleep in his bed.
The prosecution has said Rowe would offer similar testimony — that she also was pressured to praise Jackson in a video — but her testimony Wednesday did not reflect that.
A 'cold interview'
Rowe reiterated that she had been offered a list of questions by her interviewers but did not look at them before she talked. "It was a cold interview, and I wanted to keep it that way," she said.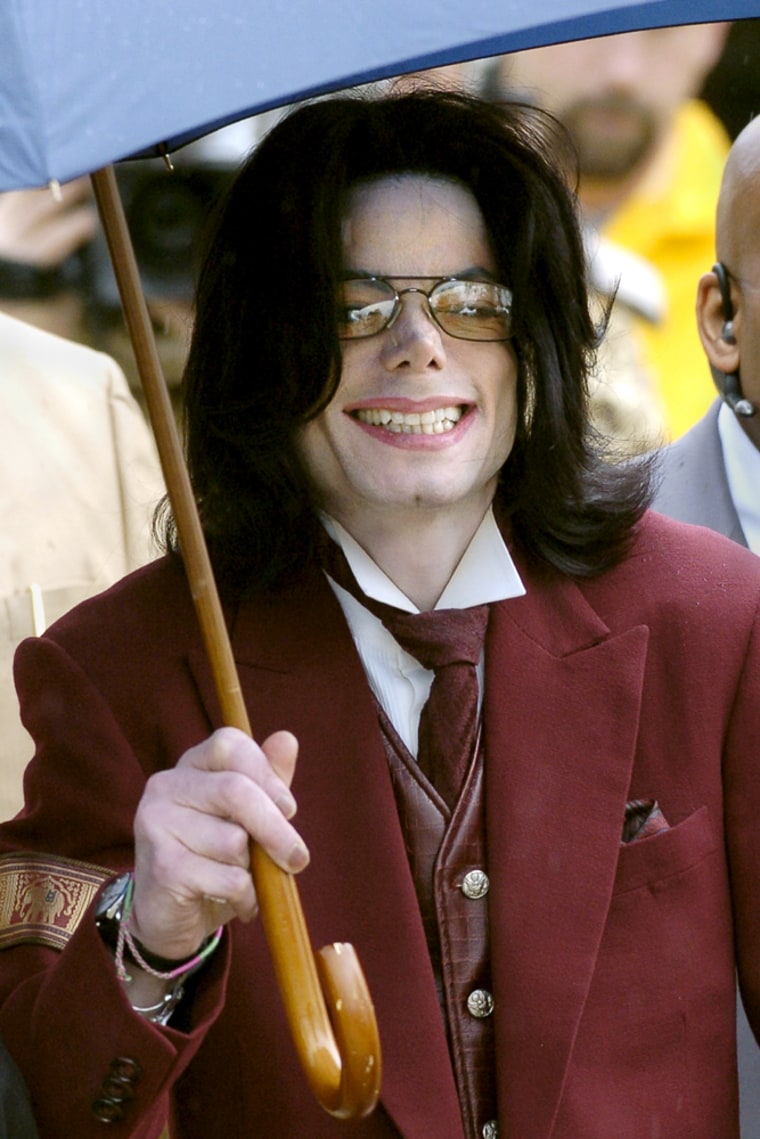 In his opening statement two months ago, District Attorney Tom Sneddon told jurors they would hear Rowe tell a story similar to that of the accuser's mother.
"Debbie Rowe will tell you her interview also was completely scripted," Sneddon said on Feb. 28. "They scripted that interview just like they scripted the (accuser's mother's) interview."
Rowe was expected back on the stand Thursday.
Rowe, in a black pantsuit, glanced at Jackson as she testified. The pop star, dressed in a maroon suit, showed no reaction to her testimony.
Rowe had been a nurse for one of Jackson's plastic surgeons when they married in 1996, and they had two children — Prince Michael, 8, and a 7-year-old daughter named Paris.
The couple filed for divorce after three years of marriage, and Rowe is currently in a family court dispute over visitation with their children. Jackson has a third child, Prince Michael II, whose mother has not been identified.
Rowe appeared nervous when she first took the stand. Asked how she knew Jackson, she said, "we've been friends, and we were married." Of their domestic arrangements, she said, "We never shared a home."
In 2003, Rowe said she spoke with Jackson over the phone, and he said "there was a video coming out and it was full of lies and would I help. I said, as always, yes."
Always be there for Michael, childrenRowe said her conversation with Jackson lasted perhaps 2½ minutes, and there was no discussion of what he wanted her to do other than to work with his associates.
She said she asked him if he and the children were OK and if she could see them "when things settle down."
Asked why she would help Jackson, she said she promised "I would always be there for Michael and the children."
She said the videotaped interview lasted nine hours and that she recently saw a two-hour version of it shown to her by prosecutors. She called it "very boring and dull."
Rowe said she did not see the "Living With Michael Jackson" documentary before her interview was taped. "All I knew is what was being put out about Michael was hurtful to Michael and the children," she said.
She did not give any details of her private life with Jackson and made it clear that she did not want to discuss it. "My personal life was my personal life and no one's business," she said when asked by the prosecution if she had talked completely truthfully on the video.
In a related development, an appellate court Wednesday upheld Judge Rodney S. Melville's decision to seal dozens of records in the Jackson case, including an affidavit describing the allegations against the pop star.
A three-judge panel of the state's 2nd District Court of Appeal said Melville's ruling was justified because of the intense news coverage of the case. Melville has said the documents could have prejudiced the jury pool against Jackson.