/ Source: TODAY contributor
Monday night marks a special milestone for "Dancing With the Stars." After five years, 11 seasons and countless spray tans, the celebrity ballroom battle broadcasts its 200th episode.
Many past performers will be on hand for the festivities, as will a few of their classic routines. There's even a dance-off planned for the current competitors. All in all, it's set to be an evening of self-congratulatory fun for the "Dancing" gang.
Then it's back to business as usual. That is, unless sometime after the ballroom back-patting comes to an end, the "Dancing"-powers-that-be take a look at what made those 200 episodes work and what it might take to put 200 more under their collective, bedazzled belt.
It may fly in the face of don't-mess-with-success logic, but even the frequent ratings leader has room for improvement — quite a bit of room with those two-hour episodes each Monday night.
Filler-free
Two hours may not seem like a lot of time at the beginning of a season. It takes a while to air 12 couples worth of rehearsal clips and new routines. But as the show draws near the halfway point in the season and fewer faces require the spotlight, every extra minute drags.
Eventually, when there's no other choice, the show shortens for the final stretch of the season. Until then, performance night borrows heavily from results night and packs the bonus time with dreaded time-fillers.
Monday night lacks the Macy's Stars of Dance or pop act of the week, but there's certainly no shortage of clip segments featuring extra-gabby judges. To make matters worse, the recent trend is to fill the first 30 minutes of the competition with those segments ... not that it can really be called a competition if the ballroom wannabes are waiting around in the wings for the real show to start.
If "Dancing" has any hope of holding out for another 200 episodes, the filler has to go, or at least remain relegated to its Tuesday night home. Performance night should be about the performances. Double dances, extended rehearsal footage and even the always-awful group routines are fine, but no matter how much time is left, the "How Far the Dancers Have Come" and "A Closer Look at What We've Already Seen" spots are always a bad idea.
And if filler-free isn't an option, here's hoping spreading the filler throughout the show is. It's just not fair to force viewers to wait so long before catching a glimpse of what they came for — dancers dancing.
Shirts are overrated
After all, that's what it's all about — the stars, or reasonable facsimiles, and the pros proving what they can do on the dance floor. OK, it's also about how they look on the dance floor.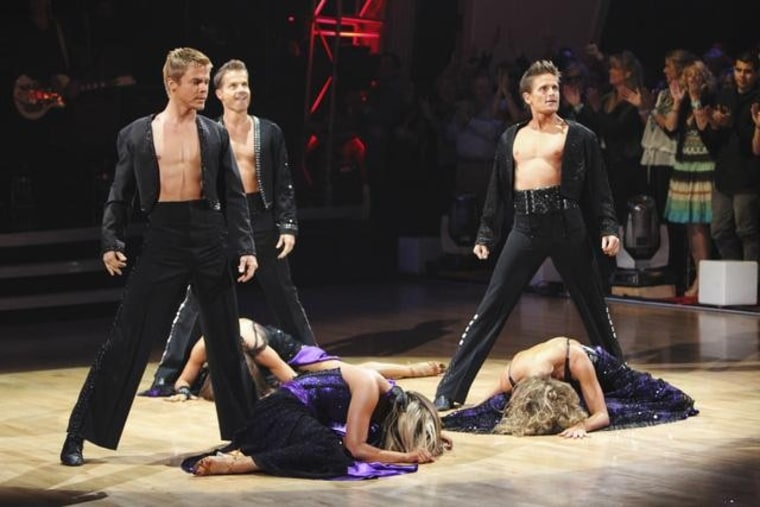 Skin-tight, sparkling and barely there costumes are as much a part of the bash as sambas, the live band and grumpy head judge Len Goodman. The old "sex sells" adage is alive and well in the ballroom (and of course, everywhere else). So why is it that "Dancing" looks a bit more covered up lately?
Oh sure, skimpy outfits continue to take center stage and the occasional shirtless stud makes his way into the works, but it's nothing like the rapid-fire rounds of half-nude Maksim Chmerkovskiy and three-quarters nude Edyta Sliwinska of seasons past. One reason for that is the obvious absence of Sliwinska this season. (Note to the ballroom bigwigs: Bring her — and the tiny strips of cloth she calls costumes — back if you want to make it to the 400-episode mark.) But the other part of the problem is a case of bare-chested backlash.
Last season, Chmerkovskiy's near-weekly exhibitionist tendencies got under one judge's skin. Goodman groaned about it, telling the pro, "I'm fed up, Maks, with the shirts coming off!" That man speaks for himself, but he knocked a couple of points off an important routine while he was at it. Maybe that's why there's only been one completely shirtless Chmerkovskiy sighting since then.
So, to help ensure the future of the show and to satisfy fans wading in the shallow end of the ballroom pool (Hi!), forget the fabric. Shirts are overrated.
Revolving-door co-hosts
Another thing the production could use substantially less of is the current co-host.
For all the complaints viewers and critics had about host Tom Bergeron's previous on-air partner, Samantha Harris, she wasn't any worse than replacement Brooke Burke. Where Harris had her bizarre updos, Burke has her distracting dresses. Where Harris had trouble making it through a sentence flub-free, Burke has trouble making through a single segment without asking someone, "How did that feel?"
Just imagine 200 more episodes of that. Perhaps the time has come to get rid of the regular co-host gig. Bergeron, aka the greatest live host in the history of live hosting, can continue to handle the bulk of the camera time. As for those backstage chats, why not change it up? Recently eliminated contestants, stars who've left their dancing days long behind them or any other celeb could stand in for a short co-host stint.
The best part of the revolving-door approach to co-hosting duties is that a stinker would never stick around for too long.
These aren't big changes. The fact is the basic "Dancing" formula works. A nip here and tweak there is fine. What "Dancing" doesn't need to do is ditch the perfect balance between cheesy fun and legitimate ballroom moves it established in episode one. There's no such thing as too much spray tan or too many sequins. There will never come a day when a perfect waltz feels unwelcome. The formula needs some fine tuning, not an overhaul.
Ree Hines would like to kindly ask . These people are professionals. They know what they're doing. Follow on Twitter and share your show suggestions.