Chris Rock wasted no time before bringing up the #OscarsSoWhite controversy while hosting the 88th Academy Awards Sunday night.
He opened up his monologue by commenting that he counted 15 black people in the montage that came before him and referred to the Academy Awards as the White People's Choice Awards.
"Why are we protesting this Oscars? It's the 88th Academy Awards, which means this 'no black nominees' thing happened at least 71 other times. You got to figure that it happened in the '50s, in the '60s," Rock said in his monologue.
RELATED: Chris Rock addresses #OscarsSoWhite in monologue: 'We want opportunity'
"I'm sure there were no black nominees some of those years and black people did not protest. Why? Because we had real things to protest at the time. We were too busy being raped and lynched to care about who won best cinematographer. When your grandmother's swinging from a tree, it's really hard to care about best documentary foreign short."
Rock kept the jokes running all night and even produced a star-studded video, where he put together new scenes from the Oscar-nominated movies, featuring black actors.
While Whoopi Goldberg claimed that a black woman would've had to cure cancer to get the kind of recognition Joy Mangano got for inventing the mop, "Saturday Night Live" cast member Leslie Jones screamed at Leonardo DiCaprio for not including any black actresses in "The Revenant."
"My agent called you twice, then I called you 16 times," Jones yelled. "You should've called me back!"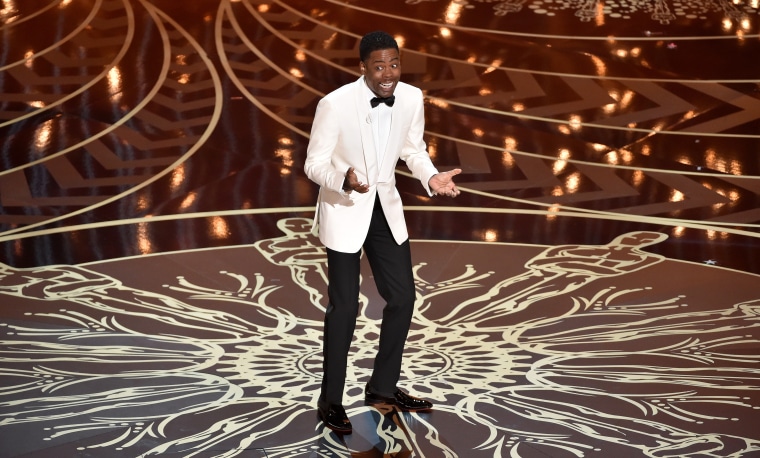 It didn't stop there. Tracy Morgan ate a danish while doing his best Eddie Redmayne impression from "The Danish Girl" and Jeff Daniels and Kristin Wiig mocked "The Martian," leaving Chris Rock in space because they decided it cost too much to get a black astronaut down.
RELATED: George Clooney on Oscars' lack of diversity: 'We're moving in the wrong direction'
The Oscar host also went to Compton to ask strangers what they think about this year's movie selection and the lack of black actors being featured in them.
Read more about Rock's no-holds-barred monologue here.