In Here's Hank by Henry Winkler and Lin Oliver, Hank Zipzer's audition for the lead role in his second grade class play goes terribly wrong when he freezes up and forgets everything he's practiced. But it's Hank that ends up saving the play when the tables are turned and Nick McKelty can't recall his lines during the big performance. Here's an excerpt. 
"Hank, what part have you chosen to audition for?" Ms. Flowers asked.
"Aqua Fly," I answered.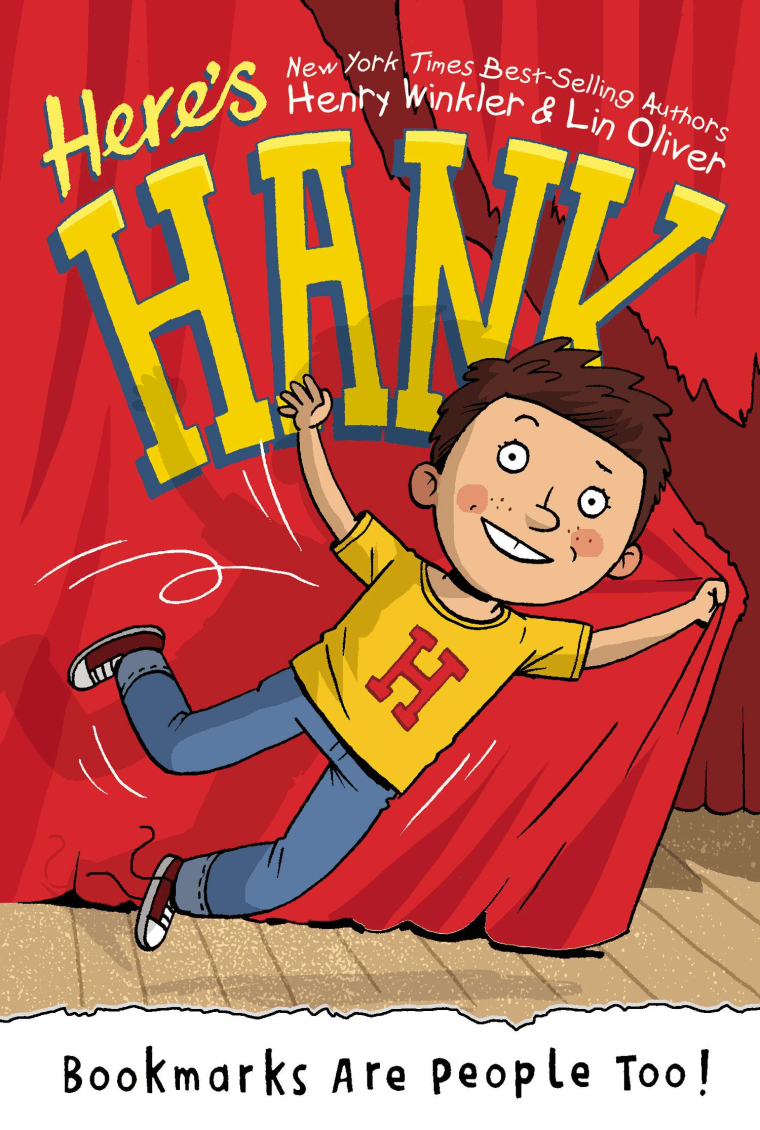 My heart was thumping as I walked to the front of the class, holding Frankie's script. I passed Ashley's desk.
"You're going to be great," she whispered.
It seemed to take forever to reach the front of the room. When I got there, Ms. Flowers had to remind me to turn and face the class. I took a deep breath and looked down at the script. All I saw was a sea of blue highlights. Those were the very words I had gone over all weekend long. And I didn't recognize one of them.
"Hank, you can start any time you're ready," I heard Ms. Flowers say.
I couldn't read. All I could manage to do was buzz. It seemed like I buzzed for twenty minutes. Finally, Ms. Flowers interrupted my buzz fest.
"Are you going to say any of the lines?" she asked.
"I am saying the lines," I answered. "I'm just doing it in fly language."
"Interesting," she said. "But I really do need to hear what's written in the script."
I looked at the pages again. Zero. Zippo. Nothing doing.
I had no choice but to buzz to my seat and sit down. The audition was a total flop. My only hope of getting the part was if no one else volunteered.
"Does anyone else want to try out for Aqua Fly?" Ms. Flowers asked.
No one answered. That was just what I was hoping for. The part was mine. Aqua Fly, here I come.
And then, one single hand popped into the air.
It belonged to Nick McKelty. I had no choice but to make another list in my head.
Five Things I Hope Will Happen to Nick McKelty During His Audition
BY HANK ZIPZER
1. His teeth will turn green and start to glow.
2. An alien spaceship will come through the ceiling and take him to their planet until summer.
3. He'll open his mouth to talk and only hiccupy burps will come out.
4. He will actually turn into a fly and buzz right out the window.
5. Oops! I only have time for four. McKelty is about to start.
Unfortunately for me, none of the things on my list happened. What did happen was that McKelty got the part of Aqua Fly. If you ask me, it wasn't because he was so great. It was because, unlike me, he could read the words on the page.
Ms. Flowers tried to be nice about it. When everyone was going to lunch, she called me up to her desk.
"I know you tried really hard, Hank," she said. "And for you effort, I have created a special part just for you. One that matches your talents."
That made me feel much better. But what part could that be? Maybe there was going to be a big clock on the library wall, and I would be the bird that popped out every hour and went cuckoo. Everyone knows I'm good at sounds.
Or maybe I could be the library cart that gets to roll up and down the aisles. I could attach my bicycle horn and toot it to warn everyone to clear the way for me. That sounded like a lot of fun.
"What's my part, Ms. Flowers?"
"Well, Hank, you are going to be a bookmark."
"I am? What does a bookmark get to do?"
"First of all, you have to be very quiet. And of course, your most important job will be to hold everyone's places in their books."
"That doesn't sound fun."
"But here's the best part. You'll get to wear the tallest costume of anyone, with two little holes cut out for your eyes. And a red fringe on the bottom to cover your shoes."
Okay, I could deal with that. The costume part sounded good. I left the classroom feeling pretty happy about my new role . . . until I walked into the lunch room. The first person I saw was McKelty, who was busy shoving tuna casserole into his face right off his tray. He wasn't even using a fork.
"Hey, loser," he said, spraying little bits of fish into the air. "Too bad I beat you out for the good part."
"That's okay," I said to him. "I'm going to be a bookmark."
"Ha-ha-ha." He snorted. "Don't you get it? A bookmark doesn't do anything. It just stands there being all bookmark-y."
"Oh yeah?" I answered back. "Ms. Flowers said it was a really special part."
"You'll believe anything, Zipperbrain!" Then he picked up his tray and headed for a table. Just before he sat down, he turned and said, "See you after lunch in rehearsal. Oh wait, you don't have to be there. You don't have any lines."
"I'll be there," I snapped. "I'm part of the play, too."
"Oh, really. Then how come your part isn't even in the script?"
That was a good question. I hadn't thought of that before. Then I realized what had happened. Ms. Flowers had made up that part just for me because I can't read very well. Suddenly, the smell of tuna casserole coming out of McKelty's mouth made me feel sick to my stomach. I ran out into the hall and leaned against the wall, trying so hard not to cry. Before I knew it, Frankie and Ashley had left the cafeteria and were by my side.
"Don't listen to that big bully," Ashley said. "Bookmarks are very important. I use one every day."
"But it's just a tiny part," I protested.
"Listen, Hankster," Frankie said." No matter what the part is, you're going to be great."
"Yeah," Ashley chimed in. "Just wait until rehearsal. You never know what magic is going to come spilling out of that funny head of yours."
Suddenly I was starving, which was a sure sign that I was feeling better. Friends can do that for you.
"Okay," I said, heading back into the cafeteria with Frankie and Ashley by my side. "I'm going to be the best bookmark that ever held a place in a book. Look out world, here comes Hank."
Oh, and by the way, about the tuna casserole: If you ever see even a glop of it on your plate, change plates. I didn't, and my tongue is still not talking to me.
Excerpted from Here's Hank, copyright (c) 2014 by Henry Winkler and Lin Oliver. Used with permission by Grosset & Dunlap, all rights reserved.