/ Source: Entertainment Weekly
Before we get to the excerpt from my exclusive Katherine Heigl exit interview/cover story, let's talk, shall we, about what you're really here for: what isn't in that story!
For starters, the Emmy winner does her own dishes!
 I found that out when her musician-husband, Josh Kelley, greeted me at the door of their L.A. abode and ushered me into the kitchen, where Heigl was wrist-deep in suds. Well, she was washing something in the sink before she reached out to shake my hand. I was too busy taking mental notes of my surroundings to know for sure. (OMG, there's her Emmy in the living room!)
Oh, and she doesn't live in a mansion. In fact, though the house the couple share with daughter Naleigh is lovely and boasts a lawn with an impressive manicure, it's pretty modest by Hollywood standards. It's more homey than mansiony. It was very much in sync with Heigl's casual appearance that day. In capri jeans and a purple cardigan, with her new brunette locks pulled back and wearing zero makeup, she was still a knockout but hardly the glamourpuss who'd turned so many heads the night before at the ShoWest Awards (even before her wardrobe malfunctioned).
For our Q&A, Heigl poured both of us both some white wine and we retired to her second-floor deck. At one point while we were talking, Kelley interrupted to bring out the biggest cheese-and-cracker platter you have ever seen. All the while, the animal lover's two dogs milled about inside, her two cats outside, and little Naleigh snoozed.
Too Norman Rockwellian to be true? Maybe. I'm sure some of it was a ploy to butter me up. But I was still feelin' it. Besides, when it came time to get down to business, neither Heigl nor I pulled any punches. She knew I was going to ask her some tough questions about her departure from Grey's Anatomy and her overall reputation as a handful, and she answered them with surprising candor.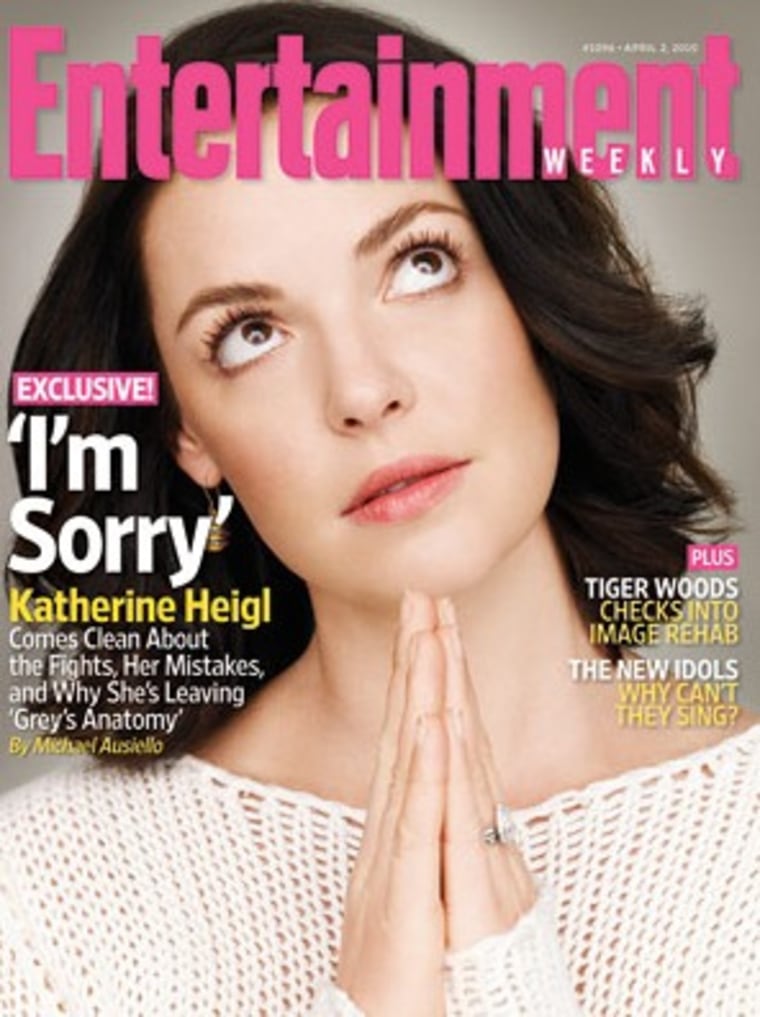 Herewith are just a few snippets from that discussion. For the complete story, pick up the new EW, on sale tomorrow.
The plan was for you to return to the set on March 1 and stick around through the end of the season. But you didn't show up on March 1. Why?
HEIGL: I went on my family leave and spent three months in Utah and just got to be a mom, and it changed my whole perspective… That was really the turning point for me. So before I was due back, I spoke again to Shonda about wanting to leave. Then I waited at home until I was given the formal okay that I was off the show. The rumors that I refused to return were totally untrue.
Would you describe it as an amicable parting?
HEIGL: Yeah, I think so. I think it was a little bit shocking for everybody, and a little bit like, "Can't we find a way to work it out?" And I really wanted to, but at the same time I just felt like I couldn't sacrifice my relationship with my child. Naleigh and I will always be a little bit complicated. I really had to work on bonding with her because I was obsessed with her, but she could really do without me. [Laughs] It was really hard because she loved Josh so much but she just kind of tolerated me. And I want this child to know that she will forever have me in her corner and I don't want to disappoint her. [Fighting back tears]
And even though I know I'm disappointing the fans, and I know I'm disappointing the writers and my fellow cast members and the crew, I just had to make a choice. I hope I made the right one. It sucks. You wish you could have it all exactly the way you want it. But that's not life. I had to try to find the courage to move on. And I am sad. And I'm scared. But I felt it was the right thing to do; we just didn't quite know how to do it appropriately, gracefully, and respectfully to the audience. And I think we all felt it wasn't respectful to the audience to bring [Izzie] back again and then have her [leave] again. We did it twice this season. It starts to feel a little manipulative.
In 2008, you announced that you decided not to enter yourself in the Emmy race because, you said "I did not feel I was given the material this season to warrant a nomination." Any regrets about making that statement?
HEIGL: Yes. [Laughs]
Why?
HEIGL: You know… At the time I thought I was doing the right thing. And I wanted to be clear that I wasn't snubbing the Emmys. The night I won [in 2007] was the highlight of my career. I just was afraid that if I said, "No comment," it was going to come off like I couldn't be bothered to [enter the race]. But really, I could have more gracefully said that without going into a private work matter. It was between me and the writers. I ambushed them, and it wasn't very nice or fair.
That statement, and the one you made on Letterman, combined with the fact that you're leaving the show before your contract is up, have fostered a perception of you as an ungrateful diva. Are you aware that this is how some people view you?
HEIGL: Yes. The ungrateful thing bothers me the most. And that is my fault. I allowed myself to be perceived that way because I was being whiny and I was griping and because I made these snarky comments. So much about living life, to me, is about humility and gratitude. And I've tried very hard to have those qualities and be that person and I'm just so disappointed in myself that I allowed it to slip.
Of course, of course I'm grateful. How can I not be grateful? I have been afforded such a wonderful life. And to have come this far and to have this kind of success and the freedom and the choices it allows me… The fact that I could even have Naleigh in my life — adoption isn't cheap — is something to be so unbelievably grateful for. I am disappointed in myself for allowing that perception to exist…
There's nothing more gross than [the idea of] somebody in my position being ungrateful… And I hope that in the coming years I can change people's minds about that. The six years [I spent on Grey's] were important years, and I don't want them to be demeaned. And that's another reason why I'm so annoyed with myself. I let myself demean something that was actually very beautiful and very important. Like any job, there are ups and downs. But I don't want to demean what that experience was. I don't want it to become about this negativity that I've spewed.
For my complete Q&A with Heigl, including her surprising thoughts on Isaiah Washington, what she said to Shonda Rhimes after Emmygate broke, her least favorite scene ever, when she knew Gizzie wasn't working, why she stopped watching the show, and whether or not she'd ever step foot back in Seattle Grace, pick up the new issue of EW.