Spoiler alert: If you don't want to know anything about the upcoming season of "Game of Thrones," turn back now.
It's been four months since the murder and mayhem of the Red Wedding played out on "Game of Thrones," and there's no doubt some fans are still reeling from the bloodbath that visited House Stark (and poor Grey Wind).
But Walder Frey isn't going to be "GoT's" only host of a heck of a wedding. As viewers of the HBO drama will learn next season, King Joffery and his intended throw quite the bash too.
"It's going to be the wedding of the year, and as memorable in its own way as our wedding last season," scribe and executive producer George R.R. Martin recently told TV Guide.
Of course, fans of the series of books that "Game of Thrones" is based on already know all about the wedding-day drama to come.
"It's what the fans call the Purple Wedding, based on the color of the wine," which Martin went on to tease, "plays a big part."
Indeed.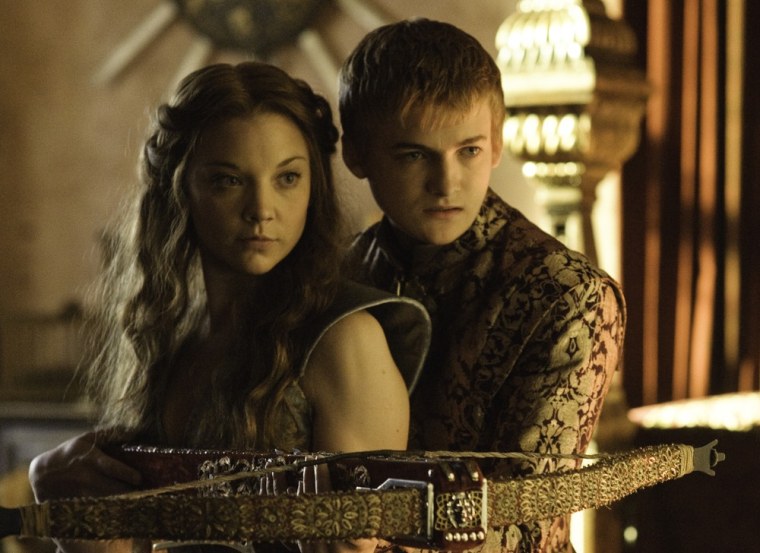 Of course, it should come as no surprise to anyone to learn that the Lannisters and Tyrells will pull out all the stops for the boy-king and Margaery Tyrell. Martin promised the scene will be an opulent one and it will boast "some wonderful halftime entertainment."
Viewers will have to wait some time to see it for themselves. Season four of "Game of Thones" is still in production and won't hit the small screen until spring of 2014.