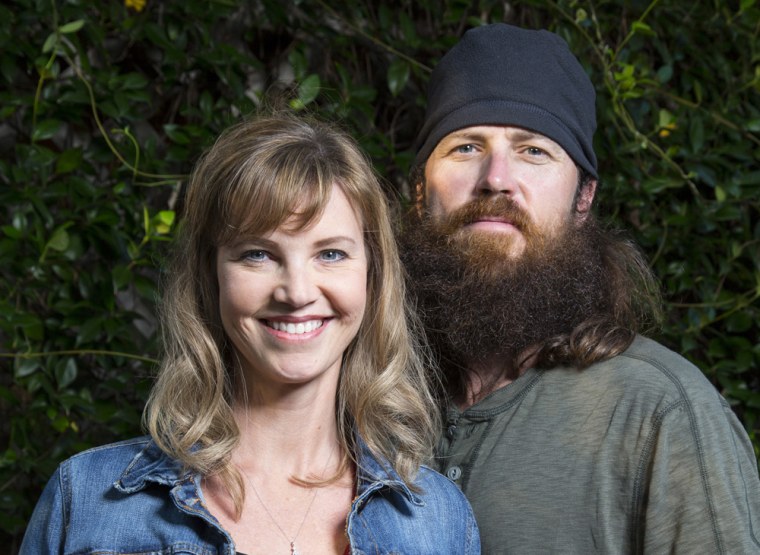 "Duck Dynasty" fans already know the difficulties Jase Robertson and wife Missy have endured due to the ongoing health problems of daughter Mia, who was born with a cleft lip and palate. But the couple is only now sharing what they suffered when they were expecting another child.
The Robertsons were already parents to two sons, Reed (now 19) and Cole (now 16), when Missy learned she was expecting again in 2002. But bad news soon followed the good.
"I was about eight to 10 weeks along when I miscarried, just enough time to be excited about it and start telling everyone," Missy revealed during an interview with Closer magazine.
Missy had what's commonly called a tubal pregnancy, wherein the embryo implants in the fallopian tube rather than the uterus.
"I'd heard of tubal pregnancies for years, but didn't really understand the mental anguish of actually having to go in and have someone remove what could've been your child," she explained. "It was extremely difficult."
It wasn't long after the couple suffered the loss that they had something to celebrate: Missy was pregnant again, this time with Mia. But given the nature of Mia's birth defect, their joy was tempered — at first.
"When Mia came out, I looked at her and thought, 'This is going to be rough,'" Jase confessed to Closer. But ultimately, considering the fears for her long-term health, he switched his way of thinking.
"I thought, 'Why am I so upset about what she's going to look like?' I just wanted her to live," he said.
And, of course, she did. In fact, during the season five finale of "Duck Dynasty," viewers saw 11-year-old Mia face her fifth surgery to treat her ailment, with a brave attitude and family all around.
"Whenever I feel sad or have struggles, I know that God is bigger than all that," Mia said on the show.
Her father told Closer, "As long as we're living, we can get through anything."
Follow Ree Hines on Google+.