/ Source: TODAY contributor
There were no grand schemes of creating new genres or markets, no dreams of making history. It was just an exciting young singer with a song and a desire to be a monster in his own video.
"It was nobody's brilliant idea," said John Landis, who 25 years ago directed Michael Jackson's landmark music video "Thriller."
Landis spoke to TODAY as the American Film Institute commemorated the landmark video this week and ahead of the opening of New York's Tribeca Film Festival with a free public screening of his "Thriller" documentary Friday.
Landis said Jackson had seen his then-new film, "An American Werewolf in London," and liked it so much he called Landis out of the blue and asked the director to turn him into a monster.
Landis, who had made his directorial debut with "Animal House," took the job because he saw it as a chance to resurrect a genre that had once been a Hollywood staple. "It was a great opportunity to bring back the theatrical short," he said.
Music videos were new and evolving in 1983, and MTV, where most of them got their play, was just 2 years old. Jackson had done a couple of videos himself, including "Beat It." But the videos were made to sell records, and when Jackson decided he wanted to do "Thriller," the album by that name had already been out for nearly a year, and it had already become the biggest-selling album of all time.
The video Landis envisioned was going to be nearly 15 minutes long — and expensive.
"It's always exaggerated," Landis said of the video's cost. The Wikipedia article on "Thriller" claims it cost $800,000. Elsewhere, sums as high as $1 million have been cited.
"It ended up costing $500,000 — still enormous money at that time for that kind of thing," Landis said. The average music video in those days ran about $50,000 to produce, and Jackson's would cost 10 times that.
But because the album had already sold so many copies, neither CBS, Jackson's record label, nor anyone else wanted to pay for what they saw as a "vanity video."
What was the point?
"Nobody would give us the money, because the album had already been so successful," Landis said.
"Michael said he would pay for it," he continued. "But I wouldn't let him. He was still living with his parents in Encino behind a supermarket."
'A brand-new thing called cable television'
George Folsey, Landis' partner in the venture, then suggested that while doing "Thriller" they also film a 45-minute documentary, "The Making of Thriller." They could package it and sell it as a one-hour theatrical feature.
Landis and Folsey approached Disney Studios, which agreed to release it for a limited engagement in Los Angeles theaters. At the same time, they decided to take it to a venue no one else had ever considered as a market for a music video.
"We sold that hour to a brand-new thing called cable television and the Showtime network, which at that time had only 3 million homes," Landis said. It was actually an option that Showtime took, and when the Los Angeles theater release was a huge success, Showtime anted up.
"They paid a quarter of a million dollars for the rights to show it exclusively for, I think, 10 days," Landis said. When MTV saw it, they called Landis. "MTV went crazy — 'How can you do that?' We said, 'OK, you give us money.' And they gave us another quarter of a million to show it for two weeks, and that was our costs."
It was such a hit that CBS decided that it was the most brilliant idea ever, distributing the video for all of its affiliates to air for free. "For a while there, you couldn't turn on the television without seeing 'Thriller,' " Landis told TODAY.
The album that had supposedly sold every copy it could shot back to the top of the charts, nearly tripling its previous sales.
Landis and Folsey had already produced the first theatrical music video, and had been the first to sell a video to a cable movie network. But that was just the beginning.
Again from out of the blue, Landis got a call from Austin Furst, who had a video business called Vestron, who said he wanted to buy the rights to put "Thriller" out as a "sell-through video." Landis had never heard the term before, and Furst explained that he would sell it directly to consumers at a relatively affordable price: $24.95.
At the time, home videos were shown on the still-new technology of video tape. There were two formats, VHS and Sony's Beta. But a movie typically cost between $80 and $100. Consumers weren't going to pay that much, so mom-and-pop operations sprang up to buy the videos and then rent them out. Furst's idea was to produce large quantities of the film and sell it directly.
'The critics just damned me'
Landis said he couldn't imagine many people wanting to buy a video that had gotten such extensive play on television. It would turn out that more than 10 million people just had to own it.
It's never ended.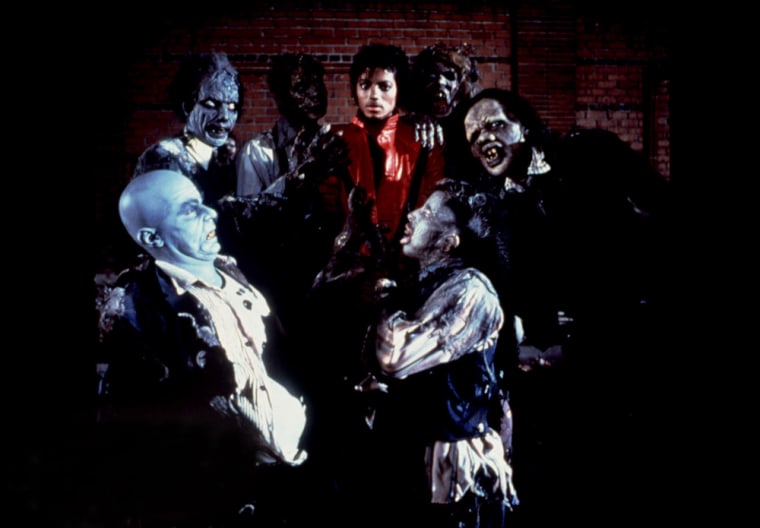 The most famous recent incarnation of "Thriller" is the Filipino prison production that has been a huge hit on YouTube, but if you search "Thriller" on YouTube, you come up with hundreds if not thousands of amateurs who have made the video their own.
"The Filipino prison is wonderfully crazy," Landis said. "But people all over the world perform the 'Thriller' dance at weddings, at quinceaneros, at funerals, at bar mitzvahs. It blows me away."
Landis went on to make many more films, including "Coming to America," "Beverly Hills Cop III," "The Blues Brothers" and "Trading Places." He finds it ironic that the two that have become cultural icons — "Thriller" and "Animal House" — were the two that nobody at first wanted.
With "Thriller," it was a question of who was going to buy it. With "Animal House," he said, "The critics just damned me. They beat the crap out of me. Then it became this commercial hit. Over the years, it's in the Library of Congress, and it's this great American movie."
Another great movie director, John Huston, had an explanation for it, said Landis: "He said movie directors, prostitutes and buildings grow respectable with age. I'm actually experiencing that."