It's been seven years since "The Sopranos," HBO's groundbreaking drama about a New Jersey mob family, wrapped its Emmy-winning run. Yet the show's cut-to-black finale remains one of the most contentious endings for a TV series ever, with fans continuing to debate: Did crime boss Tony Soprano really get whacked in that last scene?
Looks like the answer to that question is — well — just as cryptic as ever. In a wide-ranging feature published on Vox Wednesday, show creator David Chase appeared to reveal definitively that Tony lives. 
Journalist Martha P. Nochimson wrote that she's been acquainted with the famously reticent Chase since 2005. Even so, he lost his cool when she asked point-blank whether his character is killed in the show's conclusion.
"Why are we talking about this?" Chase burst out as he sat with the reporter in a coffee shop, before finally shaking his head from side to side and revealing, "No, he isn't."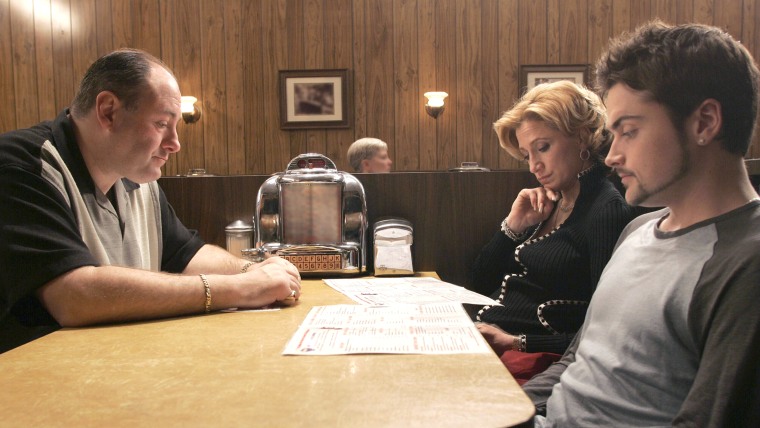 (James Gandolfini, who played the fictional mob kingpin, died in 2013.)
The Vox report seemed clear-cut enough — until late Wednesday when Chase's representative Leslee Dart issued this statement: 
"A journalist for Vox misconstrued what David Chase said in their interview. To simply quote David as saying, 'Tony Soprano is not dead,' is inaccurate. There is a much larger context for that statement and as such, it is not true.
"As David Chase has said numerous times on the record, 'Whether Tony Soprano is alive or dead is not the point.' To continue to search for this answer is fruitless. The final scene of 'The Sopranos' raises a spiritual question that has no right or wrong answer."
In the Vox interview, Chase conceded that the series' conclusion was inspired by the Edgar Allan Poe poem "A Dream Within a Dream," in which the narrator grapples with saying goodbye to a loved one as grains of sand pass through his fingers.
"What more can I say?" Chase asked.
The show's final scene — in which the Soprano family gathers for dinner in a jukebox diner as menacing characters seem to surround them — finishes abruptly, with Tony glancing up at the entrance to the sound of a jingling bell. Some TV watchers theorized that the person coming through the door was Tony's assassin. Others insisted that Tony's life continued as usual after the credits rolled. Many fans on both sides were incensed by the vague ending.
Chase has spoken publicly about the controversial finale in the past. In a Q&A at a "Sopranos" screening in April, he said the ending "was meant to make you feel, not to make you think."
Chase observed to Vox that many of his artistic choices — such as those in his 2012 film "Not Fade Away" — seem to confound fans. 
"I've had this happen my entire career in some form or other," he said. "I think I've done a regular movie. And people go, 'What the hell was that?' And I go, 'Really?' After a while you begin to realize that you are different."

This story has been updated since it was originally published at 5:49 a.m. ET on Wednesday.