If there were a competition for biggest diva, Carrie Underwood would come in dead last.
The country star revealed that she does her own laundry — and a lot more! — when she's on tour.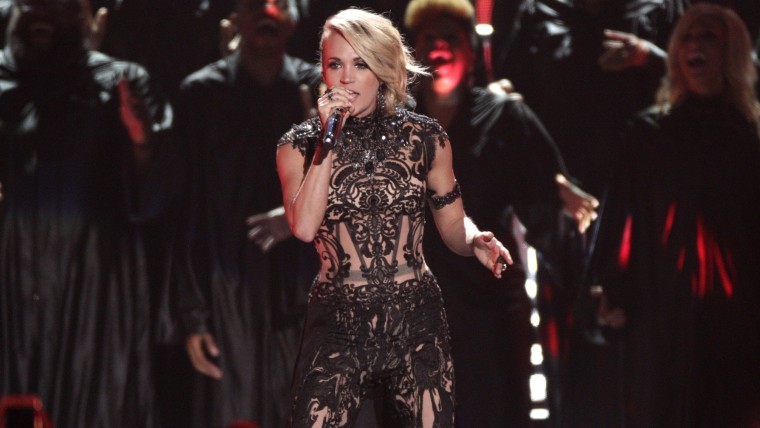 "We travel with a washer-dryer. Doing my own laundry makes me feel like a human," the 33-year-old singer, whose latest single is actually called "Dirty Laundry," told People.
But, that's not all. Underwood, who travels with her 18-month-old son, Isaiah, also does her own makeup and hair.
"It's another thing that …I'm a person and I'm a lady, and I like to do my own makeup and hair," she explained "On red carpets, somebody else has to do it for me because the lights can do weird stuff with your face. But on the road, it's my zen time before the show."
RELATED: Carrie Underwood goes makeup-free in workout selfie — see the photo
In fact, Underwood, who's traveling city to city on the North American leg of her "Storyteller Tour," said she likes to keep things as normal as possible on the road.
"I bring my dogs, which is a little piece of home. And I have a cooking surface on the bus because I like to cook as much as possible. Room service gets old," said the "Jesus Take The Wheel" singer.
On days off, the "American Idol" alum takes her little one sightseeing in whatever city they're in. "We look for parks and zoos and aquariums," she said.
She also makes time for Isaiah to talk to his dad, pro hockey player Mike Fisher, whom the singer married in 2010.
RELATED: Carrie Underwood shares super cute of son Isaiah: 'I don't deserve such sweetness'
"We FaceTime almost every day so (Mike) can have a little interaction with Isaiah."
And when scheduling permits, the whole family meets up on the road.
"They need their time together because Isaiah loves his daddy!"